Fourth Annual Mid-Atlantic QSO Party!
Walter O'Brien (W2WJO) on March 7, 2007
Add a comment about this article!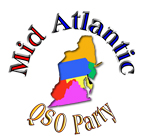 ANNOUNCING THE FOURTH ANNUAL MID-ATLANTIC QSO PARTY
The fourth annual Mid-Atlantic QSO Party (MAQP) will run from Saturday May 12, 2007 at 1600 UTC until Sunday May 13, 2007 at 0400 UTC. The MAQP is a an old-fashioned QSO Party focused on Delaware, Maryland, New Jersey, New York, Pennsylvania, Virginia, West Virginia and Washington DC, but we encourage participants from around the world. Activity will be on all non-WARC amateur HF bands from 160 to 10 meters, plus the 6, 2, 1.25, and .7 meters bands, all modes.
This year's event has been shortened to 12 hours after much comment from participants, and we have moved it away from Mother's Day for the first time. We hope these changes encourage participation in the original spirit of a competitive challenge that anyone can enjoy. All stations are welcome - single, multi, clubs, mobile, QRP - as long as your power is limited to 200 watts.
The committee awards plaques and certificates for Top Score by category in each Mid-Atlantic state, and Top Score outside the region, Top Score DX, and Top Score VE, among others. Most popular contest logging software includes the MAQP. Visit the MAQP website at http://maqp.info for more details, rules, maps, submittal forms, etc. And please join our news reflector at http://mailman.qth.net/mailman/listinfo/mid-atlantic_qso_party.
If you, your group, or club would like to sponsor a plaque, please contact us as soon as possible while there are still some opportunities!
The Mid-Atlantic QSO Party Committee
For more information email: w2wjo@arrl.net

There are no comments on this article: Post One
Email Subscription
My Subscriptions
Subscriptions Help
Other News Articles

The Spurious Emissions Band at Dayton (2017)

The Pin One Problem, Live at the Visalia Contest Dinner (2017)

RSGB ROtating LOcators Contests

Maine 2 Meter FM Simplex Challenge

New contest: UKEICC

---