Meet Glenn, K6NA
from SM0JHF on December 15, 2006
View comments about this article!




Far from a comprehensive presentation, this is a short account of my visit at Glenn's house in Valley Center north of San Diego in California.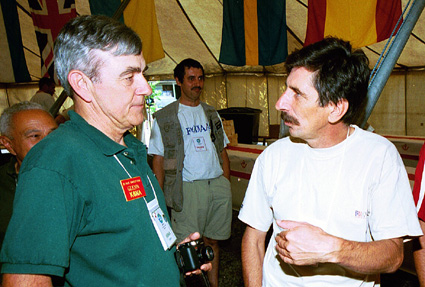 WRTC2002 in Finland: Glenn, K6NA (left) - talking with Kazik, SP2FAX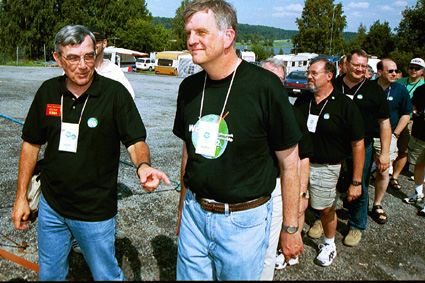 WRTC2002 in Finland: Glenn, K6NA (left) with K6KR (right) and other US participants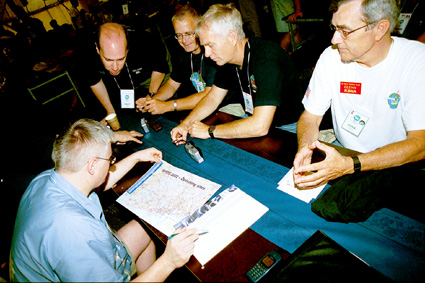 WRTC2002 in Finland: Glenn, K6NA (right) acted referee during this event
There are a few similarities between myself and Glenn: we were born in the same year, we received our licences at the same age and we are both interested in Amateur Radio contests. While I have assumed more or less an onlooker stance, Glenn, K6NA is very active and a winning fighter.
The peak of Glenn's activities on the air occurred in the 70's. He held then the call sign W6MAR and I recall it from virtually every major contest of this period. In early 80´s, Glenn acquired the present call sign K6NA, and at the end of 90´s he started appearing in contests as ZD8A from Ascencion Island. Even when is away from home, his well-equipped station is on the air in sprints and contests. Not by remote-control or computer-automation but operated by friends, who like contesting but don't have as good station as Glenn´s.
The station is on a hill and well exposed, there are two tall and one medium-height towers. The radio shack is at the bottom floor of his spacious house and is basically arranged for one operator but with 2 radios and SO2R capability. Apart from guest operators, all visitors are welcome here. In spite of a rather desolated location, many hams from all over the world have found their way to K6NA which is evidenced in the guest book. I signed it one September Saturday this year 2006. Here are the pictures I took then.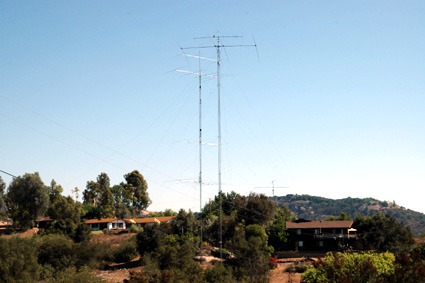 Valley Center, California - The QTH of K6NA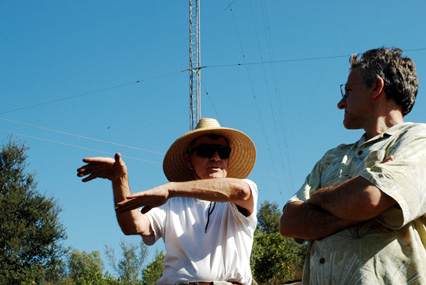 Glenn, K6NA explains the secrets of antenna stacking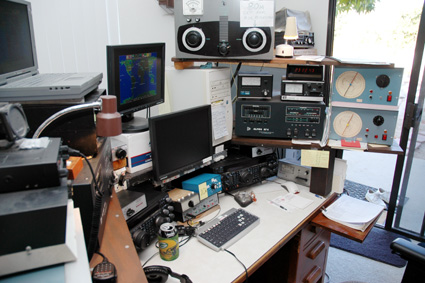 The operating position of K6NA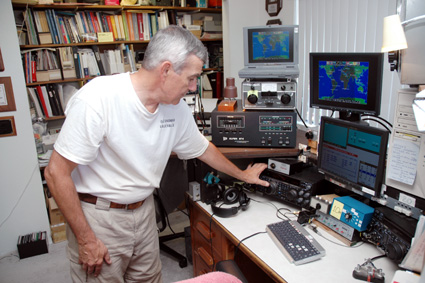 Glenn, K6NA checking the bands during SAC 2006 CW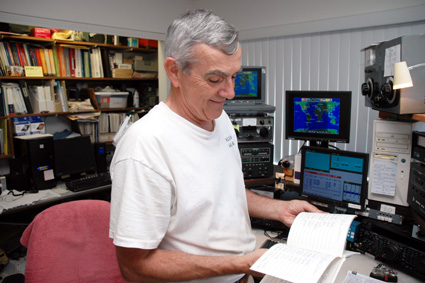 Glenn, K6NA browsing his guest book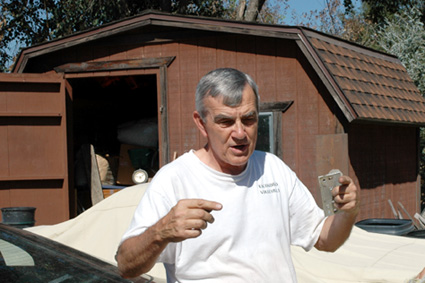 Glenn, K6NA reveals more antenna construction secrets
Henryk Kotowski, SM0JHF & K6JHF
Meet Glenn, K6NA
Reply
by K9ZMT on December 23, 2006
Mail this to a friend!
Glenn, his brother, my oldest brother, my father and I all got our novice licenses at the same time. We were members of "SPARK", the Sun Prairie Amateur Radio Klub in Sun Prairie, Wisconsin. SPARK participated in Field Day and other contest events and Glenn was a prominent participant. He was active as K9ZMS in the 60's.
Meet Glenn, K6NA
Reply
by K9SD on December 25, 2006
Mail this to a friend!
Glenn is one of the good guys in this hobby.
I am proud to know him...

Life is good, Glenn helps make it that way for a lot of folks..



73/Sam K9SD


RE: Meet Glenn, K6NA
Reply
by n6ed on December 28, 2006
Mail this to a friend!
Not only do I have the privilege of knowing Glenn personally but I've had the great honor of sitting in the driver's seat of that wonderful station for the last few years.

Contesting from K6NA is an awakening....

The number of "hi Glenn" calls during a contest is a testament to the devotion and tradition of fine operating he has maintained for several decades.

Not only does the station work well but every detail has been thought out masterfully and Glenn continues working on ways to make things even better.

A true ham's ham!!

Craig, N6ED


Information on the station can be found here: http://www.pvrc.org/wcsd/wcsdsearch.htm


Meet Glenn, K6NA
Reply
by n6ed on August 14, 2015
Mail this to a friend!
New YouTube video posted, "Aerial Tour of K6NA 2015"

https://www.youtube.com/watch?v=XbR2AAxUuB0
Email Subscription
You are not subscribed to discussions on this article.

Subscribe!
My Subscriptions
Subscriptions Help

Other Stories Articles

Reflections on the ~2005~ CQWWW Contest

SN0HQ

A Visit With S57DX

Montenegro landmark

Slovak Contest Group

---