The D4B Aftermath
from SM0JHF on December 12, 2005
View comments about this article!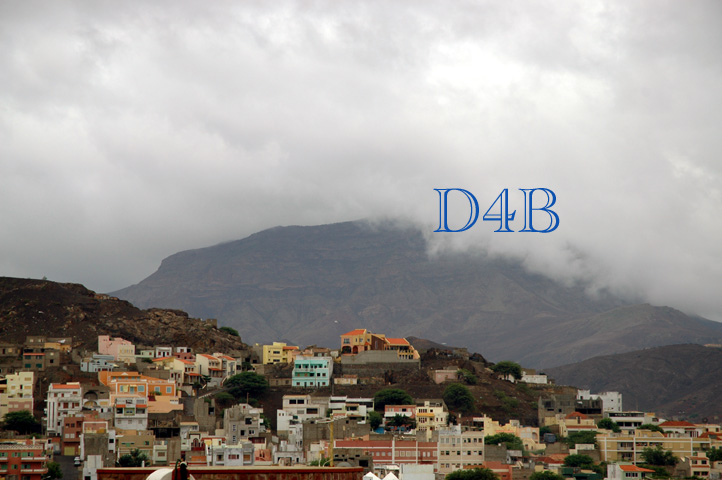 View of Monte Verde from Mindelo, Sao Vicente Island, Republica de Cabo Verde
On November 16, 2005, about 9 A.M. local time I reached the top of Monte Verde for the very first time. It was sunny, quite unusual, but chilly as usual, I have been told. I could sense a kind of emptiness, as if a gale had swept over the area the night before. All the webs of wires were blown away, other antennas succumbed and gone, one or two heavy steel towers were lying like fallen tree logs. Even the house was empty - a powerful draft must have wiped away all traces of Amateur Radio activity.
The house and some of the antenna supports at D4B in November 2005.
Two months earlier, in September 2005, I was talking over the phone with Alexander Teimurazov, the creator and the owner of the D4B station in Cape Verde, about meeting each other here on Monte Verde sometime in October. Suddenly in early October 2005, an announcement appeared on his website about closing down the station. I am sure some people thought it was a joke and a stream of speculations and rumors was circulating private and open channels of information.
I called Carlos, D44AC in Mindelo just to check that nothing drastic had happened there. Carlos was shocked himself. I always lean towards conspiracies and immediately came up with my version - Alex had been abducted by aliens who want to build a landing airstrip for UFOs on top of Monte Verde. But I have heard other versions, quite probable as well. Here are some of them...
Alex lost a lawsuit regarding the global rights of using letter B in the suffix.
The joined US & NATO forces made Alex go QRT on the eve of the maneuvers in this area.
Romeo Stepaneneko had sold the D4B station on e-Bay, one in a series of his recent frauds.
The Most Important Contest sponsor modified the algorithm for computing the results giving more penalty points the more contacts are in log..... and so on.
The truth is maybe as simple as told by Alexander. He reached some goals and simply quits.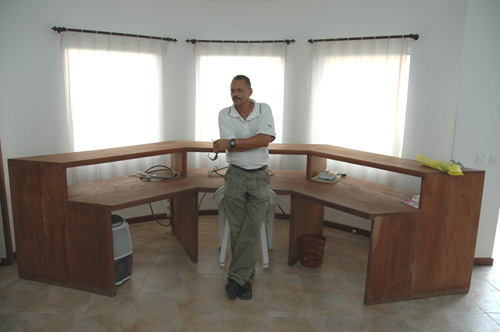 Carlos, D44AC at the empty operating position of D4B in Monte Verde.
While being on Monte Verde I could partly appreciate the magnitude of this project. It was 36 months of struggling with the elements, human weariness, poor craftsmanship, long journeys, shipping and transportation. Selecting the islands of Cape Verde was from the propagation point of view an excellent decision. Selecting an island without an international airport was a mistake in a place where virtually everything must be imported. And selecting a green mountain in a desert-like island was fateful and unlucky. The humidity here is extreme, the temperature changes are drastic, the winds are severe, the road to the top is dangerous and unreliable.
It all started in March 2002 when Alexander, then known as 4L5A, came here and took part in the CQ WW WPX Contest and with simple means, using the call sign of Carlos, D44AC, broke the World 28 MHz record. By October of the same year, the D4B station was ready and a spell of outstanding contest activity commenced. The listing of all results is available on www.qsl.net/d44tt/.
I complain about traveling to Cape Verde - I have a non-stop flight Stockholm - Lisbon and a direct flight Lisbon - Sal. From Sal, if am lucky, I can get to Mindelo in one hour but if not, it can take a couple of days to get a seat in one of these tiny TACV aircraft. Alex was traveling from Moscow for every contest. Sometimes he flew via London, sometimes Frankfurt, sometimes via Lisbon but sometimes via Dakar. His flights, one-way, were never shorter than the contest itself.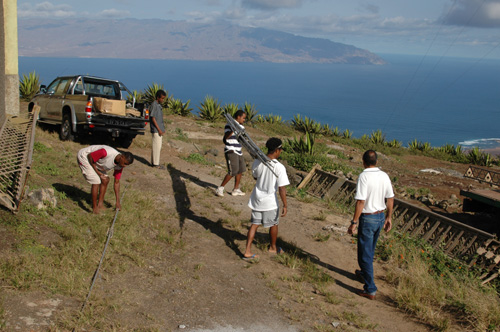 The last antenna of D4B being taken away from Monte Verde.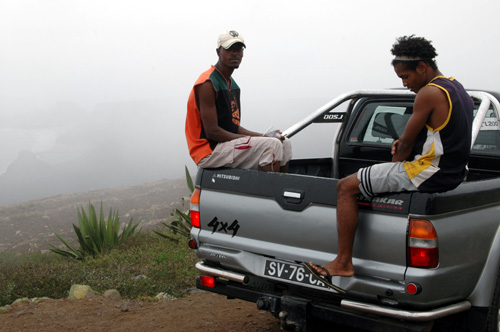 Going down from Monte Verde. Sometimes visibility is very limited there.
Carlos, D44AC told me that Alexander almost never went to sleep while in Cape Verde. There were always things to be done urgently before the contest. Only Alexander can account for all replaced cables, guys, antennas and rotators. The transmitting equipment and amplifiers have been also replaced in the course of his pursuit for better and more reliable hardware.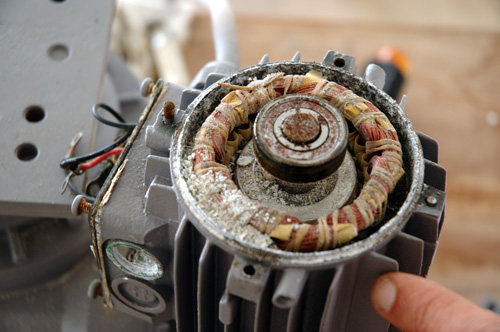 An example of an electric motor after a year or two in Monte Verde.
I have never met Alexander but I imagine he is an outstanding person, indefatigable, a masterful contest operator, a successful entrepreneur. He has done the impossible - set new world records in consecutive order like no one else in the history of Amateur Radio contesting.
I am sure we are going to hear from and about Alexander in the future. He is not a person who easily abandons a passion he got affected with at the age of 12.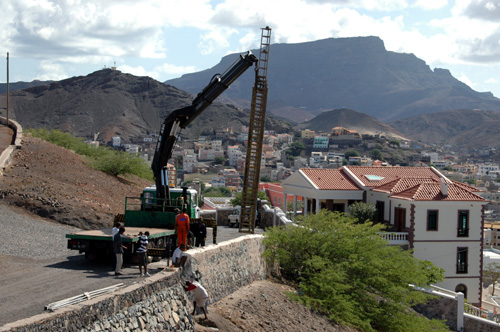 Monte Verde in the background, one of the towers of D4B being installed at the QTH of Carlos, D44AC in Mindelo.
One positive byproduct in the D4B aftermath is the fact that all hardware from Monte Verde remains in Africa and is going to be used there. Carlos, D44AC has already installed one set of the D4B towers and antennas at his Mindelo QTH and he, as always, welcomes visitors in his house.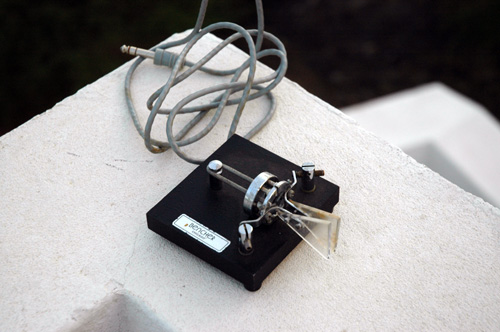 The CW paddle that Jim, N6TJ left in Mindelo 10 years ago. I used it in November 2005 at D44AC.
The D4B Aftermath
Reply
by ey8mm on December 12, 2005
Mail this to a friend!
Henrik,
Thank you for your article. For me it a bit sad to see empty house and antennas down. It was great project with great start and finish. But life is going ahead. Thank you again!
The D4B Aftermath
Reply
by K5ZD on December 12, 2005
Mail this to a friend!
People who think being rare DX in highly competitive contests do not understand the level of effort and passion it takes to put yourself there. This is especially true for a high level single operator effort.

It is sad to see the station dismantled. It was obviously the location for winning!

The D4B Aftermath
Reply
by n2ic on December 12, 2005
Mail this to a friend!
Back when D44BC was the only active ham from D4, I kept telling my XYL that we need to learn Portuguese, and retire to the Republic of Cape Verde. That was never going to happen, but it was great to see a world-class operator build a contest winning station from D4. Too bad it was such a nightmare to keep it in top form. Congrats to Alex for all he did from there - Let him be an inspiration to all of us.
The D4B Aftermath
Reply
by N2WN on December 13, 2005
Mail this to a friend!
I'll miss D4B, always a keen ear and you could count on him for a multiplier from 160 through 10. Thanks for the effort, QSOs and QSLs! Maybe we'll see you from another interesting QTH, or home...
73,
Julius
n2wn
The D4B Aftermath
Reply
by oe5oho on December 15, 2005
Mail this to a friend!
I┤ve been involved in arranging and supporting the D44TA DXpedition in 2002, then sadly couldn┤t participate due to QRL. The Cape Verde Islands are a tough and semi-remote place to operate from. Alexander did an outstanding job, did undergo many difficulties and at the same time made so many contesters and DXers happy. Henryk┤s article displays some of the difficulties Alexander had to deal with. The only remaining question is: "Where does Alexander go next?"
The D4B Aftermath
Reply
by k6faf on May 7, 2006
Mail this to a friend!
Thanks, Henrik for your effort to keep the memory alive on D4B.
As a small gun and start-up dxer here in CA, D4B for me was the indicator for propagation during a contest, as S9SS still is today for props on normal day operation. (Apart from the scientific info)
With awe I read all available info on D4B, daydreaming to share a contest over there. It is a pity it is gone, but I hope, there will be a new station coming up under the same management.....maybe somewhere in OC or AS, why not?
He sure did not leave there without a contingency plan to do it again elsewhere.
Sad, so let's expect a surprise on his next move!
73 de Hans
The D4B Aftermath
Reply
by ae7dx on August 9, 2006
Mail this to a friend!
Excellent article! It is sad to see such a great station fall silent but I am pleased that D4B gave me my best DX on Top-Band. As a "newbie" on the band, working them on 160 was quite a thrill! Jack, NA7RF (ex AE7DX)
Email Subscription
You are not subscribed to discussions on this article.

Subscribe!
My Subscriptions
Subscriptions Help

Other Misc Articles

DXLog Contest Software

---