They Call It The Smiling Coast
Henryk Kotowski (SM0JHF) on March 28, 2003
View comments about this article!

Place: The Gambia, West Africa - CQ Zone 35
Time: November 2002
Mission: No-Aluminium DXpedition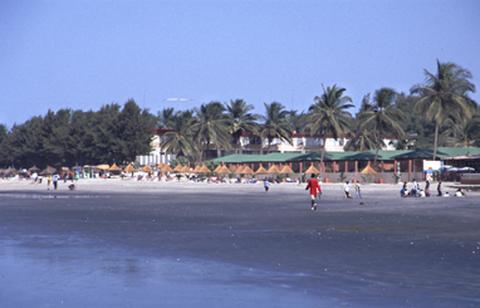 A typical beach in The Gambia - a country sometimes called "The Smiling Coast". In the background the Yagi antenna of C53M/C56R - Station One
I could not find any more exotic place to go to around CQ WW Contest last November. One week before the contest I saw a last-minute charter flight and hotel package for around U$400 to The Gambia. I did not hesitate too long in spite of the news coming from this otherwise peaceful country that Ron C56RF had just been found murdered there. I packed my ICOM 706, a power supply and an automatic antenna tuner. Clothing ? - a few tee-shirts, a few long sleeved shirts for the evening, a couple of shorts and long pants for the evening, two or three hats, that's all you need there. Took my malaria pill and phoned Juha OH9MM in Finland to ask him if his team would be on the same flight. I had exchanged some e-mails in the summer with Juha regarding his plans for The Gambia but I was not really raving about going to the same spot for the third time... and on a fullpriced airticket. The flight departed quite early in the morning but I made it to the airport on time. We landed in Canary Islands for refuelling and I could meet Juha OH9MM, Kimmo OH9MDV, and a few others when they rushed into the smoking area of the transit hall of Las Palmas airport. They told me which hotels they had booked in The Gambia; those were known to me from my previous trips. I found myself in Kololi, The Senegambia area, late in the evening. I cursed when I discovered that the hotel was equipped with British wall outlets and I did not bring my mains adapter. Previously I stayed in Scandinavian-build hotels and it never crossed my mind that there might be anything else than what we have in Sweden. In the United Europe, I have seen at least five different wall outlets. Maybe that's the next step after implementing EURO money - introducing a unified wall outlet (maybe a US type to simplify it).
| | |
| --- | --- |
| | |
| The equipment in the operating position of C56JHF (G&T is missing) | The QTH of C56JHF November 2002. An all-band wire antenna supported by a 7-m fishing rod |

Though the British wall sockets are very difficult to penetrate, I managed to rape the one in my hotel room. I always carry a Swiss army knife and a miniature fake Leatherman tool with me. A 7-meter (23ft) fishing rod served as my antenna-wire support on the balcony. I listened on 10 MHz and heard very strong C56R, the callsign of this international DXpedition that I met on my flight. How come ? Next morning, in Kotu, I learned that Franz DL9GFB had arrived a few days earlier and was staying in Senegambia Hotel, which explained his strong signals at my QTH. They were using the same callsign from 4 different locations. Next morning I also met Jeff N0DY and Stein, nicknamed Rag, LA6FJA who'd been here also for a couple of days. The group was large - 5 guys from Latvia, 3 from Finland, and those 3 just mentioned. When I offered my help, the mastermind of this DXpedition, Juha OH9MM said: We are quite many and I am afraid some of us are going to be idle at times.
| | |
| --- | --- |
| | |
| Jeff N0DY (left) and Stein LA6FJA (right). The man in the middle is not Jeff Steinman, he is Juris YL2GM. | Station Number One - a tunable Yagi  (steppIR) and verticals on the roof of Kombo Beach Hotel, Kotu |
| | |
| A close-up view of Juris YL2GM at station One | Larry YL3CW operating at station One |
The station number One was assembled and set up in Kombo Beach Hotel with a 3 element yagi and some fibreglass verticals on the roof. This yagi was also made of fibreglass, an innovative design called SteppIR using moving copper strips inside fibreglass tubing (more information on www.steppir.com). The station was accomodated in the hotel room shared by Jeff and Stein. Station numer Two was set up in Bakotu Hotel. The roof was easily accessible and the Latvians, like spiders, kept on spinning wires. I could not really figure out which wires were parts of which antenna but it seems they worked allright. Station number Three was in Bungalow Beach Hotel but it was mainly a 6-meter position with an optional vertical dipole  for 12- and 17-meter bands. The 6-m yagi was made all of fishing rods - a home made design of Raimo OH3BHL. There was a station number Four, in Senegambia Hotel, but I could not find it. Franz DL9GFB must have had a Stealth antenna, I presume.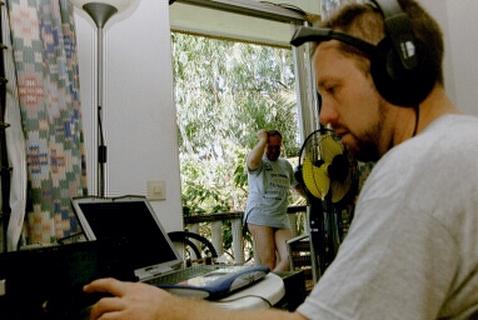 Station Two - Arvis YL2LY - using IC 7400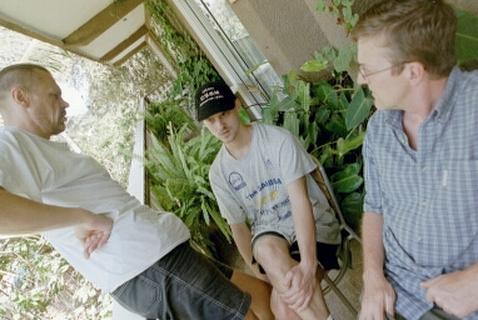 On the balcony outside station Two - from left Girts YL2KL, Juha OH9MM, Jeff N0DY
I visited the 3 stations in Kotu almost every day, checking for the progress of antenna growth and offering my assistance. It seems that the main headache was the wireless computer link. The distance between stations One and Two was no more than 500 meters but something swallowed the bytes.
I visited one more station in The Gambia. A commercial AM radio station called Radio Syd. It was an offshore station south of Sweden that found shelter in this newly independent country at the end of 60's. However, this turned out to be a quite hostile environment near Banjul. The coastal erosion advances rapidly and this radio station is now on an peninsula. Last September a storm toppled the 150ft antenna tower so the radio station is QRT but luckily no one was hurt. The elements are not favorable here. Even the local people show more violence than I noticed before. I once took a taxi but the driver was from another village and he was literarlly attacked by other, local, taxi drivers.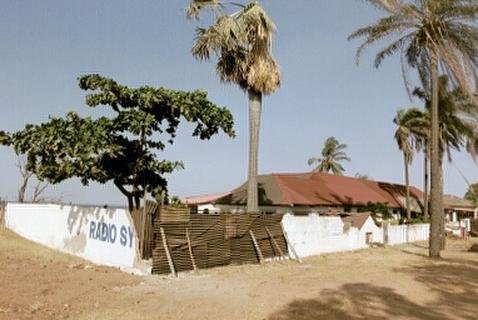 Radio Syd - a commercial AM station that went QRT on Sep 11, 2002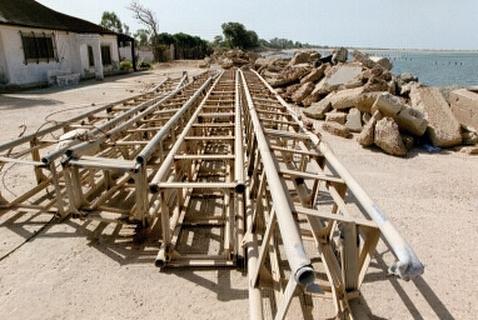 The antenna tower of Radio Syd in RIP position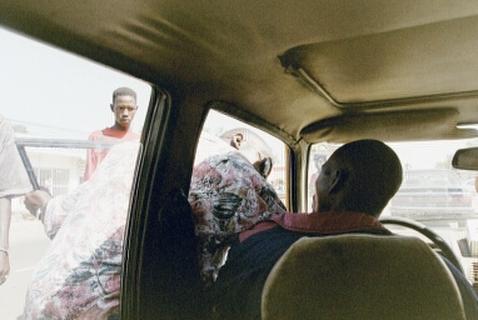 A taxi ride to Kotu ? - No way. Local taxi drivers of Kololi stopped this man... and I had to take another cab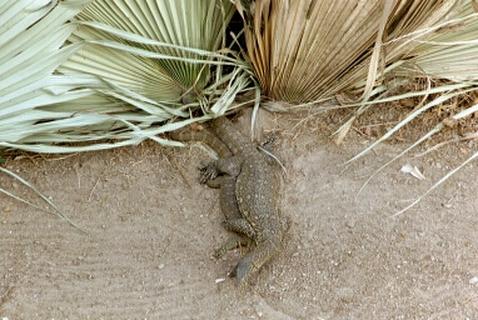 A view from my hotel balcony. These lizzards engaged in sexual activity are more than 5 ft long.

The propagation, though, is favorable. With a piece of wire as the antenna and a few other wires acting counterpoise, I made thousands of contacts. Hundreds of them were on 6-meter band which can be very hot here. It did open to Europe only, though. During the CQ WW Contest I made a thousand QSOs, mainly on HF bands. My only 80-meter contest exchanges were with XT2DX and EA8ZS. On Top Band this 23ft wire did not tune at all. I gave the C53M team a few multipliers (C5) in the contest.
A detailed write up of C56R/C53M DXpedition is due to appear in the National Contest Journal. If anyone reading this does not know the NCJ, then I recommend going to http://www.ncjweb.com/ and checking the obvious advantages.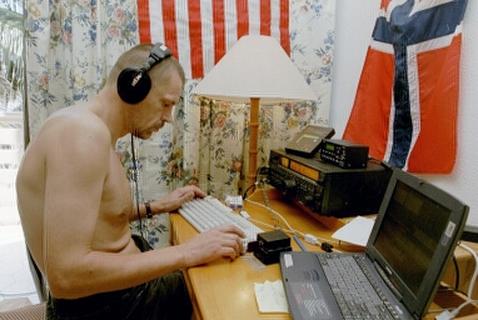 Girts YL2KL at station numer One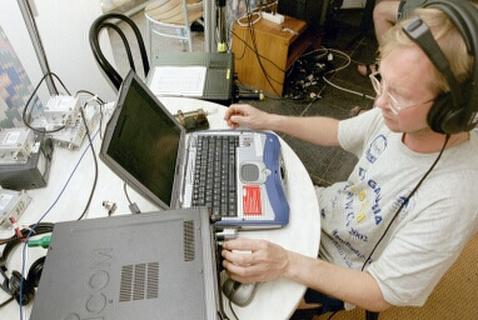 Kimmo OH9MDV at station Two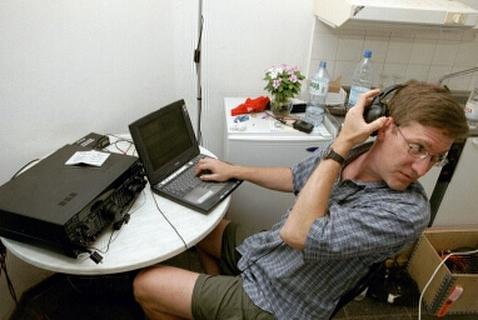 Jeff N0DY at the second operating position of station Two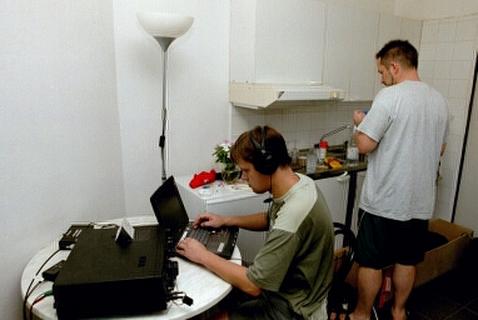 Kaspars YL1ZF at the second operating position of station Two
Encouraging to see a few young guys on a DXpedition. Stein LA6FJA was 23 years old and Kaspars YL1ZF 25 years old at the time of their stay in The Gambia.
My previous visit to The Gambia, in January 2000, is described on www.qsl.net/c56jhf  My next trip to The Gambia is... not improbable.
Henryk Kotowski SM0JHF
copyright 2003
They Call It The Smiling Coast
Reply
by EA5ON on March 28, 2003
Mail this to a friend!
I will be in the Bahamas for work purposes during WPX CW. I am the world's worst cw op, but reading articles like this make me think I might just pack the 706 and the laptop to see if I can have as much fun as Henryk!
They Call It The Smiling Coast
Reply
by KC4PX on August 1, 2003
Mail this to a friend!
Say Hello to my fellow Latvians. Excellent article and if you ever need an operator, call
RE: They Call It The Smiling Coast
Reply
by Michigan on January 13, 2005
Mail this to a friend!
Can anyone tell me where I can purchase an air ticket to Gambia at a reasonable cost? Someone mentioned obtaining airline taket for $400.00. Is possible to obtain an air ticket at this price? If so, please specify, with details.
They Call It The Smiling Coast
Reply
by g8vvk on July 8, 2011
Mail this to a friend!
hi i live in brufut but would like to operate hf in gambia november where do i get the licence from regards and thank gareth
Email Subscription
You are not subscribed to discussions on this article.

Subscribe!
My Subscriptions
Subscriptions Help

Other Stories Articles

Reflections on the ~2005~ CQWWW Contest

SN0HQ

A Visit With S57DX

Montenegro landmark

Slovak Contest Group

---