Moonbouncers Are Also Contesters
<![if !supportEmptyParas]> <![endif]>
Most likely the majority of visitors on this web site will define contesting as confined to HF bands. Very few would also include tropospheric VHF contests into their sphere of interest. I have a broader view on contesting and claim that moonbouncers are also contesters. Far more technically advanced than most of us, appliance operators, they are patient and systematic, thorough in assembling their intricate stations, adjusting and refining noise figures, tracking the Moon, sometimes spending hours for one QSO. Homebrewing is the name of the game, experimenting, learning, exchanging information and experience. QSO rates are not high by HF-contesting standards but one has to have good ears to dig these phantom signals out of the sea of noise.
Nowadays, top moonbouncers make hundreds of contacts during a contest weekend. The number of stations with EME (Earth-Moon-Earth) capability is growing rapidly and worldwide there are well over one thousand dedicated followers of Luna. Actually, almost anyone can try this exciting mode thanks to several extremely well equipped stations. It is feasible to make lunar contact with stations like W5UN or SM5FRH with only 100Watts and a single yagi on 144MHz. I myself, once made a random contact with Dave W5UN but have never visited him. I have visited SM5FRH but never had a QSO with him. Torbjorn SM5FRH lives in the countryside, about 2 hours drive south of Stockholm. His 2 meter array consists of 32 horizontally polarized 19-element yagis and 32 vertically polarized 10-element yagis.
<![if !supportEmptyParas]> <![endif]>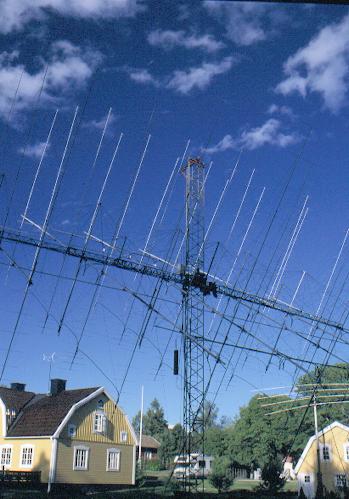 <![endif]>
The array of SM5FRH for 144 MHz. The small antenna on the right is a 4 element 14 MHz yagi, used basically for MoonNet contacts on 14,345 kHz SSB.
SO2R (Single Operator 2 Radios) has its equivalent in two-channel stereo reception. The incoming signals are separately fed from V and H polarized antennas to two transverters and into a dual receiver. Torbjorn feeds the audio into a Hi-Fi system for visitors to experience shifting of polarization which HF operators would call as "QSB".
<![if !supportEmptyParas]> <![endif]>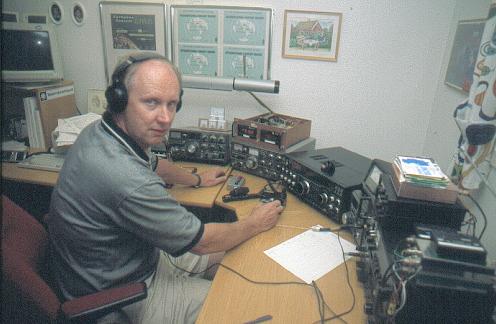 Torbjorn SM5FRH in his radio room
<![if !supportEmptyParas]> <![endif]>
<![if !supportEmptyParas]> <![endif]>
His antenna was designed with the support of Leif SM5BSZ, a very successful moonbouncer and almost a neighbour. Leif's arrays are modest in size but outperform even much larger outfits. He is a full-time inventor and puts a lot of calculations and programming into his amateur radio projects.
<![if !supportEmptyParas]> <![endif]>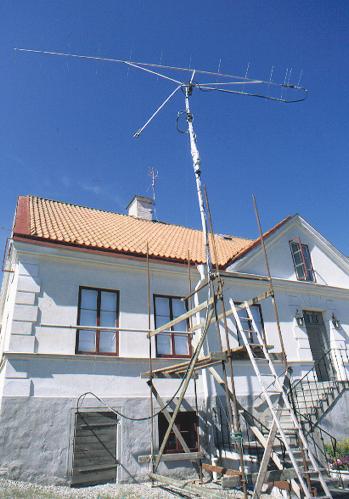 <![endif]>
A temporary set-up with a single yagi for 144 MHz at the QTH of SM5BSZ
Leif SM5BSZ has been a ham since 1960. His web site at http://ham.te.hik.se/homepage/sm5bsz/ is a mine of information for anyone seriously interested in the state-of-the-art techniques applied to weak signal communications in general.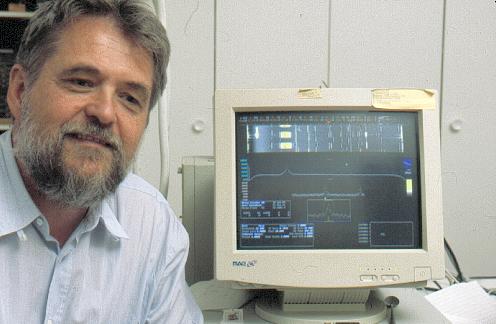 <![endif]>
The received signals are computer-processed. Leif can actually watch the DX sub-band of 144 MHz on the monitor in frequency domain.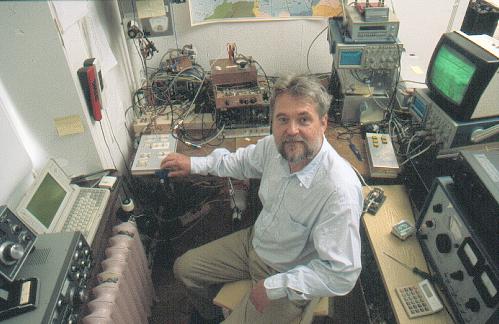 The operating position is filled with units of own and unique construction. The screen on the right was connected to a video camera placed on the antenna in order to verify its correct aim at the Moon. (photograph taken earlier when Leif had an array of 4 antennas)
The first successful EME contacts from Sweden were made by Kjell SM7BAE in 1968. He is a farmer in the south of Sweden. Licenced in 1950 he did like building equipment from the very beginning. A small page at www.qsl.net/sm7bae/ will tell you more about him.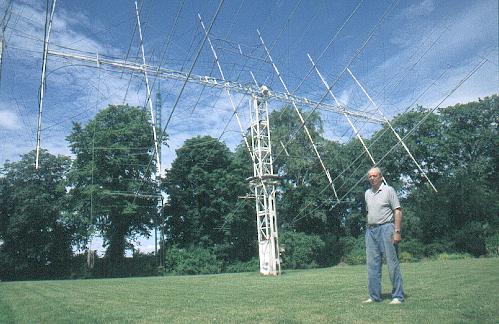 Kjell SM7BAE in front of his combined 2m and 6m moonbounce array
<![if !supportEmptyParas]> <![endif]>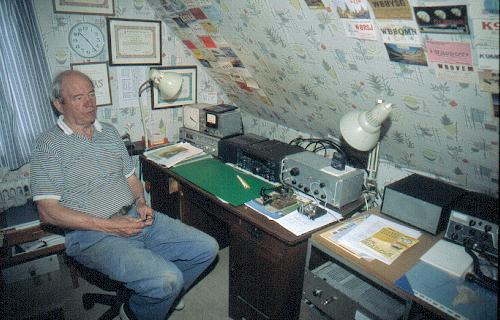 The shack of SM7BAE is quite simple and modest
<![if !supportEmptyParas]> <![endif]>
I was confronted with EME some 20 years ago when my friend, Paul SM0PYP, started experimenting with stacked 2m yagis in Stockholm. Later he became very successful on 4 bands using modified yagis for 144 MHz and his completely home-made dish for 70cm, 23cm and 13cm bands.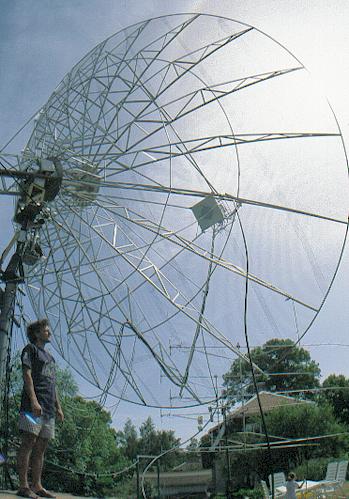 Paul SM0PYP in Stockholm about 1992.
Paul lives now in California and is WA6PY. A small web page at www.qsl.net/wa6py shows some of his current activities.
<![if !supportEmptyParas]> <![endif]>
<![endif]-->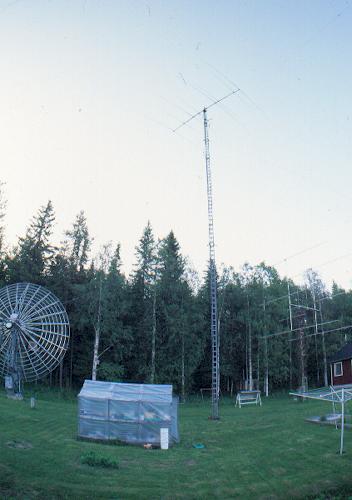 The antennas of SM2CEW in the north of Sweden. The time was 3 A.M. when I drove by his house one summer.
<![if !supportEmptyParas]> <![endif]>
Quite many moonbouncers have been and still are ardent HF contesters. EME is more challenging as it demands more experience, deeper understanding of the theory of electronics, antennas, astronomy. Apart from the normal operating skills as on HF bands. I could compare it with the taste for music or cuisine. Getting mature changes one's taste, also for amateur radio and its different facets.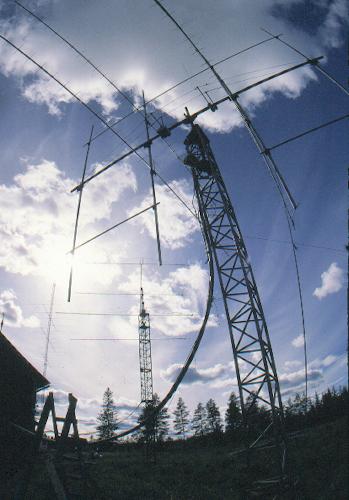 VHF (2m and 70cm) antennas of SM2EKM in the north of Sweden, used also for EME tests
<![if !supportEmptyParas]> <![endif]>
Here is the last Swedish EME station that I have visited. Sweden is very well represented in this growing mode of contesting. There are many more excellent installations in this country that are worth describing, it's just that I have not had an opportunity to see them.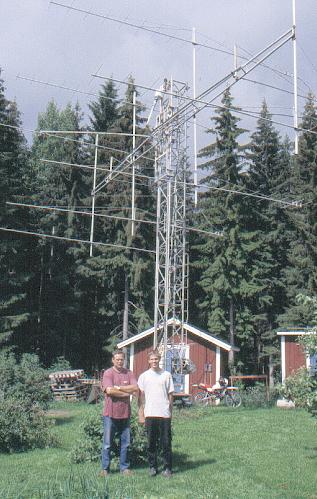 Sverker SM3PWM with his son in front of his 2m medium-size array for EME.
<![if !supportEmptyParas]> <![endif]>
While travelling through France I spotted this collection of EME antennas near Lyon. The owner, Gilles F5FEN, was not at home, unfortunately.
<![if !supportEmptyParas]> <![endif]>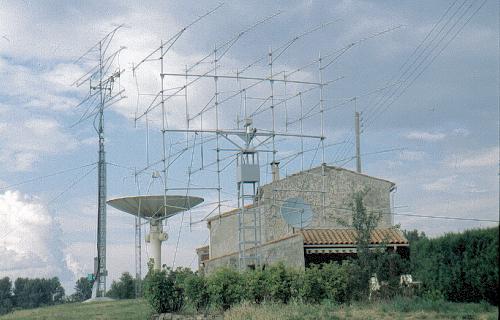 F5FEN in central France. Up front - 16 yagi array for 70cm, in the background stacked long yagis for microwaves and a dish that looks like a mushroom (in this position it has lowest wind load)
<![if !supportEmptyParas]> <![endif]>
Malta, a small island near African coast, is surprisingly well developed in this advanced mode. Fortunato 9H1ES runs microwave EME, Paul 9H1BT has also made tests with home made gear, Philipe 9H1PA is quite active on 144 MHz...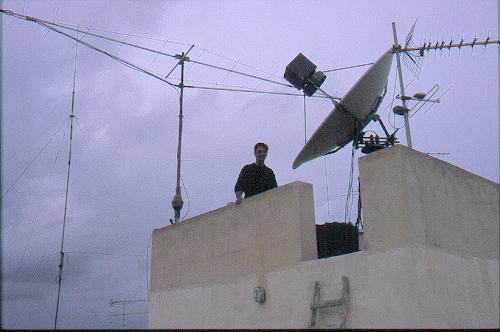 Silhouetted Fortunato 9H1ES on the roof with his dish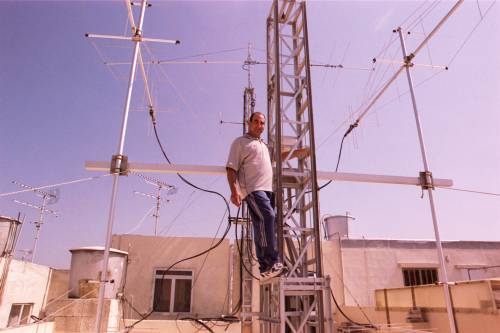 Philipe 9H1PA has a very well engineered 4 cross-yagi array for 144 MHz
<![if !supportEmptyParas]> <![endif]>
A good place to get further information on the air about EME activities is the net on 14.345 kHz Saturdays and Sundays at 1700 UTC (1600 UTC summer). Even better source of information is the web. There are hundreds of web pages about EME and weak signal communications in general.
Dave W5UN, who by the way was a very active HF contester as W5WZQ, has a page at http://web.wt.net/~w5un/primer.htm that can be very helpful. A gallery of pictures run by DF6NA can be viewed at http://www.df6na.de/~df6na/photo.htm  That's only 2 examples.
<![if !supportEmptyParas]> <![endif]>
Moonbouncers are very much like other contesters. I have met a few who can talk a lot about their plans and achievements but never really make it. Some of them never even take off but still keep talking about the big projects that will knock everyone down. And then, there are those who do innovative things without showing off. They constantly improve the technologies and techniques. Just like HF contesters.
Well, the QSO-rates are not exciting. But the distances are much, much greater than in any HF contest. An average EME QSO spans 500,000 miles (800,000 km). The ultimate DX, so far...
<![if !supportEmptyParas]> <![endif]>
Henryk Kotowski
henryk@sm0jhf.info
<![if !supportEmptyParas]> <![endif]>
2002 May 20
<![if !supportEmptyParas]> <![endif]>