Louisiana Contest Club is Born!
Scott Dickson (W5WZ) on August 21, 2008
View comments about this article!




Contact: Scott Dickson W5WZ

info@LouisianaContestClub.org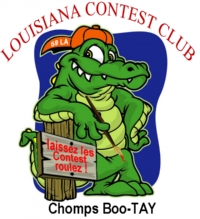 LOUISIANA CONTEST CLUB
Leesville, LA, Saturday, August 9, 2008
The Louisiana Contest Club was formally organized at the Leesville, LA hamfest. Present at the organizational meeting and signing of the club constitution and by-laws were the charter members Charlie Morrison, KI5XP; Roland Guidry, NA5Q; Pat Sonnier, W5WMU; Mark Ketchell, K5ER; and Scott Dickson, W5WZ. Also present were Louisiana Section Manager Gary Stratton K5GLS; and Louisiana Affiliated Club Coordinator Jim Bookner, N5NVP.
The Louisiana Contest Club is a special purpose amateur radio club devoted to the pursuit of operating and technical excellence. Our goals are simple:
To promote the fun, satisfaction and competitive thrill of radio contesting

To assist our members in the development of their operating and technical skills

To foster increased friendly competition and sportsmanship

To become a competitive force in club competition of amateur radio contests
The newly elected officers are: President- Mark Ketchell K5ER; Vice-President- Charlie Morrison KI5XP; Secretary/Treasurer- Scott Dickson W5WZ; Director- Pat Sonnier W5WMU; and Director- Roland Guidry NA5Q.
The idea of organizing a contest club originated at the 2008 Dayton Hamvention in the contest super suite over pizza. The original founders of LCC felt that an organization was needed in Louisiana to educate, promote and encourage contesting. Further, they recognized that Louisiana had never represented by a statewide contest club. Among Louisiana hams, there are many recognized and skilled Amateur Radio operators, some who have won many national and world contesting awards. Through the LCC, we will provide a vehicle for its membership to further develop contesting skills and strategies, while allowing members to share collective knowledge and experience through mentoring.
ARRL Louisiana Section Officials and Louisiana Contest Club Officials announce a new ARRL Affiliated Club in Louisiana. Pictured from left to right are: Jim Bookner, LA Section Affiliated Club Coordinator N5NVP; Roland, NA5Q; Mark, President K5ER; Scott, Secretary/Treasury W5WZ; Charlie, Vice President KI5XP; and Gary Stratton, LA Section Manager K5GLS.
The LCC has chosen to mark the center of its circle near Marksville, LA at coordinates N31.226894 Latitude and W91.944580 Longitude. Consequently, the entire populated area of Louisiana, along with much of southwestern west-central Mississippi, and also southeastern Texas fall within the 175-mile radius circle limit imposed by many contest rules.
All persons interested in amateur radio contesting shall be eligible to submit an application for membership. Membership shall be by application and dues payment of $20 annually.
As our mascot Chomps Boo-TAY states, "laissez les Contest roulez!" (Let the Contest roll!)
Louisiana Contest Club is Born!
Reply
by KG5VK on November 30, 2008
Mail this to a friend!
I am thrilled that several amateurs within our state had the for sight to make this (The LCC) happen !

I joined as soon as I heard the news
and encourage everyone else to do the same

Some of the LCC Goals are simple, encourage mentoring of new contest ops and sponsor awards and encourage fellow ship within the sport !

73
steve
KG5VK


Louisiana Contest Club is Born!
Reply
by K4LJA on July 1, 2009
Mail this to a friend!
Way to go guys and gals --- proud of you.
I joined instantly. While I'm not a
contester -- I am a Louisiana and ham radio
fanatic. GEAUX LCC & LSU Tigers.
Laissez les Contest roulez!
Thanks Mark and Scott especially.
Randy K4LJA in Monroe, Louisiana
Email Subscription
You are not subscribed to discussions on this article.

Subscribe!
My Subscriptions
Subscriptions Help

Other News Articles

The Spurious Emissions Band at Dayton (2017)

The Pin One Problem, Live at the Visalia Contest Dinner (2017)

QRP ARCI Spring QSO Party April 9,10 2016

RSGB ROtating LOcators Contests

Maine 2 Meter FM Simplex Challenge

---