Contest as Emergency Simulation
Henryk Kotowski (SM0JHF) on December 15, 2006
View comments about this article!




One week before the CQ WW Contest, on November 18, 2006, I saw an announcement about emergency communications exercise arranged by the IARU Region I. This event, called by the organizers as the "First EmCom party on the Air" was, according to the announcement, restricted for HQ-stations and special emergency groups. Good to see that the European Amateur Radio organizations try to simulate distress radio activities. In general, European ham radio operators are not welcome to assist the authorities.

I live in a suburb of Stockholm that has agood infrastructure - adequate electric power, modern telephone exchange, multiple cellular phone base stations, fiber-optic-cable internet connection, cable television - just to name a few items of importance.

Yet, almost daily my cell phone can't access the network in the afterwork hours due to the thousands of commuters passing by in their cars and chatting on their mobile phones. Once in a while my internet provider suffers from disruptions. The power outages are not frequent but they happen - the most remarkable one lasted for 3 days a few years ago.

Being at home around the end of November I decided to conduct a Simulated Emergency Test from my apartment during the CQ WW CW contest. The objective was to check my preparedness and at the same time get acquainted with the new, miniature transceiver I had recently purchased.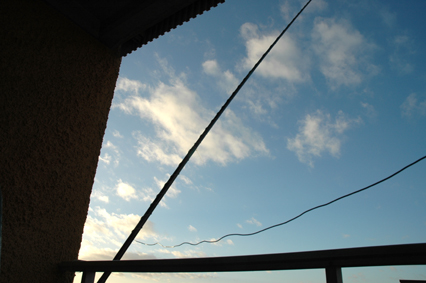 A 7 meter fishing rod with a random length of wire (about 10 meters) on the balcony railing was my antenna
The weatherproof automatic antenna tuner FC-40 on the balcony
I was on the air in 15 minutes - a 7-meter (23 ft) fishing rod was tied to the balcony railing and approximately 10 meters (33 ft) of wire attached to it. A weatherproof automatic antenna tuner was placed on the balcony. The kitchen table served as the operating position and a 20 Ah 12-Volt battery was the power supply for my FT 857D transceiver. The old laptop computer, used for logging and CW-keying, had an additional external battery. A telegraphy paddle was plugged in to enable transmission in the event of any computer malfunctions. Using a random wire antenna can affect the operation of a computer. A few candles were prepared for the evening in order to resemble a total power failure.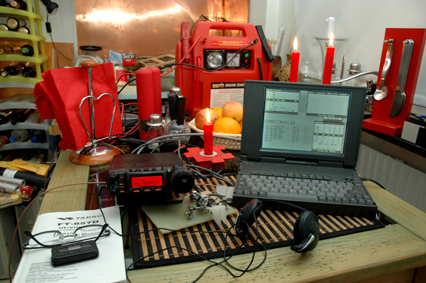 The operating position in the kitchen
Three bands were used during this simulation - 15, 20 and 40 meters. A longer wire is required to obtain a reasonable antenna efficiency on 80 meters. The total number of contacts was 200 when the battery voltage dropped to 9 Volts under load and I gave up. The biggest thrill was getting response from HC8N in the Galapagos Islands on 20 meters.
any major international competition can be an excellent platform for testing an impromptu setup or experimenting with a new or a temporary antenna.
the QRM level is high which demands considerable effort and skills of the operators
using very simple and frail installations makes contesting more meaningful
I am positively better prepared for a power outage or communications breakdown. And for my next radio trip on a shoestring.
Contest as Emergency Simulation
Reply
by KG5VK on February 18, 2007
Mail this to a friend!
Contesters have always made great communicators under any circumstances

If they are physically fit to travel and weather the conditions exposed to they definitely make great additions to any ECOM team.

73
steve
KG5VK
RE: Contest as Emergency Simulation
Reply
by K2GW on February 20, 2007
Mail this to a friend!
>>Contesters have always made great communicators under any circumstances

We can alway use more Emergency Communicators. No doubt contestors have some great skills and stamina, but there are a few more skills one would also expect of an Emergency Communicator. These include:

1. Knowledge of how government and NGO Emergency Management operates in your area and how Amateur Radio supports them. In the USA, taking the ARRL ARECC I course and the FEMA IS-100 and IS-700 courses will get you through this.

2. Maintaining the ability to send and receive formal message traffic proficiently using ITU standard phonetics. Rarely in an emergency, do we send messages just consisting of "59 354 SNJ" ;-)

3. Ability to quickly deploy and set up (less than a half hour) a portable station using self-contained power at a remote location such as a shelter. The article that started this thread is a great example of practicing this. Unless you live at an EOC, your permanent contest station isn't as useful in an emergency.

4. Ability to work with the local hams and agencies that specialize in Emergency Communications. In the USA, let your local ARES Emergency Coordinator know of your ability and availability. Participate in their practice exercises.

So contestors, keep building those Emergency Communications skills to more effectively help out in an emergency.

73

Gary Wilson, K2GW
Section Emergency Coordinator
Southern New Jersey Section, ARRL

RE: Contest as Emergency Simulation
Reply
by KG5VK on February 20, 2007
Mail this to a friend!
Gary

I agree with "using ITU standard phonetics"
it was one of my pet peeves while handling emergency traffic during Katrina

I disagree with a few other points but would rather not quibble
Nims and Cert will guarantee FEMA funding to the ARES group that has the members that are "qualified" on paper
But if you want someone able to get it done it may or may not be thru a "certification process"

I think the greatest mistake is buracratizing the process building another FEMA disasterous repsonse
and lack of action is surely not wanted by anyone that will be in need

73
steve
KG5VK

by the way I was at Belle Chase NAS for 5 days and nights During the Katrina aftermath in New Orleans in direct support of the US Coast Guard as a civilian HF incoming emergency communicator. I deployed with all of my own gear and was set-up with 45 minutes of them (The US Coast Guard)getting me there.


RE: Contest as Emergency Simulation
Reply
by kq6xa on May 26, 2007
Mail this to a friend!
Automatic Link Establishment http://hflink.com

ALE or Automatic Link Establishment is increasingly needed for interoperative communications with emergency and disaster relief organisations and agencies. Hams who are interested in HF interoperation can use ALE software interfaced to an amateur radio transceiver. Current ALE software includes PCALE and MULTIPSK. More info is available on the HFLINK.COM Automatic Link Establishment website.

73 Bonnie KQ6XA
Email Subscription
You are not subscribed to discussions on this article.

Subscribe!
My Subscriptions
Subscriptions Help

Other Stories Articles

SN0HQ

A Visit With S57DX

Montenegro landmark

Slovak Contest Group

The Paper log, SO2R and SDR generations

---