Contester's Profile - SM0AJU
from SM0JHF on November 4, 2005
View comments about this article!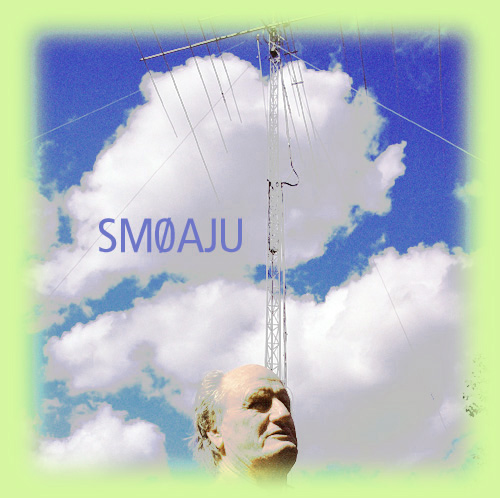 Leif in front of his antenna tower at home in Norrtälje
Leif received his licence in 1956. The call sign was SM5AJU then and he lived in a medium-size industrial town in southern Sweden. From the very beginning he was attracted by contests. He still remembers well the first Scandinavian Activity Contest in 1959 using a hand key on CW. I found his call sign on the web in the results of the second SAC in 1960, as well. This contest is still one of his favourites, besides the CQ World Wide and the ARRL DX competitions.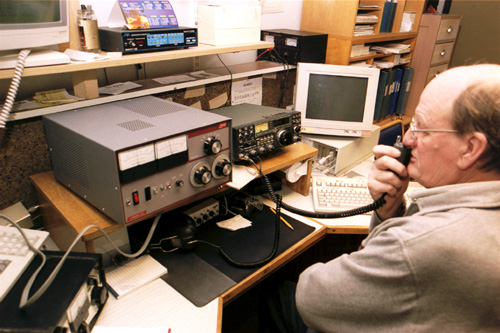 At the club station SL0ZG in Norrtälje
In 1962 Leif left his hometown of Linköping and eventually settled down, a few years later, in a small town almost 100 km (60 miles) north of Stockholm where he commenced his career in the armed forces.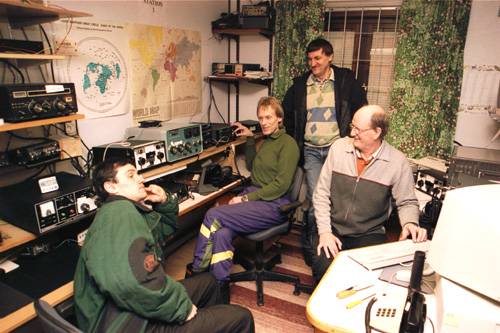 Leif, SM0AJU (right) at the club with members and visitors
Some ten years later, in 1977, Leif mounted a multi-operator contest activity from the local paramilitary radio club SL0ZG. This club remained for years to be the most active contest club of the Stockholm province. In recent years, a shorter call sign, SL0W is deployed here.
During the 80's, Leif travelled 5 times to Tanzania in East Africa for contests. Guest operating from Björn's, 5H3BH station - sometimes alone, sometimes joined by friends - Leif discovered the fun of being the DX, but he prefers to chase them, both in and outside of contests. Consequently, you will find his call sign in top spots on lists of DXCC-entities and IOTA-entities hunters. Apart from contest result listings, of course.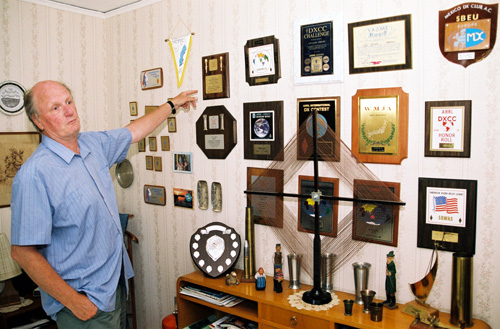 Some of the trophies and plaque
Today Leif is retired but still going strong. Proficient on both CW and Phone, he is active from his home station and trying to draw members of his club into contesting and serious DXing. Kudos for this and congratulations on 50 years of your outstanding Amateur Radio career, Leif.
Contester's Profile - SM0AJU
Reply
by 4L5A on November 21, 2005
Mail this to a friend!
Hi Henryk,
Thank you very much for great article about my old friend SM0AJU
Leif its pleasure to read and see you again
73 Al 4L5A
Email Subscription
You are not subscribed to discussions on this article.

Subscribe!
My Subscriptions
Subscriptions Help

Other Stories Articles

SN0HQ

A Visit With S57DX

Montenegro landmark

Slovak Contest Group

The Paper log, SO2R and SDR generations

---