SM0JHF Newsletter
from SM0JHF on April 7, 2005
View comments about this article!




by Henryk Kotowski, SM0JHF

Disclaimer: All news items, information, announcements and claims below are of undisclosed origin from private sources, unconfirmed gossip and other obscure derivation. The vast part of this newsletter, most likely all of it, is pure fabrication.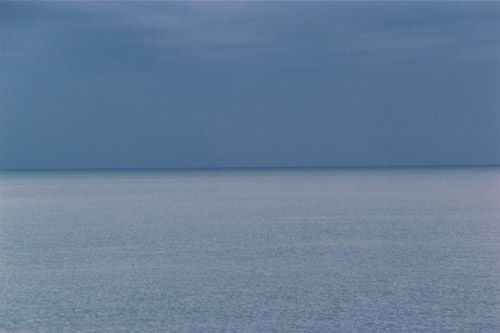 The special event station AP1RIL/SubMarine in action
A special event station operating from a submarine boat moored to the now submereged rock in The Ocean where previous activities by the mysterious station using the call sign AP1RIL used to take place, will be activated by a team of zealous operators who'll take a deep breath. The activity will be limited to 137 kHz and will commence on the first Friday of April 2005. Commemorative QSL cards printed on waterproof stock will be sent automatically upon receiving appropriate payments through PayPal to the editor's account.
New Contest Category SR2O
Affluent countries have more radios and computers than willing operators and such contest categories as Single-Operator-2-Radios or Single-Operator-4-Computers are common. However, there are countries where radios and computers are scarce. Targetting these countries, a new category is announced as of this month - Single-Radio-2-Operators. The main difference between Multi Operator and the new mode is that 2 operators share the station equipment simultaneously.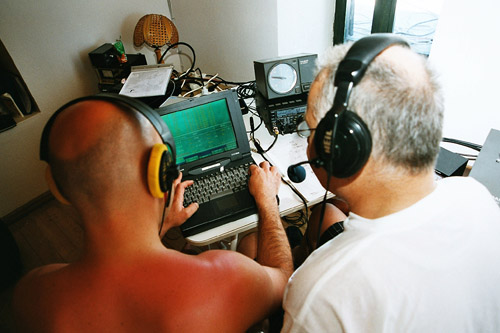 The vanguards of Single-Radio-2-Operators contesting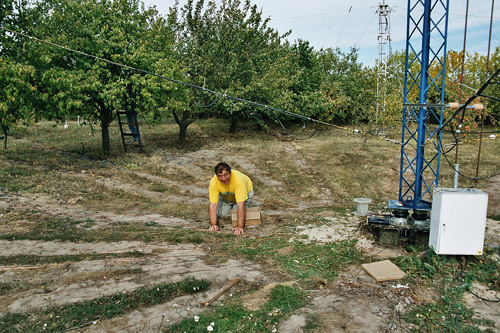 Jurek SP3GEM facing North-East a few hours before the All Asian Contest
Some contesters play trump card which is unethical but so far not illegal. They use selective prayers aimed at regional deities. This image shows a Central European operator praying to the Japanese God of Propagation prior to the All Asian Contest last year. We have grounds to believe that this very prayer was instrumental in his making 1000 more JA contacts on 75 meters 'phone than any other participant in the world.
Radio is still a big enigma for many people. How exactly the voice is going out of this small black box is not obvious. The widespread theories about high-frequency currents and electromagnetic waves are not completely convincing. Before you start using a radio, it is wise to check what, or who, is behind it.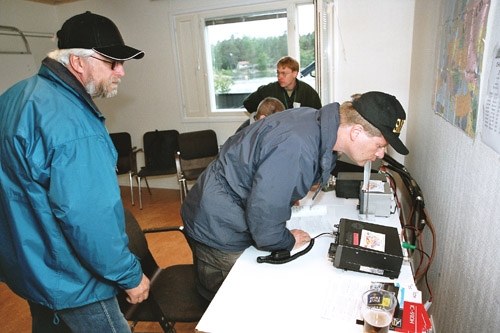 Who's hiding behind the black box called a radio transceiver ?
There is a new logging software called TC (Total Contest) available on the market. A plug-in PostContest module is downloadable for the discerning contest operator. The module provides a relaxing massage after the final score is calculated and the log is submitted to the contest sponsor. The picture shows the first, delighted, customer who has purchased this add-on.
Barry VK2BJ, the daredevil who downloaded PostContest plug-in for TC logger
The all-new compound paint significantly improves SWR in any wire antenna and shortens the elements electrically. A full-size indoor dipole for 160 meter band is now easily feasible. The outdoor experiments proved very successful.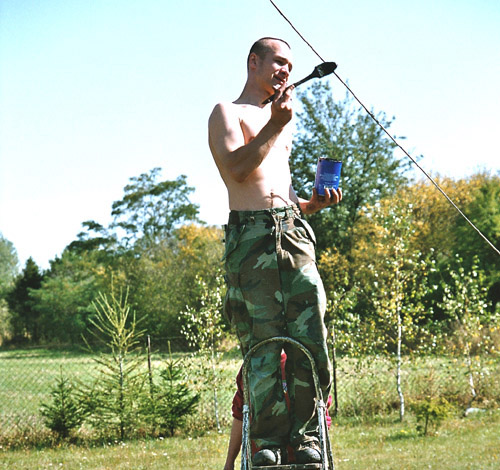 Outdoor tests of the new paint, the most important antenna improvement since G5RV
The double-lettered-suffix conspiracy
It is no longer a secret that there is an international conspiracy among contesters. We can present some photographic evidence for the existance of the double-lettered-suffix mob. They are hanging out together and supporting each other. The next step of my operation "The JHF Code" will be to analyze the high-scored contest logs and highlight any evidence of illicit cooperation on the air as well. In the future, I hope, all contest contacts between double-lettered-suffix stations will be banned. The justice will win !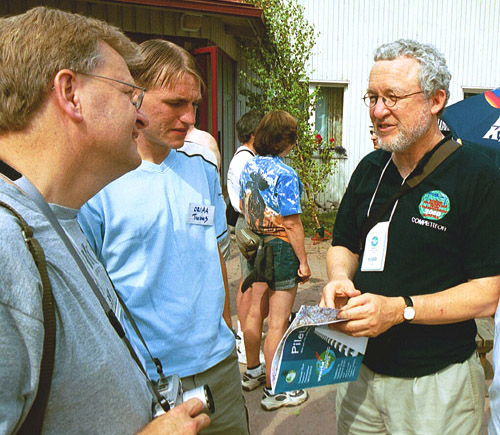 Evidence item #1 - K1CC, OZ1AA, N3BB
Evidence item #2 - XE1KK, N2AA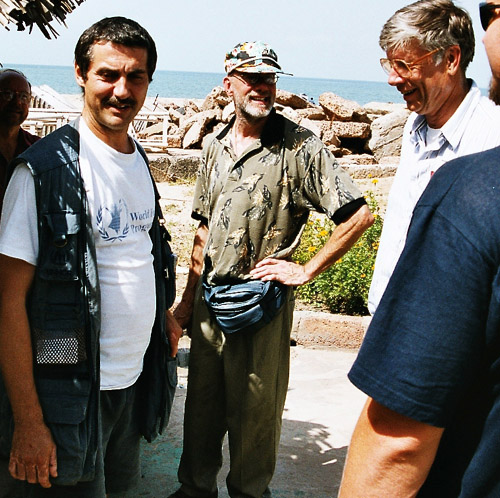 Evidence item # 3 - ON4WW alias C5WW, N6ZZ, N6AA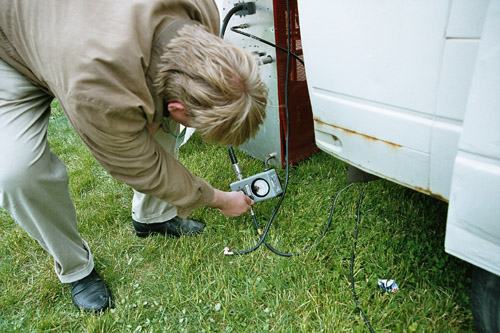 What is this Amateur Radio operator doing ?
A. Measuring RF power in the ground connection of a transmitter
B. Feeding an underground antenna
C. Heating the lawn in his backyard with high-frequency energy
D. Feeding his antenna with natural radiation of the Earth
The correct answer is E and it will be announced in the next issue of our Newsletter.
SM0JHF Newsletter
Reply
by K3BU on April 17, 2005
Mail this to a friend!
Great fun, but some not just funny but turning into reality :-)
Check DRone for 2O1R two operator - single radio at
http://www.computeradio.us/DR1.htm
Coming soooon!

Yuri, www.K3BU.us
SM0JHF Newsletter
Reply
by XE1KK on May 29, 2005
Mail this to a friend!
�*�#"$%$!!! We are ruined!!! The double-lettered-suffix conspiracy has been discovered!!!!

73 de Ramon, XE1KK
SM0JHF Newsletter
Reply
by 4L5A on June 27, 2005
Mail this to a friend!
Dear Henryk,
You doing fantastic job for ham radio
I like your articles very much
Thank you very much
73 Al 4L5A/D4B
Email Subscription
You are not subscribed to discussions on this article.

Subscribe!
My Subscriptions
Subscriptions Help

Other News Articles

The Spurious Emissions Band at Dayton (2017)

The Pin One Problem, Live at the Visalia Contest Dinner (2017)

QRP ARCI Spring QSO Party April 9,10 2016

RSGB ROtating LOcators Contests

Maine 2 Meter FM Simplex Challenge

---