Exciting new ham-maps for North America
Tim Makins (EI8IC) on November 4, 2004
Add a comment about this article!

A major new ham-mapper has just been released:

NAOMI - the North American Overlay Mapper.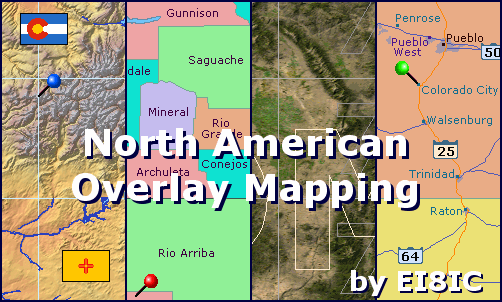 NAOMI is a suite of 49 full screen overlay-maps, covering North America. Packed full of features, NAOMI is an important new tool for all aspects of Amateur Radio in North America. More than just a static map, NAOMI combines the 25 different overlays with an instant navigation system that can load and annotate a map, adding push pins from its data-base of 1000's of pre-programmed locations. In addition, you have access to a large range of calculation and measurement tools, APRS display, plus easy loading of high-resolution satellite and weather maps.
Who is it for ?
NAOMI is ideal for every ham, no matter where their special field of interest might be. The local ragchewer, the VHF dxer, County Hunter, Field Day Team, SweepStakes Contester, RACES and ARES group, Rover or APRS mobile, IOTA expeditioner; all will find NAOMI an important tool for everyday use.
What can it do ?
Although its 49 maps and over 1200 overlays provide an un-surpassed level of North American raster mapping, its features go far beyond that of a static map-viewer. NAOMI uses its unique concept of Map-Pins that are easily referenced to 1000's of pre-programmed positions. Each pin combines positional and ident information with their function as a base for on-screen graphics plotting: distance and bearing lines, range rings, and more. In addition, the 3 User-Lists, easily loaded with your own set of spatial points can reference to every other feature in the database, as well as being plotted on whichever map they appear on. Add the live APRS icons from the FindU database, the easy access to live Satellite and Weather Radar images, the Table Viewer with 130 sortable tables, and NAOMI really is the mapping suite you have always been waiting for.
For further details, screen shots, features-list, and a fully-operational demonstration version that you can download, please visit my website.
73s Tim Makins EI8IC
http://www.mapability.com/ei8ic/
http://www.qsl.net/ei8ic/

There are no comments on this article: Post One
Email Subscription
My Subscriptions
Subscriptions Help
Other News Articles

The Spurious Emissions Band at Dayton (2017)

The Pin One Problem, Live at the Visalia Contest Dinner (2017)

QRP ARCI Spring QSO Party April 9,10 2016

RSGB ROtating LOcators Contests

Maine 2 Meter FM Simplex Challenge

---