Newsletter
from SM0JHF on March 31, 2004
View comments about this article!



The perennial, mysterious station AP1RIL, appearing each year at the end of March is no more. The high tide forced the crew to abandon the rock, somewhere in the Atlantic Ocean, from which they operated Amateur Radio. It is hard to say if this decision is permanent. Time will show.
SO2R is older that we thought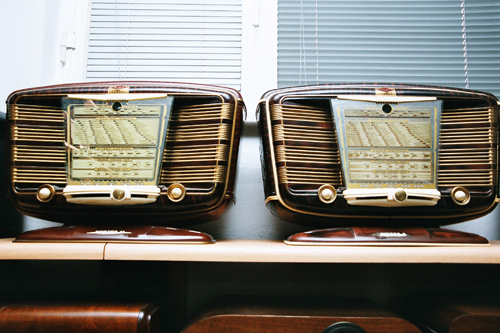 Going through old pictures of vintage radios, we found this combo from late 40's. A typical Single Operator 2 Radios setup of the AM era.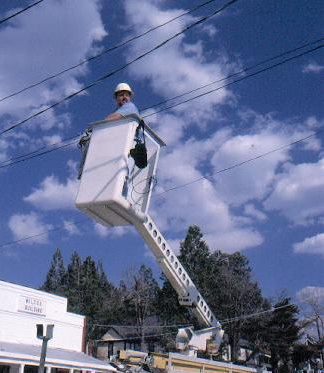 Unless we strongly protest against the use of electrical power lines to transmitt high frequency digital data, we might now add some new events to next year's Contest Calendar. There are already some trials of contesting in BPL mode. We caught this groundbreaker in action getting ready for next year's BPL Field Day.
A new contesting category - SO4C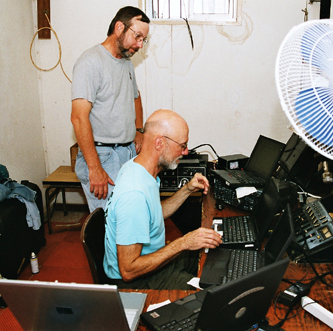 Single Operator 4 Computers is the recent phase of combining the radio, the operator and the logging device. Each weekend of the year, at least a few Amateur Radio competitions take place in the radio spectrum. A novel approach for entering a few contests simultanously is demonstrated by Phil N6ZZ. Using 4 computers, he can log contacts in 4 different contests in real time. What's next ?
Every pack of cigarettes has a warning text on it. Recently a similar warning text on cellular phones was suggested in Sweden. Some experts claim that cellphones are harmful for people. Is contesting harmful, too ? After all, the exposure to RF radiation, the stress, the ambitions, the waiting for the results and so on, make some impact on the body and the mind of every contest operator. Not so much research has been done so far but here we are able to present some modest attempts. We photographed a couple of contest operators in action, using advanced scanning equipment detecting invisible radiation, moods, paranormal phenomena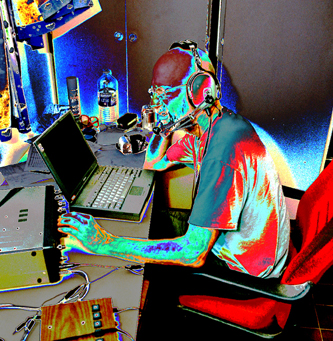 The subject was scanned on Sunday afternoon during a major 48-hour contest. The weariness and sleep deprivation have totally inhibited his basic instincts. We offered him a bottle of cold beer which he ignored. We let a pretty girl walk by outside the window the subject was sitting at and he would not even raise his eyelids. The brown areas of the forehead indicate deep sleep. The emerald colour in the image appears in areas of activity - the jaw muscles and left arm. Areas of importance that the subject is perceiving are blue - a bottle of mineral water and a mosquito repellant spray. Other humans in the same room are non-existent, the only way to communicate with the subject is through Alt-G mode of his portable computer in front of him. Curable. On Monday the subject was back on his feet again, drinking beer and socializing.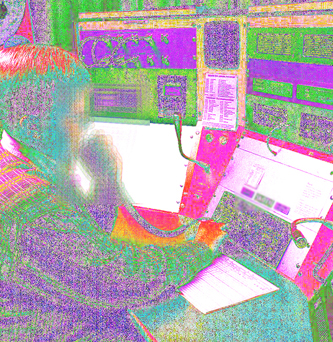 This scan was actually made before a contest. The subject is interrupting a conversation between two stations shouting "Break, break !". When permitted to transmit, the subject announces "Breaking News ! I will participate in some contest next weekend ! Please look for me and make a recording of my outstanding transmissions !" When asked to present himself, our guinea pig exlaims "I am The King of Contest!" - a common symptom of cognition deficiency. The top of the head displays red shift radiation indicating the huge speed of subject's consciousness moving away from reality. The object will keep telling everyone about his supremacy, his unique achievements, his exciting plans for the future. All these are totally groundless. Basically no known cure.
case study: perpetual winner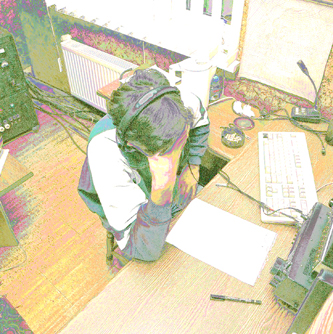 The subject got scanned during a major solar flare outbreak and a geomagnetic disturbance. The bands were virtually dead. A blank sheet of logging paper in front of the subject emphasizes the meaninglessness of the event. The subject is contemplating selling all equipment and towers, quitting it all. Clearly depressed, he mumbles "no more radio, from now on, I'll only play bridge for real fun". A typical case of "contest blues". Prognostic positive as HF propagation improves.
We jumped to a conclusion that contesting is harmful. But so is everything else.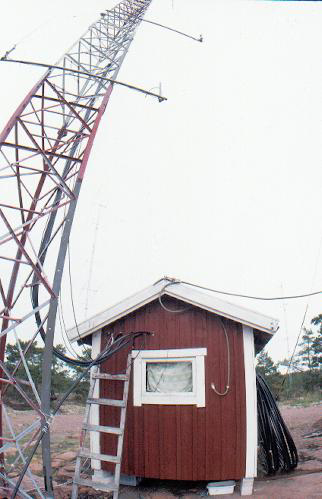 Earth being a sphere, the optimal polarization of electromagnetic waves for long distance communication is obviously spherical. A few enthusiasts are experimenting with bow antennas. The picture shows a low band vertical that will propagate HF along the circumference of Earth taking advantage of ducting and atmospheric amplification. This mode is recommended for communication around the Earth but it is worthless for Moonbounce, satellites and the new craze - Earth-Sun-Earth.
Editor and author of the Newsletter
Newsletter
Reply
by WN3VAW on April 10, 2004
Mail this to a friend!
Figures.

I finally announce the Poisson d'Avril contest operation in my club newsletter, and no one else has!

Figures. Didn't even work anyone this year, but at least I operated, so I guess that means I won, right?

73, ron wn3vaw
Email Subscription
You are not subscribed to discussions on this article.

Subscribe!
My Subscriptions
Subscriptions Help

Other Misc Articles

IARU HF 2011

---