VK9XD CQWWSSB 2003
David E. Burger (vk2cz) on December 20, 2003
View comments about this article!




Story of VK9X CQWW SSB contestpedition 2003

The idea behind the VK9X contestpedition was born out of two unrelated conversations with other hams in late 2002, and with me looking for some additional excitement in my annual contest trips to VK8.

Living in suburban Sydney does not lend itself well to contest operation, or even erecting large antennas. Having operated from Darwin in over 6 large contests, and in some respects the repetitive nature of the twice annual visits was taking its toll. The VK8AA station in Darwin had been assembled over a period of 2 years, and the station leveraged the 2001 downturn in the Australian construction industry. The station utilizes a 55m (190') construction crane, a large Emtron tri-bander, rotator and multiple inverted vees and slopers for 160/80 and 40m bands, and a two radio lineup. The whole antenna occupies around 8 acres (3 hectares), so selection of venue is important from size, QRM and EMC aspects. It takes 6 hours to complete assembly the antenna array, with many work saving features.

Fellow ham Mark VK8MS suggested to me just after the 2002 CQWW that going to a more remote or interesting location was a good idea, a location still in Zone 29 but maybe provide an additional Country multiplier as well. The idea of something nearby and accessible from Darwin was in my mind.

This led me to look at 4W6 in East Timor, and I established contact with Thor 4W6MM. Most of the supplies, vehicles and heavy transport to East Timor were by weekly barge from Darwin, which suited my large portable station logistics. Thor and I had QSO'ed numerous times in previous contests, and it was easy to communicate my interests. Interestingly I was his one and only 160m SSB QSO. At this stage, discussions pointed to the biggest hurdle of licensing, and I had arranged to use my then employers Jakarta office to translate a license application and submission paperwork.

Around September 2002, the Independence Celebrations for East Timor were held - with wide publicity on all Australian news feeds. While festive and innocent, I began to ask questions about the status of East Timor with the ITU. Meanwhile 4W6 operations were continuing. Around November 2002, Thor advised that `orders to cease all ham operations' had been issued to a number of other hams, and while Thor had not personally received such a notice, it was clear the licensing conditions were changing.

So it became evident early December '02 that 4W6 was effectively off-air and to begin significant planning of a big operation was really a no-go destination at this stage. This had caused me to put that idea on ice and re-focus on my work.

At this stage in mid December 2002 Steve VK3OT had received an assignment at Christmas Island, scheduled for April 2003. Steve asked if I would be interested, however the time period suggested did not cover any significant contests. Steve's assignment could not be moved more than a couple of days either way. Figuring that value for money, it was the ARRL DX or CQWW contests that were viable for my interests closed to this timeframe. Realising that logistic lead times to get material to the island was tight, work was busy and my ability to get time off was difficult, I seized the opportunity of the CQWW where both zone 29 and VK9X would be attractive multipliers, and importantly giving me 8 to 9 months preparation time.

Finding out that Christmas Island is considered just another part of Western Australia from an admin and telecommunications perspective - well it was a surprise for me anyway, I located the then sole operator of heavy lifting equipment hire to find out the largest mobile crane on the island is a 20 ton, 28m lift. This was too small for my needs, however he did say a 50 ton, 55m lift Tadano crane was due on the island in early March. This lift availability completely ruled out attempting to schedule a visit for the ARRL DX contest and put an attempt at the WPX into a critical time path. This reinforced the October CQWW choice for a visit.

A sense of de-ja-vue arrived, noting that the Darwin crane I have used for VK8AA was identical in specification, and every other respect - but more importantly the VK8AA rotator mounting brackets and dipole hangers would fit without modification. The whole antenna assembly is attached to the crane using a single 1 inch bolt. A little known feature of the Tadano cranes is the jib pin mounting arrangement is the same of all their cranes over 30 tons. So now Christmas Island became a viable destination with minimal engineering difficulties.

The means of getting access to Christmas Island are through Perth or Jakarta, and a quick search of flights yielded baggage limits of just 20kg. While not a major issue, it was clear that the more material I sourced on the Island or out of Jakarta on the heavy freight flights was mandatory. There is also a ship service to the Island out of Perth as well, with significant lead times and monthly visits.

With all the antennas, coax and other station hardware located in Darwin, logistics were even more hard to comprehend, but not important at this stage. In June I had sourced or delivered antennas, rotator, wire antennas, power supplies etc to Kevin Smith VK6LW. Kevin kindly bundled the material into 7 boxes. Surprises never cease, the 200kg+ that was shipped to Christmas Island using sea freight cost just $81 from Perth. Many thanks to Kevin for my eyes and ears in Perth.

Early January 2003, I figured that putting my intentions on the ADXO website was imperative, while VK9X had not had contest activation in over 27 years, there were frequent DX-peditions there by PA/DL and US based hams, and I was keen to ensure no concurrent operation occurred, or at least left coordinated beforehand. Within days Harmut DM5TI and Thomas DL2RMC had scheduled a 4 week visit to both Cocos Island and Christmas Island with some overlap. After some quick re-planning, they moved their visit 2 weeks earlier, which effectively left the CQWW weekend free.

Early February another DXpedition was announced by a series of YL's - much to the surprise of all concerned. While their schedule overlapped both Harmut and myself, it left Harmut and Thomas having to contend with competing stations less than 500m away - possibly less. The consensus was that no operating agreements could be reached between Harmut and the YL team and this after sensible proposals were made. Another feature of travel to Christmas is that all but one flight is scheduled on weekends. The CQWW weekend is actually when the DL gentlemen leave and the YL's arrive. In reality the YL's were active around 3km from my station, and of no cause for concern in any respect.

There were a lot of strong e-mails distributed; however I concluded that even if the YL's were on air for the final 24 hours of the contest, contest conditions and my additional bands would provide a clear level of autonomy.

Booking the flights to Christmas was a challenge to give me 3 to 4 days of preparation time and full exposure to the CQWW weekend. I found a Tuesday flight in and a Thursday flight out which worked out near perfectly. I also found the CITravel website to be hopelessly out of date, not even mentioning these flights. Next was to get from Sydney to Perth or Sydney to Jakarta. While the return flight to Jakarta was actually cheaper than the flight to Perth, my intention was to use frequent flyer points (miles) to keep costs down. Getting connecting flights with VK9X travel was equally challenging, I have a 9 hour layover in Perth, and then return through Cocos Island and also Melbourne. The issue of clearing $10K worth of ham gear in and out of Jakarta was also an issue worth avoiding. The realities of economics meant that I had to declare the value of the gear in any case - finding out it affected Australia's balance of payments, as it was going to an external territory.

Selecting a venue for operation at Christmas Island was straightforward, having a brief discussion with some of the US hams, Charlie W0YG and others who had used the CI Cricket and Sporting Club. Steve VK3OT who had been on Christmas some years ago also reinforced this as a suitable venue. My criteria was the same as the Darwin (VK8) operation, 4 to 6 acres available, AC power, no residents for at least 1km. A proposal was sent to the CI Sporting Club for review at their February committee meeting.

The Darwin operation is directly in a flight path near one of the outer markers, however the location some 5km from the airport did not warrant any aircraft issues.

The next coincidence was as much unsettling as well as it was unplanned. It turns out the CI Cricket and sporting club is located within the airport precinct, close to the non-directional beacons and an AM radio station. The use of a 55m crane so close to controlled airspace clearly needed involvement of the airport manager. My first thought was maybe this may eliminate the venue.

The airport manager turned out to be actually the president of the CI Cricket and Sporting club in 2003, so there was already an awareness at the airport of my proposal to the Sporting Club. After a discussion with the airport manager, I forwarded a formal notification of the use of crane and location to the airport manager. He will issue a NOTAM will be issued to all aircraft filing flight plans on the weekend of the CQWW in VK9X. There are no night time flight operations at Christmas Island, so no warning lights appeared to be required. A subsequent change of personnel mandated a requirement for an aircraft navigation light to be used.

Unpacking all the equipment on the island showed I had left the assembly instructions for the Explorer 14 tri-bander. Some hurried e-mails and a quick ad on the vkham.com website had a fax of the handbook in my hands within a day - many thanks to Trent VK4TI.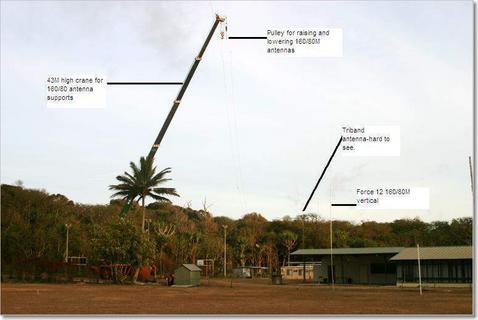 Since my enquiries about the construction crane, I discovered it had been sold to the local Stevedores. This required some quick footwork and a number of meetings to work out an agreement. Immediately, the crane was measured up and a mounting bracket drawing prepared. The bracket was fabricated to the 90% stage and test fitted to the crane with 100% success. At this stage it was still planned to fit the tribander to the top of the crane, however the devil was in the detail, and it was not possible to have both tribander and navigation light together. The bracket was tweaked to mount the borrowed navigation light.
Sourcing 2 lengths of 3 inch water pipe, I had a mini tower for the tri-bander. Making an interface bracket to brace this with the building roof allowed the pipe tower, rotator and tri-bander to be erected by one person. Getting this in the air on Wednesday before the contest was way ahead of schedule. Driving to the site around 11pm for some late night testing, I was confronted with the tri-bander lying upside down on the ground. Burying my disappointment, I dismantled everything and proceeded to apply panel beating skills to the dead-bug tri-bander with its legs bent in the air. Around 1am it was ready to be erected, but I later found there was a gale force wind earlier in the eveing which had sheared off the 5/16 mounting bolts. Changing these to 1/2inch bolts next morning restored the tower and tri-bander to normal service.
On the Friday prior to contest, unfurling the wire antennas, coax and tie ropes too around 4 hours. There was around 1.2km of wire+rope+coax all up. Bringing a 45 ton crane to site required a heavy vehicle permit from the Shire Council, as this vehicle would crush pit lids in the road and even destabilise one section of road near Poon Saan. After taking 45 minutes to travel 4.5km, I needed to place the crane to be suitable to lift the wire antennas, as well as avoiding crushing stormwater and sewer pipes nearby.
The antennas took only 10 minutes to erect, and with a quick scan of the CIA Impedance analyser, It appeared the 80 and 160 antennas were open circuit. Doing a multimeter check showed all OK, then a lateral check showed around 1 volt of RF from the AM radio station on the 80m antenna and over 6 volts on the 160m antenna. CIA analyser or VSWR analysers simply don't function in this RF environment. Firing up the rig, and quick test with 25watts allowed the 80 and 160m antennas to be set to the SSB segments. By 3pm local time Friday all was complete. Meeting up with the boy's from Germany for dinner, Gerd DJ5IW mentioned he had not brought any radios and was keen to drive the station on the Friday night prior to the contest. His broad smile said a lot and was reward enough.
Roll on 7am local time (0000z), I connected with the German hams on all bands, rounding out zone 29 as a multiplier on 6 bands. The German boy's flew out later that day - noting the jet engine roar 5 hours into the contest.
Generating pile-ups within a minute or two was expected - only to find my MS Excel logger was failing to detect dupe qso's. A few minutes to fix the problem lookup formula and I was off. This spreadsheet is the result of over 3 years work, and quite robust and extraordinarily simple. Logging around 1900 qso's in the first 24 hours, I figured day 2 would be storm. Well it was a solar storm, and I went into `swoop and pounce' mode to gather some multipliers. This is a much slower approach, but I needed the multipliers. 80m was very poor compared to other years at similar southern latitudes, and I failed to even approach my target QSO's here. I missed mainland VK on 160m for the 4th year again, but 1 or 2 multipliers here helped a bit.
A knock on the door late Saturday afternoon indicated TVI was occurring to a family living in an industrial shed about 50m away, why anyone would be living out there really surprised me. Discussions with Harmut and the German hams earlier in the year identified a need to bring a box of 65Mhz TV high pass filters. Having 3 filters in the car (thankyou Thomas), I fitted them up, used some high level customer service skills and left the family in a shaken but happy state. I checked with them around 3 hours later and all was sweet. Even with months of preparation, some situations like this come down to the wire and test ones ability to diffuse a hot situation.
At the completion of the contest, the bands become very quiet, and I hooked up with some US hams on 10m for a quick compare and debrief. The novelty of having VK9X on the air was accompanied by some positive comments about activating a good DX spot in zone 29. While exhausted, these comments lifted by spirits, but my mid morning nap was not going to be interrupted for anything.
Charlie W0YG arrived on the 1330 flight on Monday from Perth and with my tired throat, we actually got a pennant antenna in the air and working. Handing over the station keys to Charlie for his low band operations, I kept clear of the radio and regained by voice and sleep.
Over the next few days, I unlocked some mysteries I still had about using CW and with some coaching by Charlie, I managed quite a few 80m CW contacts. Being an avid 10m fan, I did try to be on around 0000z daily for the regular opening to North America, and found the band literally snaps open and shut within minutes on Xmas. The massive news worthy solar flares in the next few days put the station off air for near 3 days, although we did try the low bands daily with very limited success.
Returning to Sydney was a welcome change, as all my contest objectives had been met, and exploring and photographing some of the prehistoric flora and crabs had rounded out a very rewarding visit.
VK9XD CQWWSSB 2003
Reply
by EA5ON on January 5, 2004
Mail this to a friend!
Always a pleasure to read about the things people go through, all in the name of contesting. From here, a big THANK YOU for the double mult on 10 from my mobile station.