VHF Contesting Can Be Fun
Henryk Kotowski (SM0JHF) on September 26, 2003
View comments about this article!




The 50 MHz IARU Contest From Grid KM39at

I don't need any persuasion to go to a sunny Mediterranean island when it's chilly and rainy in Stockholm. When Aziz, TA1E from Istanbul asked me sometime in June 2003 if I wanted to join him and some other guys to a small island in the Asian part of Turkey, I did not ask any questions. If I did, I would have probably had second thoughts - they were going there for a VHF contest. The VHF then was for me a lot of white noise, very few contacts, very low rates and usually being able to see the stations you work. I am exaggerating slightly.

The contest was actually on 6 meters. Not so bad, after all. The Magic Band sometimes offers surprises. A month earlier I was sipping home-made cipuro in the shack of Panos, SV8CRI and his 6 meter radio was in stand-by mode on 50.110 MHz. Suddenly we heard someone calling CQ. It was Peter PY5CC. And nothing else on the entire band.

I flew to Istanbul on Friday June 21, 2003 and had my ICOM IC706 in the cabin luggage; just in case. Aziz TA1E met me at the airport and, after midnight, we set off in his mobile radioshack westwards. By 6 A.M. we reached the Dardanelle Straits ferry. An hour later we were in Asia, TA3. Then we passed Troya, took another ferry boat and by noon local time we reached the summer house of Aziz in the middle of a tiny island called Bozcaada. It means "brownish island". It is sun-drenched, not exploited, still a kind of a secret hideaway.
The summer house of Aziz TA1E in Bozcaada island at the end of June 2003.
From left: Baris TA3FB, Andrea HB9DUR/TA1ZK, Mario IW2HUZ, Aziz TA1E, Oscar IK2AQZ
It was only 3 hours left before the contest would commence but almost everything was ready. Andrea HB9DUR, helped by Mario IW2HUZ and Oscar IK2AQZ, arrived a day or two earlier and installed two antennas for 6 meters, one for 2 meters, the radios, computers, amplifiers. The technical brain of this event was Andrea, HB9DUR who's been a ham since his early teens (4). Andrea might be better known amongst keen VHF-ers by his previous callsign HB9SUL or his club callsgin HB9MS. He spends quite some time in Turkey these days and holds the callsign TA1ZK there.
Andrea HB9DUR at his 2 meter yagi , Mario IW2HUZ standing in the GSM (cellphone) spot
The 6 meter band is not generally available in Turkey but Aziz TA1E received a limited permit. We used the callsign YM0KA in Bozcaada. The YM prefix is for "special event and contest purposes" in Turkey, figure 0 indicates an island, and the KA suffix is used by the Turkish Amateur Radio Society - TRAC. Aziz is its president and devotes much time for the organization. Summer contest activities from his summer QTH in Bozcaada are frequent. A few of them, with the participation of Andrea HB9DUR, are described on his webpage (2).
This very 50 MHz contest lasts only 24 hours. For me it was a surprise that so many stations were active then, we made well over 500 QSO's. During a few recent years, the 6 m band has become both available and attractive in many European countries. Some countries still have restrictions, it is wise to check this before going there. I found an useful article here on contesting.com about 50 MHz (1) and recommend reading it.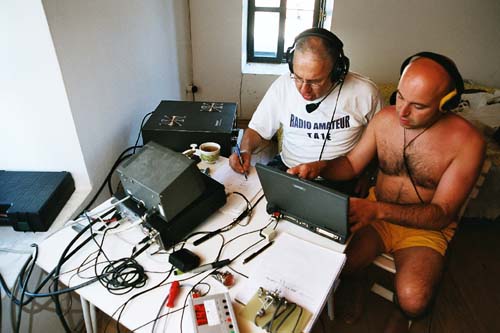 YM0KA true Multi-Single activity. Aziz TA1E does the talking and Andrea HB9DUR does the computer logging.
Another amazing thing during this contest was comparing signals received on 2 different antennas. There was a 5-element yagi and a vertical consisting of 2 sections, each 5/8 wavelength long. Often the vertical was tens of dB better than the yagi pointed in the right direction. There might be 2 clues - the very low angle of stacked verticals but also reflections from other directions than the correct azimuth. The propagation mode is usually sporadic E but not only.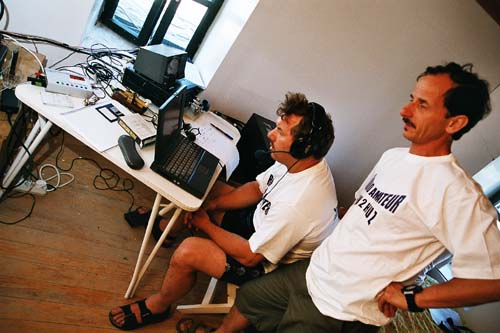 Oscar IK1AQZ does the talking on 6 meters and Mario IW2HUZ is supervising
At nights Andrea HB9DUR ran several Meteor Scatter skeds on 2 meters CW as TA1ZK/0. He said it was CW and I believe him. The speed was too high for my aging ears. According to the transmitting computer it was 500 w.p.m. Listening to the noise and waiting for pings and bursts will not be my cup of tea, I am sorry. (3)
A couple of days after the contest, the Italian speaking branch of our international team packed their toys and left for Istanbul. Most of the equipment belongs to Andrea HB9DUR and probably only Andrea is capable of using it properly.
The 50 MHz licence was valid until Wednesday, I had my ICOM 706 and on Tuesday night someone reminded me about the Nordic Activity Contest on 6 meters. This is not a real contest but the VHF activity is elevated in Europe on Tuesdays. Each Tuesday is devoted to a different band: 144 MHz, 432 MHz, microwaves and 50 MHz. We had luck, it was the fourth Tuesday and the propagation was really favourable. Aziz TA1E and I, we made well over 350 contacts on SSB and CW during 4 hours.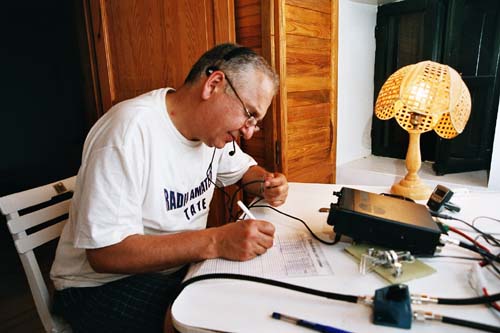 Aziz TA1E during Nordic Activity Contest on Tuesday June 24, 2003 as YM0KA
I stayed on Bozcaada for a week. We were also on the air on HF bands, of course. Aziz TA1E has a few permanent HF antennas and radios. The All Asian contest was on the same weekend as the 50 MHz contest and I handed out the TA0 multiplier to a couple of hundreds participants. I did not do my homework and did not read the rules of this contest and. Consequently I initially refused to respond to Asian stations but this is OK - Asian stations can work other Asian stations in this contest.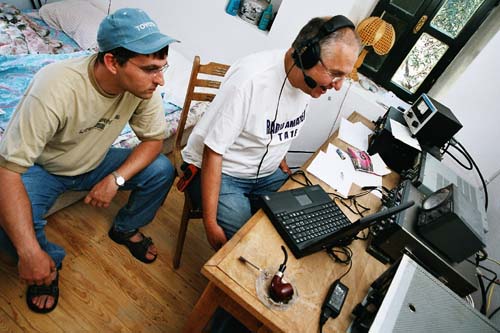 Aziz TA1E speaks fluent German on HF using the callsign YM0KA, Baris TA3FB, who came over from the mainland, is watching closely.
I like 10 MHz and 18 MHz bands these days, it seems that it is easier to create a pile up on these bands. But Aziz's multiband dipole did not impress me so I was about to stretch a random wire to a tree. Surprise, surprise - there was already a wire tied to the top of the highest tree around. I tuned it with my AH-4 automatic tuner and had a ball on 30 and 17 meters CW.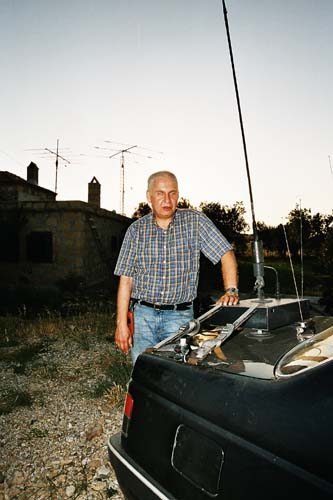 Time to go back home. Aziz TA1E, soon /Mobile/0/3/1
I learned many new things about VHF, advanced techniques, history of this part of the world, propagation, local wines and rakisi from the mainland Turkey, team work, geography, cellphone coverage, and so on. My advice is not to have any prejudice against any facets of our hobby before trying it. I am sometimes even connected to Echo Link nowadays.
all photographs and text copyright Henryk Kotowski
VHF Contesting Can Be Fun
Reply
by AF4K on October 10, 2003
Mail this to a friend!
Great article - I wish that more operators in North America would talk up VHF contesting.

I am about to get back on VHF SSB-CW after being absent for a few years and hope to find plenty of guys still going at it!

See you all on 6m and 2m!!

AF4K

Email Subscription
You are not subscribed to discussions on this article.

Subscribe!
My Subscriptions
Subscriptions Help

Other Stories Articles

SN0HQ

A Visit With S57DX

Montenegro landmark

Slovak Contest Group

The Paper log, SO2R and SDR generations

---