Let's Meet Jim W6YA
Henryk Kotowski (SM0JHF) on August 13, 2003
View comments about this article!




The other day I got a message through the e-mail that the next gathering of Southern California hams - The 2003 Summer Bash - on Sunday, August 24th will be at Jim's (W6YA) place. I won't be there, as well as the overwhelming majority of visitors to this website. But then again, it is a good reason to present Jim, and his place, for a broader audience.

I remember W6YA from the 90's as the early bird of West Coast openings, he would be the first one to call and he'd put out one of the strongest signals. He appeared in many major contests, as well.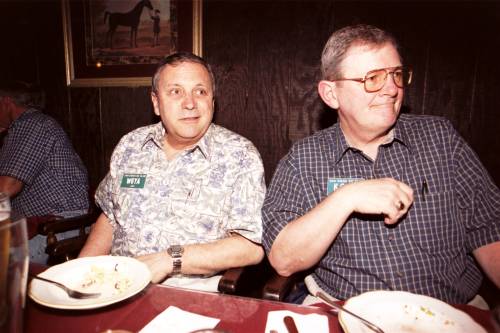 Jim W6YA, left - at San Diego DX Club meeting in March 2000 in Miramar
I met Jim W6YA for the first time in 2000 during the March meeting of San Diego DX Club. A few days later I was invited for lunch by Ed W6KUT. Surprise, surprise ! - Jim was also there.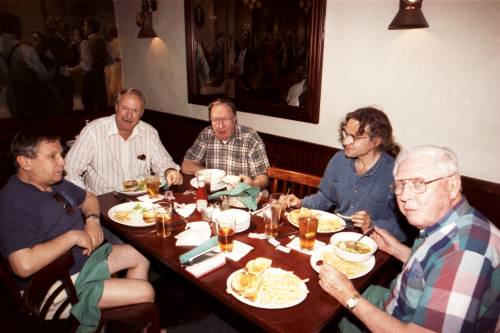 from left, Jim W6YA, Rick N6ND, George W6ZZ, Paul WA6PY, Ed W6KUT
A month later I bumped into him at the Visalia DX Convention of 2000.
At Visalia 2000, Jim W6YA - right, with Phil N6ZZ
During the past three years whenever I was operating portable from some DX spots, Jim used to find me pretty quickly on different bands. His good timing in the pile up and stronger than average signal made it easy for me to pick his callsign. I recall once Rick N6ND, who has 200ft towers and numerous antennas, called me right after Jim. N6ND's signals were strong of course, but Jim's were stronger.
Last year I met Jim again, this time in Finland during the WRTC Games. He was not participating, just socializing. The crowd there was so huge that I met him only once or twice.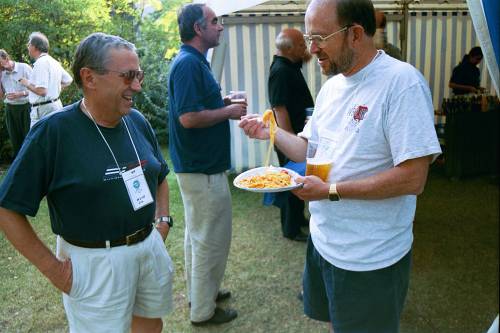 Jim W6YA, left - admiring Bob's W7YAQ appetite for Finnish spaghetti. Helsinki July 2000.
So far all the above pictures are connected with food or drink Is something wrong with me ? Do I only have desire to take pictures when I see food or drink ? When I was in Southern California again this year, I phoned Jim and asked him for a permission to see his antennas and his shack but I declined his offer of having a dinner together. Just to see for myself if I can take pictures unrelated to food or drink.
When I approached his home in Leucadia, between Oceanside and San Diego, and I only saw one antenna tower, my first thought was that the address was wrong. I expected a few towers with stacks of yagis...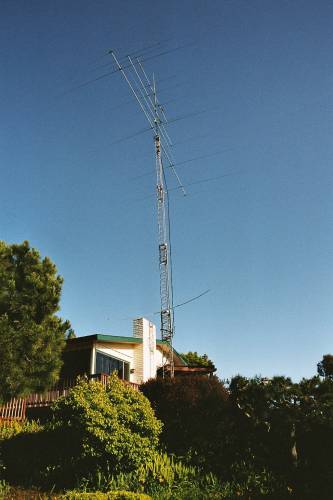 The only one tower of W6YA
But then I saw a car parked in front of the house and felt almost convinced that this was the place I was looking for..
Jim's registration plates convinced me that I was not lost
The radio shack is spacious, modern and well equipped, but without fancy gadgets.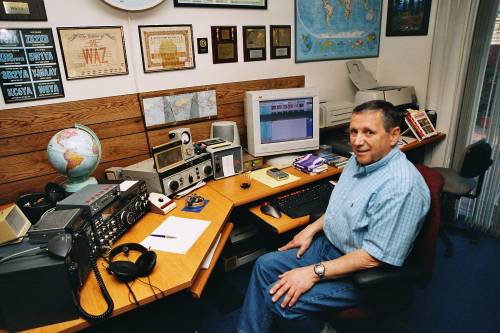 Inside the house a well designed operating radio room, upper left - some QSL cards for Jim's diving trips...err, Dxpedtions.
Jim's favourite mode is left-handed-CW but he is an excellent operator on SSB as well.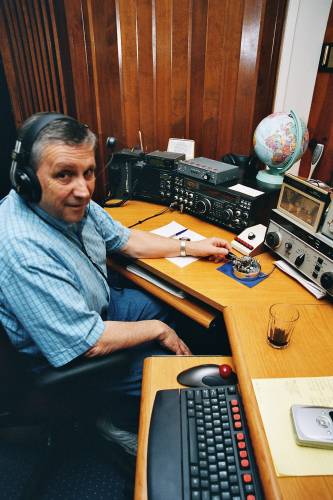 I still don't understand how he sends telegraphy and log on the computer...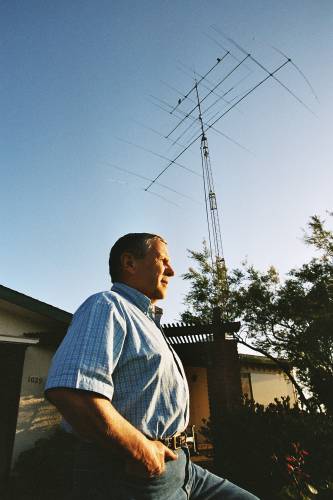 A classical magazine-cover or a QSL card picture, The Man and his Antenna...
Jim is 62 years old today, dentist is his profession. He's been a ham for almost 50 years, the previous callsign was K6GLC. You might have worked him under other callsigns as well. 1972 - KC6SZ from Truk Island, 1974 - VP2GLC, 8P6GA, 1989 - S79YA, 1991 - 5W1YA, W6YA/KH8, ZK2XD, 1993 - 3D2YA, 1994 - YJ0AAY, 1996 - KC6YA from Palau, 2000 - OK8YA. His guest operations are numerous, the listing is long and probably would not be complete. This year he visited Slovenia, S5 in May.
His other hobbies are diving and photography. I was honestly impressed by his pictures of submarine life.
Jim is a typical example of active, vigouros, high-quality Californian amateur radio operators. A very succesful DX'er, DXpedtioner, contester, technician and a hard-working person. He belongs to the Southern California Contest Club (http://sccc.contesting.com/) and San Diego DX Club (http://www.qsl.net/sddxc/index.html). I heard some rumours that the Southern California Contest Club might have to find a new President this fall. I would not be surprised if Jim W6YA got elected.
all photographs copyright
Someone asked me why I don't write about "celebrities". Well, I prefer to write about people I meet. And those who do interesting things and do it well. However, my next story will be about The Queen Elizabeth II of England. There are rumours that she is an amateur radio operator. My story will be entirely based on rumours, hearsay, gossip and stolen pictures.
Let's Meet Jim W6YA
Reply
by W6AQ on August 14, 2003
Mail this to a friend!
Henryk got it right. I've known Jim for a long time and he's one of the nicest guys ever to get a license. 73, Dave, W6AQ
Let's Meet Jim W6YA
Reply
by N6TJ on August 16, 2003
Mail this to a friend!
Amen to W6AQ's comment. Jim McCook (Cooker, to many of us) and I have been friends (he's also a world-class DENTIST) for over 30 years, and he truly is one of the nicest men one can ever know.

And a great operator too. While he barely tolerates contesting, Jim is invariably the first Zone 3 into my ZD8Z logs on the high bands. An amazingly smooth CW operator, a tribute to Cooker (by Henryk) is long overdue, and much appreciated by all who know W6YA.
Let's Meet Jim W6YA
Reply
by 9V1YC on August 27, 2003
Mail this to a friend!
What a nice tribute to one of my heores! As W6AQ and N6TJ pointed out, Jim is certainly a really great friend and one of the nicest guys you could ever meet. 40m in the evenings here wouldn't be the same without him. Happy birthday, Jim!

- James, 9V1YC
RE: Let's Meet Jim W6YA
Reply
Anonymous post on August 31, 2003
Mail this to a friend!
A hero? Contesters are funny :-)

Quite possibly a good operator, no doubt able to accumulate more hardware than the average ham.


heˇro
n. pl. heˇroes

1. In mythology and legend, a man, often of divine ancestry, who is endowed with great courage and strength, celebrated for his bold exploits, and favored by the gods.

2. A person noted for feats of courage or nobility of purpose, especially one who has risked or sacrificed his or her life: soldiers and nurses who were heroes in an unpopular war.
Let's Meet Jim W6YA
Reply
by W6YB on September 9, 2003
Mail this to a friend!
Interesting article and Jim W6YA (very nice callsign Hi! Hi!, for the people who do not get it look at my callsign) seems like a nice guy. I would like to meet Jim W6YA once, as I always wanted to meet to the guy who has the callsign before me.

73 to all,
Andrew, proud to be W6YB
Email Subscription
You are not subscribed to discussions on this article.

Subscribe!
My Subscriptions
Subscriptions Help

Other Stories Articles

SN0HQ

A Visit With S57DX

Montenegro landmark

Slovak Contest Group

The Paper log, SO2R and SDR generations

---