Young Contesters
Henryk Kotowski (SM0JHF) on August 31, 2003
View comments about this article!




Last year I wrote, for the National Contest Journal, an optimistic story about the young contesters I had met. Since then I have met a few more and nothing really made my optimism reduced.

Last November, the joint CQ WW CW Contest effort in The Gambia, West Africa included three participants under the age of 30. Juha OH9MM actually turned 30 a few days after the contest but while the group was still on the air as C56R. He's been a ham for some time now and has seriously participated in contests both from home and abroad for years. The Gambian collective trip was of his idea and execution.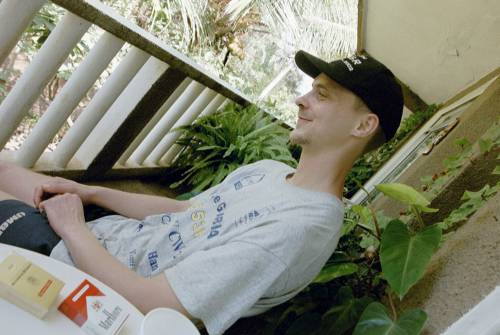 Juha OH9MM from Finland during the DXpedition to The Gambia in West Africa, Nov 2002
Another youngster I met in The Gambia was Stein Roar LA6FJA, nicknamed Rag. He was 23 then and claims that he became interested in radio at the age of 7, thanks to his father LA5FHA. Rag joined a Scandinavian team to Sao Tomé in February 2002 using the callsign S9LA. He does have some plans for activating The Philippines this winter and is very keen on going places with a radio.
Rag LA6FJA from Norway during the DXpedition to The Gambia, November 2002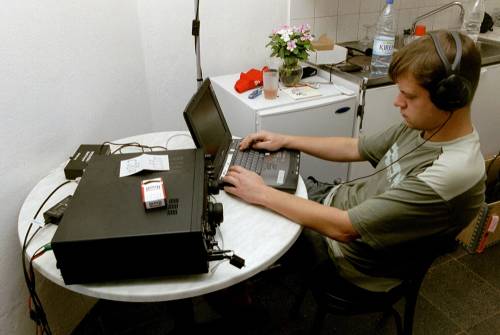 Kaspars YL1ZF from Latvia during the DXpedition to The Gambia, November 2002
The third young operator that I met in The Gambia was 25-year-old Kaspars YL1ZF. He did not speak much and never talked with me while in C5 so I know nothing about his background and his plans for the future. He seems to be ambitious and actually doing things instead of talking about himself.
This reminds me of a few young ones that I should be worried about, distinguished by self-spotting on DX cluster during a contest with remarks "contest king", endlessly talking about their superior operating skills, addressing ham gatherings about their planned DXpeditions that never come to a start point, and so on. I am afraid these guys will end up in a shrink's couch instead of The Contest Hall of Fame. But it takes all kinds to make a world.
So there are even young ladies who are no-nonsense contesters. Donata SP5HNK is barely 20 years old and will gladly enter any contest, large and small. She prefers CW to SSB but the real favourite mode of hers is RTTY. I met her first time in the only active radio club left in the region of Poland's capital city. The club's callsign is SP5ZCC and its president is 34-year-old Tomek SP5UAF. The majority of club members are under 30 years of age.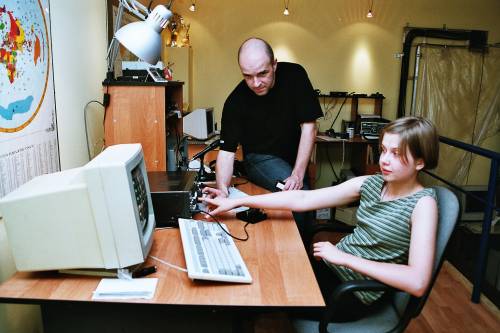 Donta SP5HNK at the controls, at Scouts Radio Club SP5ZCC in Sulejowek, Poland,June 2003. The club president Tomek SP5UAF is supervising.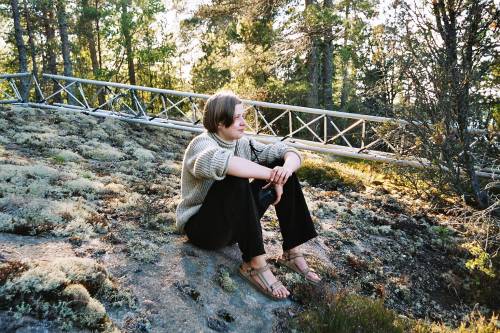 Donata OH0/SP5HNK at the property of Guy OH0NH in the Åland Islands, July 2003
The second time I met Donata was when she was visiting Åland Islands and signing OH0/SP5HNK in July 2003. She was very disappointed by the absence of any contest event that she could enter this very weekend.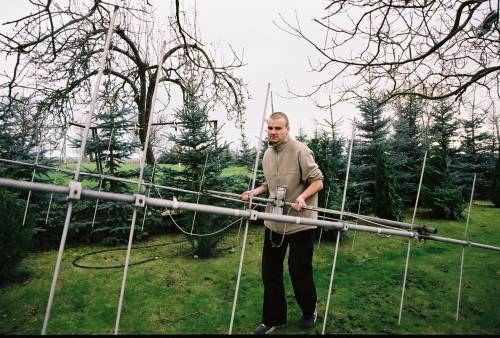 Leszek SP2WKB doing antenna work at the QTH of SP2FAX, October 2002
Another young Polish contester that I have recently met in person is Leszek SP2WKB. He is a neighbour of Kazik SP2FAX and they assist each other. Leszek is learning the tricks of trade while Kazik gets a helping hand.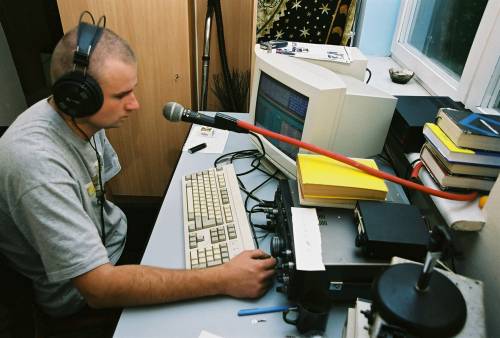 Leszek SP2WKB on the team of SO2R Multi Single CQ WW SSB Contest, October 2002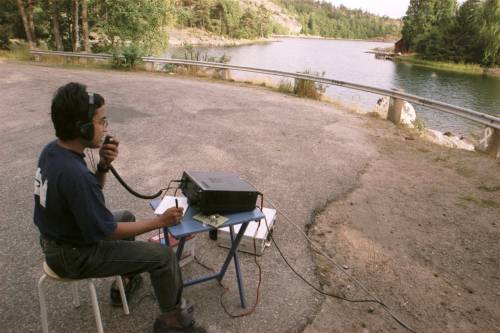 Kamal SM0/4S7AB on an island near Stockholm, Sweden during IOTA Contest
Kamal 4S7AB from Sri Lanka will be 30 years old this December. I met him in Sweden several times during his professional training some time ago. Once I took him to a small island south of Stockholm and he was in seventh heaven to be in a contest, operating portable using a battery and a random wire antenna. Kamal is not a true-blue contester yet but I am sure he'll be around giving us all a nice multiplier.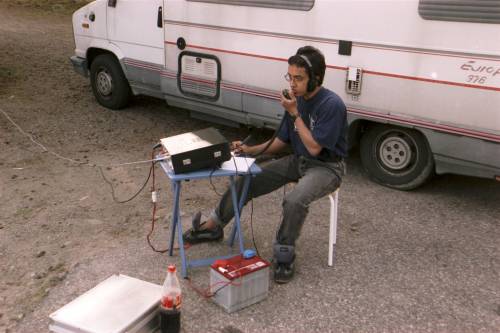 Another view of Kamal SM0/4S7AB operating portable on an island near Stockholm,Sweden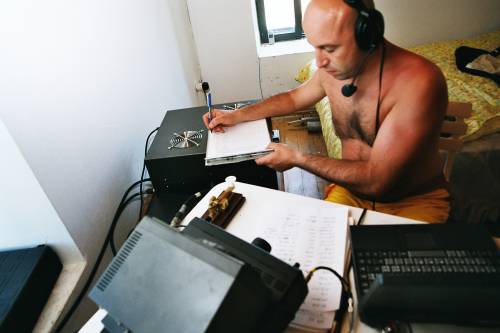 Andrea HB9DUR at the controls of YM0KA Multi Op team, 50 MHz station, June 2003
The last one on this list of young contesters has passed the ceiling age of The World Wide Young Contesters club (http://www.wwyc.net), viz. 30. Andrea HB9DUR will be actually 33 in September 2003. The VHF contests are more challenging according to Andrea. He has stirred quite some contest activities using his previous callsign HB9SUL and the club callsign HB9MS. I had the conviction that VHF contests is a lof of empty noise and few contacts; Andrea opened my eyes. We met halfway, during a 50 MHz contest at the end of June 2003 on a small island off the coast of Turkey. He has a Turkish callsign as well, TA1ZK, and while on this island, he was portable zero.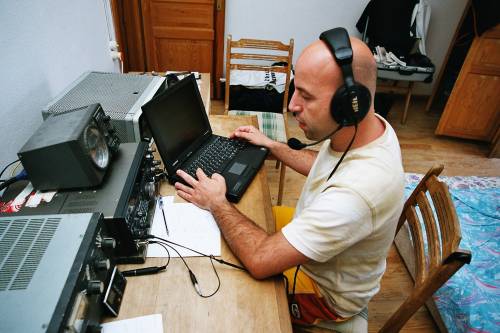 Andrea HB9DUR running HF pile up from YM0KA, Bozcaada Island, Turkey, June 2003
Andrea HB9DUR running 144 MHz Meteor Scatter tests as TA1ZK/0 , Bozcaada Island, June 2003
Things are changing all the time, the amateur radio is changing too. But the prophets of ham radio extinction just because "things ain't what they used to be" make me laugh. I can see every day evidence all over the world that new generations of amateur radio operators will continue and advance this greatest hobby. Contesting included.
all photographs copyright
Young Contesters
Reply
by 9a6xx on September 1, 2003
Mail this to a friend!
Another bunch of WWYCers.. OMG they're everywhere!

Wanted to see more? www.wwyc.net!! ALL RIGHT


Young Contesters
Reply
by s5m on October 18, 2003
Mail this to a friend!
Leszek SP2WKB is a rare kind of WWYC...

Henryk, I pay you a beer if you ever catch 9A6XX doing some useful work away from radio/PC!

73 de Mario, S56A, N1YU, 599-58 in JARTS

RE: Young Contesters
Reply
by KA9SQR on October 23, 2003
Mail this to a friend!
Always wondered if a club such as this one existed. My father introduced me and my older brother to contesting.

I dont recall the exact age I was licensed at, but I believe I got my novice at age 12 and General at 13-14. My brother who is 2 years older than me was my study partner and also recieved his licenses at the same time. Once we had our General licenses we began to operate contests on ssb and for the most part have continued to this day.

My younger brother who also contests with the team has been licensed for appx 5 years. Here are the names and ages of our team (father and 2 brothers)

John KD9ST (he's the old one)KD9ST
John III - 33 KA9SQS
Dan - 31 (thats me)KA9SQR
Matt - 26 KB9EXE

If nothing else contests serve as a small family reunion. Our contest team has done well over the years, but its the fun that keeps us all coming back for more. Have fun, be competitive, and good DX.

Dan
KA9SQR
Young Contesters
Reply
by mm3awd on November 5, 2003
Mail this to a friend!
Hi i am MM3AWD i am 16 years of age and have been licensed for just under 2 years now and love to do contest and one of my big ambitions in ham radio is to go and do a big dxpedition or a contest station from a most wanted country.
Hope to hear you all so in contests or maybe on the HF bands sometime.
For more info about me or what i do please visit
http://www.mm3awd.50megs.com
Young Contesters
Reply
by N5NU on November 17, 2003
Mail this to a friend!
Yeah I'm 20 and getting back into radio.

Will be active soon from my 1st floor apartment with 100watts and a loop on 7 MHz.

Good to be back. Jason N5NU
Young Contesters
Reply
by ct1hxb on April 22, 2004
Mail this to a friend!
I'm proud to be a member of WWYC. I'm 24 years old.

WWYC rulez. GO WWYC.

Meet us on www.wwyc.net

CU in Test

73 de CT1HXB - Joel Lobao


Young Contesters
Reply
by K5VPQ on May 12, 2004
Mail this to a friend!
Yes, this is not just an "Old Fogeys" hobby anymore.. I am pushing 30 but I am not there yet!

CQ Contest!!!

-Chris
KT5RL ex-K5VPQ
RE: Young Contesters
Reply
by KG5VK on June 25, 2004
Mail this to a friend!
Jason,

Thanks so much for coming to Louisiana last year and operating SS Phone at KG5VK

We missed Top Five delta division by 2 multips and less than 300 Q's

Yeap we thought we had a Sweep
but with the crashed log at the end of the test we came up two short !

I hope you can make it back this year for SS
I have another tower and two HUGE Telerex Beams
that will be installed this summer BEFORE ARRL SS

I will see you at the SARA Field Day site

73
steve
KG5VK

PS
Any other young blood out there that wants to work in a MM contest ????????

Post a request right here !
RE: Young Contesters
Reply
by KG5VK on November 16, 2006
Mail this to a friend!
bumping this topic back up !

Invites remain for young contesters to join our team
www.KG5VK.com

73
steve
KG5VK
Email Subscription
You are not subscribed to discussions on this article.

Subscribe!
My Subscriptions
Subscriptions Help

Other Stories Articles

SN0HQ

A Visit With S57DX

Montenegro landmark

Slovak Contest Group

The Paper log, SO2R and SDR generations

---