contesting with a lowercase 'c'
Henryk Kotowski (SM0JHF) on August 31, 2003
View comments about this article!

Contesting with a lowercase "c"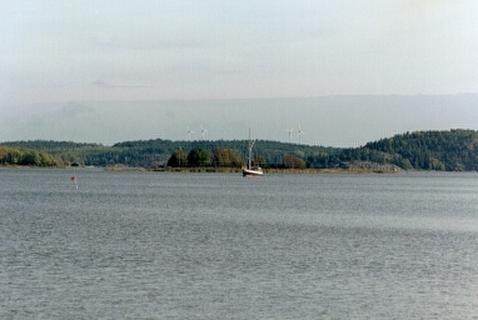 A view from the marina of Mariehamn, Åland Islands. The place I am refering to is on the hill behind the sailing boat.
 No offense to anyone, I just want to present another mutation of the vocation called "contesting". Last year I showed here some photographs of Moonbouncers who combine operating skills with very advanced technologies. This time I want to show a few pictures of and familiarize the contesting.com crowd with a local-range practitioner of pint-sized amateur radio combat. His name is Sture, his callsign is OH0JFP and he has recently turned 50.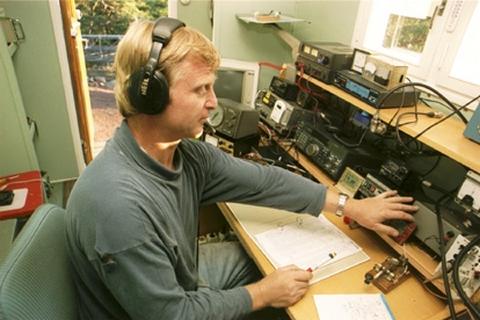 Sture OH0JFP in his contest shack outside of Mariehamn, August 2001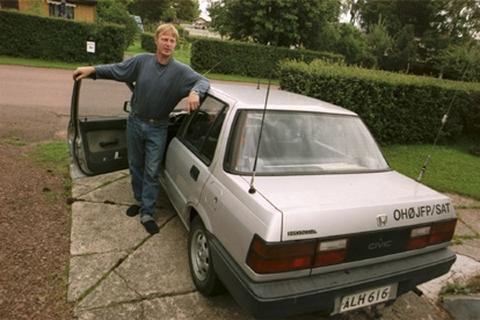 Sture is always on the air, also mobile.
I met him first time about 5 years ago during a swap-meet near Stockholm. He was chasing some VHF and UHF components and told me about his efforts to assemble a competitive station in the Åland Islands. I went to see this station in the summer even though VHF appeals to me as much as talking on a cellphone. The "contest" station of the local radio club - ÅRA (Ålands RadioAmatörer) - was out of town on a cliff and consisted of a few VHF-UHF antennas an a really small shack.
Sture got his "technician" licence in 1992 after many years of CB activity. In 8 years he devoted thousands of hours building, repairing, assembling and operating the club station that initially used the callsign OH0AA, later OH0A.
| | |
| --- | --- |
| | |
| At the contest station of OH0A, local radio club | Sture OH0JFP climbing a tower of OH0V |
The contest activity that this club station, and later Sture on his own, were and are engaged in is called Nordic Activity Contest. These are 4-hour sprints on Tuesday evenings. Each Tuesday is devoted to one VHF or UHF band, including even 6 meters. Most of the contacts are within Scandinavia and Baltic region.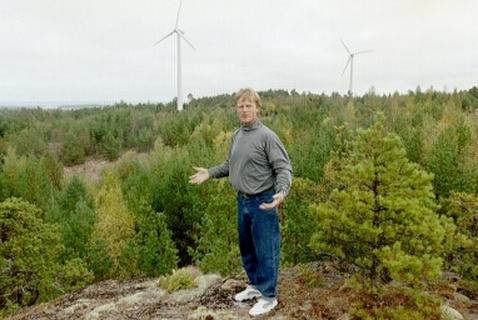 Out of town, in the wilderness, Sture found a refuge and built a contest station of his own
In the year 2000, having  felt pretty solitary in his efforts to keep the club station going, he decided to aim for a contest station of his own. About five miles south of the city of Mariehamn, where he lives, Sture found a piece of wasteland where his antennas bother no one and his RF disturbs only birds perched on his yagis.
In three years' time he erected almost ten antennas on a variety of supports - simple pipes and real towers. The latest and so far the biggest addition to his farm is a rotary tower that is a combination of a construction crane and a street lamp support. Both originate from the local scrapyard.
| | |
| --- | --- |
| | |
| August 2001, the first antennas are in place. | Checking the scrapyard for anything useful. |
Sture is a wizzard of recycling. He gets a lot of hardware for free but then he puts a lot of work in cleaning, painting, welding and fixing it all. He has no technical education but has a lot energy, self determination and will to get things done. In his late teens he started the hard work of being a fisherman. Sometime in the 70's he discovered the CB radio as a meaningful pastime while waiting for the fish to enter the nets. Sture managed to talk to well over 200 countries on 27 MHz. In early 90's his appetite for radio grew further and he acquired an amateur radio licence. He saw the potential in the local club and managed to stimulate some members to both build and use a little more advanced station than a 2m FM handheld radio. Sture is learning all the time, asking those who know more. Mostly it is visitors from mainland Sweden and Finland that can provide both know-how and support. Amazing how some other local hams will rather hamper his enthusiasm. I did not believe it but the president of the club, who acts as the local licence examiner, refused Sture to take the code test required to receive the HF priviliges. Luckily, another examiner has been appointed and Sture passed the code test this winter. He'll never be a big time CW operator but he deserves to have access to all bands and modes. I have a feeling that OH0JFP is a better qualified ham radio operator than many others in this region.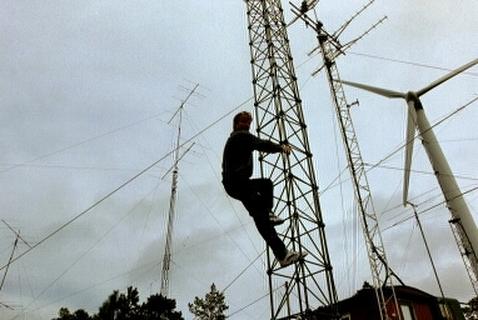 September 2002, the bottom section of the rotary tower is in place and turning...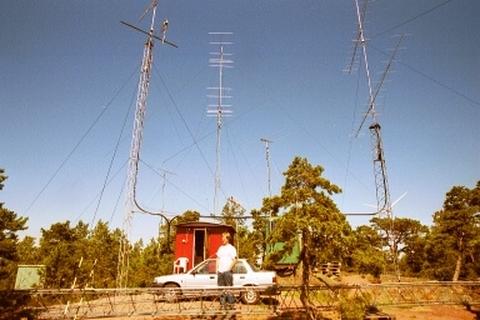 July 2002, the upper section of the rotary tower up front, the red shack is "The shack"
In a couple of years, OH0JFP already managed to win a few cups for best results in the Nordic Activity Contest. These contests are extremely popular and prestigious in Scandinavia. Activity is high, much higher than in HF contests. Both CW and phone can be used and the results are announced promptly.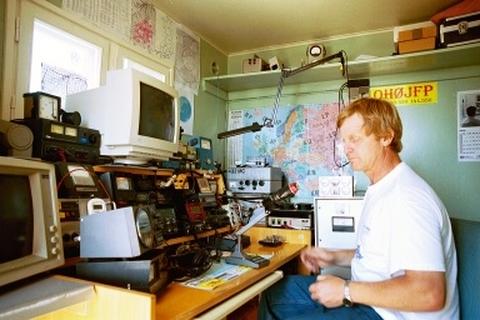 Inside the shack, September 2002
Sture has already installed a few HF antennas at his contest site. Nothing as big and costly as some other well known callsigns from OH0 owned by visiting OH's. But it is more authentic, home-grown amateur radio. I still think that one local and permanent amateur radio operator is worth more than ten short-time visitors.
Here, the lower section of his rotary tower. Pelle SM0SOE on the left helps Sture OH0JFP to install an HF yagi
(actually, I used this antenna for Scandinavian Contest in September 2002)
This is a story of a CB radio operator turned a small-scale contester. My intuition says that Sture is going to become a contester with a capital C, so look out for OH0JFP in large HF contests soon. He is very passionate about amateur radio but this is not his only passion...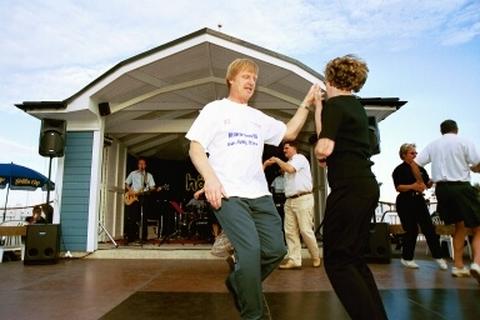 All July long, when the sun never sets in Scandinavia, Sture is dancing and having fun
The latest news that has just reached me (April 2003) is that Sture OH0JFP has been expelled from the local club. Because he was doing too much and too well.
I am not surprised, it happens everywhere.
Henryk Kotowski SM0JHF
text and all photographs
copyright 2003
contesting with a lowercase
Reply
by SM0JHF on April 21, 2003
Mail this to a friend!
I found my older report from OH0 where Sture's efforts are described at http://www.arrl.org/news/features/1999/0701/3/?nc=1
He is also featured on the cover of the Spanish CQ magazine in April 2003, see http://www.cq-radio.com/sumaris/2003/232_abr_03.htm
Henryk SM0JHF
contesting with a lowercase 'c'
Reply
by Dx on October 15, 2003
Mail this to a friend!
Hi Henryk
Are you ever going to QSL your radio activity?
There is no point of working you if you never QSL.
Are you a member of Swedish Radio Society?

Email Subscription
You are not subscribed to discussions on this article.

Subscribe!
My Subscriptions
Subscriptions Help

Other Stories Articles

SN0HQ

A Visit With S57DX

Montenegro landmark

Slovak Contest Group

The Paper log, SO2R and SDR generations

---