7O6R ?
Henryk Kotowski (SM0JHF) on April 7, 2003
View comments about this article!

SO2R is not always Single Operator 2 Radios

Last summer while I was visiting with Kazik SP2FAX, he mentioned something about the SO prefix being released for "special event or contest" purposes by the radio administration of Poland. This prefix had been exclusively assigned for foreign nationals visiting or living in Poland and even I held the callsign SO5JHF in a few consecutive years. Since January 2001 the international CEPT agreement is finally effective in Poland and the need for separate prefix for visitors subsided. Kazik SP2FAX, who's been using a short callsign SN2B for years, applied for and received a new contest call - SO2R. To make things even more confusing, he decided to stage a Multi Single operation in the CQ WW SSB 2002. Everything was wrong in this confusing callsign - the number of operators and the radios. To be correct, it should have been 7O6R - seven operators six radios - and of course the QTH should have been Sana in Yemen, not the village of Kolaczkowo in northern Poland.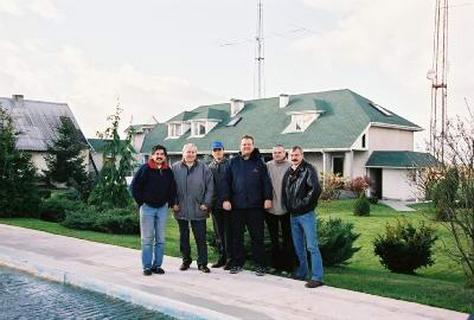 The six operators of SO2R team after the CQ WW 2002 SSB contest
I arrived at Kazik's QTH on Wednesday before the contest. I brought two radios with me - one FT1000MP belonging to Waldemar SM0TQX and my own IC746. Crossing the border with two radios in a car can be tense. One has to be prepared for a lengthy paperwork chore, being interrogated and scrutinized, generally a delay and maybe some cost. One of the Customs officers asked me to open the boxes and asked me "What brand are they ?" I answered truthfully "Yaesu and Icom". The officer said "My father-in-law has a Kenwood. Is it better than those two?". This saved me some time and probably some money but I had to describe some of the features of my radios and give him a blank QSL card.
Kazik did a lot of antenna repairs during the past summer but still there was much to be done on the ground and inside the house. At this point we were only four: Kazik, Roman US5WDX, Leszek SP2WKB and me. We worked frantically for 3 days. On Friday, 3 more operators arrived: Bogdan SP3RBR, Przemek SP7VC and Waldemar SM0TQX who was in Poland on business around this time.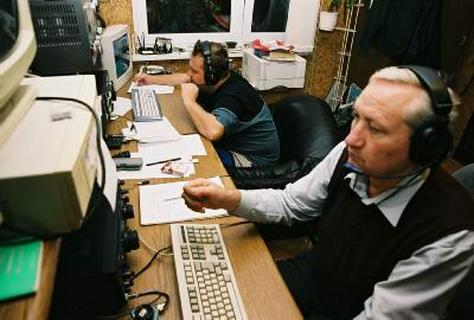 Waldemar SM0TQX (front) listens on 160 meters while Przemek SP7VC is on 75 meters
The scheme was to have 5 dedicated operating positions and one spare. About 10 PM local time, 3 hourse before the contest was to commence, only part of the hardware was working. I went to bed, determined to "go home" on ensuing Saturday morning. I am too old for "last minute contest preparations".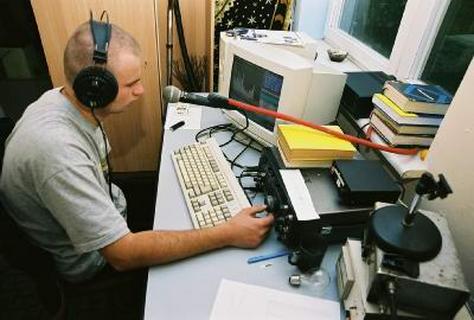 Leszek SP2WKB on 20 meters
When I woke up, all hardware was working properly. I might be too old but others on the team were much younger, more fit and more experienced than me. All equipment worked flawlessly throughout the whole 48 hours.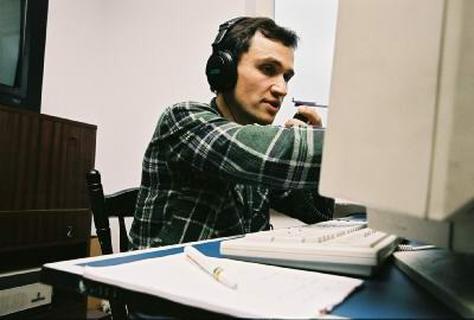 Roman US5WDX on 15 meters
Propagation was poor and the predictions said it would get even worse. A storm was sweeping over parts of Europe and was approaching us. Sporadic rain caused a lot of noise both from a nearby high-tension line and electric discharge of the droplets on antennas. The elements were definitely against us.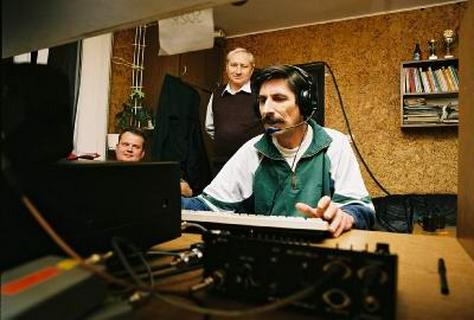 Kaz SP2FAX with Waldemar SM0TQX and Przemek SP7VC in the background
There is nothing more frustrating and devitalizing during a contest than lack of propagation. Some of us sublimated  this idleness into eating. Kazik's wife prepared heaps of food and it all disappeared instantaneously.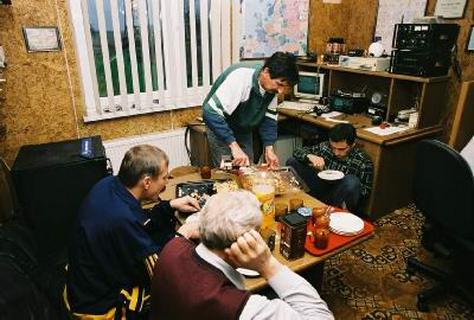 The eating rate was high when the QSO rate was low.
Unfortunately a few members of the team smoke cigarettes. Having little to do, they smoked more than usual, I guess.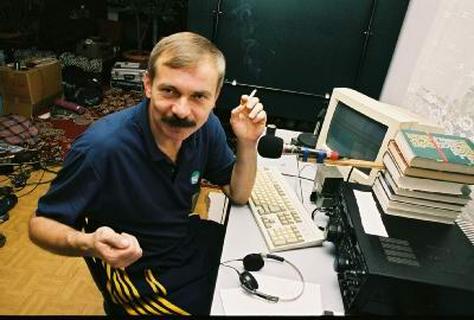 Bogdan SP3RBR, with a cigarette in his hand, on 40 meters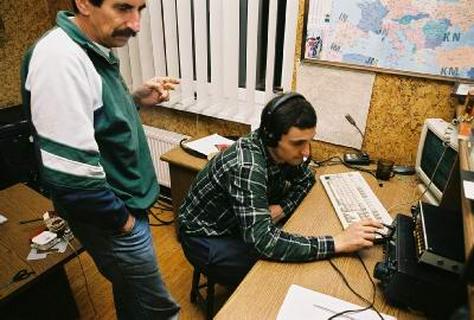 Kazik SP2FAX pollutes the air next to Roman US5WDX
The operators shifted on HF bands. The 15 and 20 meter bands was those where most of the action took place. The same radio was used on 10 meters and 160 meters. An aurora stretched as far south as Poland this weekend so 10 meter band was almost dead.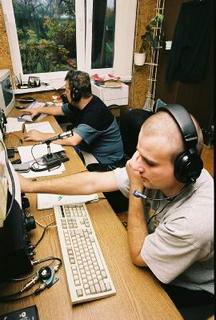 Leszek SP2WKB on 10 meters, much calling but little in the log.
Przemek SP7VC spent all his time on 75 meters. It seems that he likes this crowded and difficult band. This is an advantage to have a dedicated operator on 75 as this band requires a lot of intuition and experience.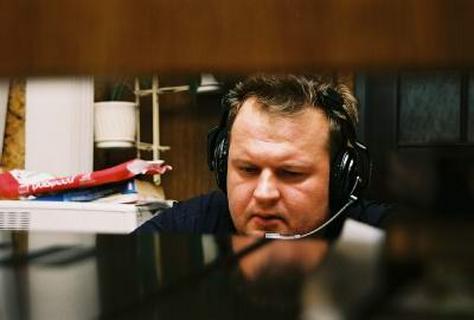 Przemek SP7VC chasing these elusive multipliers at sunset
Bogdan SP3RBR spent most of his time on 40 meters. The 40 meter yagi shares a rotator with one 20 meter yagi which can cause some conflicts between operators on these two bands.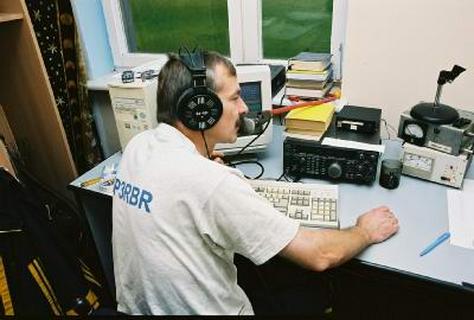 Bogdan SP3RBR
The antennas did not suffer damage from the storm but the rotators could not twist them. And the brakes could not hold some antennas on aim. The youngsters, Leszek and Roman, climbed the towers a few times during the contest to aid the rotators.
| | |
| --- | --- |
| | |
| 15 meter yagis in front, 20 and 40 meter antennas in the distance | 10 meter antenna set |
| | |
| Multiband yagis and the vertical for 80 and 160 m | Przemek SP7VC after inspection of Beverage wires flapping in the storm |
There was always one station running, or at least trying to do so. Another was chasing multipliers. Occasionally, a thrid operator was scanning for multipliers on the Run band.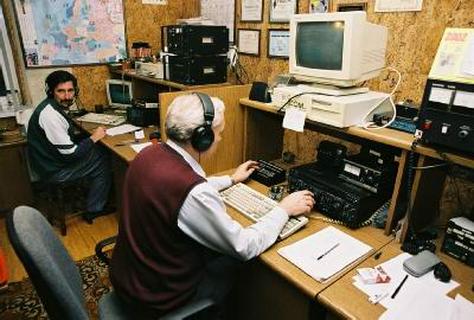 Waldemar SM0TQX running 10 meters while Kaz SP2FAX scans the same band above 28.5 MHz
A multi-op contest is an good opportunity to learn something new.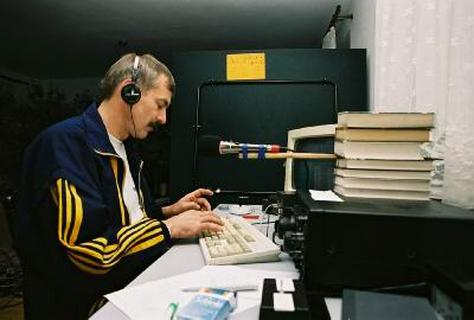 Bogdan SP3RBR shows a new application for old books
The most boring period was Sunday afternoon. Very few new multipliers, very low QSO rate, very distinct aurora.
| | |
| --- | --- |
| | |
| Przemek SP7VC in relaxed stance waits for the sunset, on 75 meters. Leszek SP2WKB is digging scattered signals out of the noise on 10 meters. | "I can't sleep when you shout into the microphone" - Przemek SP7VC tries to catch some sleep during daytime but is disturbed by Bogdan SP3RBR on 40 m |
Kazik SP2FAX is persistant to the very end. He knows that we can in no way beat the score from 1999 but he is on his feet untill 23.59Z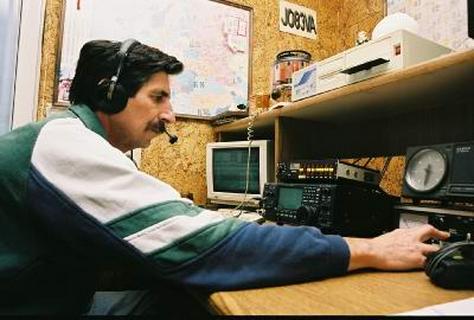 Kaz SP2FAX won't quit before the very end, here he looks for multipliers on 20 meters in the last hour of the contest
And there will be no addition, at least for this event, to his collection of awards and trophies...
The next morning the wind was still strong but fading out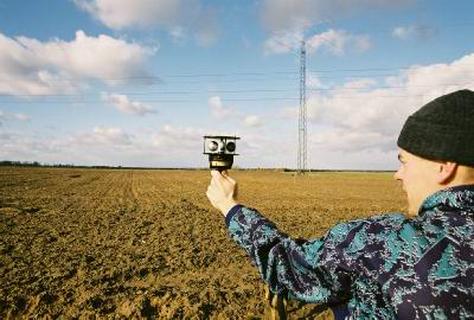 Son of  SP2BDR, Kazik's neighbour, measures the wind velocity
The final score is nothing to be proud of as compared with other Multi-Single stations. Even when the hardware gets better, the skills are improved, the stamina is stronger - the final result can be lower than previously. Anyone who knows at least a little about contesting will acknowledge this fact. Our final score was ... let's wait until August 2003 and see what the Contest Committee will say.
| | |
| --- | --- |
| | |
| Roman US5WDX watches the monitor with submitted contest scores on 3830 | Bogdan SP3RBR looks at me as if he wanted to say: You've messed around here and did a lot of damage to our score ! |
Everybody leaves on Monday afternoon. Except of Roman US5WDX. He is an extremely gifted technician and a very proficient operator. His visits to Poland last usually a few weeks and the result is always some improved or new equipment at this station. Roman is native of Lviv, Ukraine.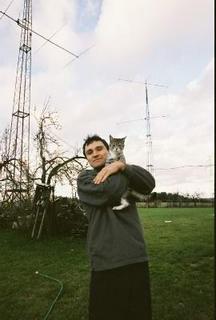 Roman US5WDX and his favourite kitten say "Good Bye !"
The team of SO2R included two WRTC2002 participants but all five local members of the group are operators of highest level. We two visitors from Sweden did merely assist and, I hope, could help a little. We did learn something and I hope they learned something of us. This is after all the main objective of multi-operator efforts.
Henryk Kotowski SM0JHF
copyright 2003
7O6R ?
Reply
by K5ZD on April 12, 2003
Mail this to a friend!
Another wonderful story Henryk. Thanks for sharing!

I especially enjoy the photographs of the station and operators. We work these guys so many times and have no idea what they look like. :)

It is also interesting to see why SO2R is always so loud in the contests. Those are some big big antennas.
7O6R ?
Reply
by k4za on April 14, 2003
Mail this to a friend!
Swell story...

We often forget, here in the US, how traveling just a short distance puts one in another country, & just what that can mean. Ham radio makes such "differences" disappear, & more-or-less meaningless.

I love the European flavor of this story: the sharing, the language, the propagation/gear/techical bits are all slightly "colored" just enough, yet so similar to our own experiences. I was smiling to myself as I read the captions.

Thanks!