The Photographers of WRTC2002
from SM0JHF on August 28, 2002
View comments about this article!

The WRTC2002 Photographers

No, it isn't another spelling nor typing mistake of mine. I mean "photographers", not "photographs". By this time everyone who's at least a little interested in contesting has seen hundreds of photographs from WRTC2002 in Finland. I was also there and took a few shots. I wish to display some of them here but instead of showing the participants, judges, referees and other celebrities, I chose to give exposure to the people behind the cameras. People who combine the skills of contesting with the fine art of photography. Many of the cameramen were also participants, referees or plain celebrities...

John ON4UN got the assignment of the official photographer of the event so he was seen everywhere where action took place.
However, the one who came into my viewfinder most times was Rich K1CC.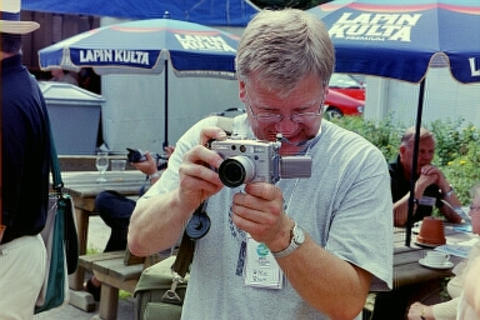 I had an impression that half of the people present at WRTC2002 were taking pictures of the other half. Almost everyone had a camera.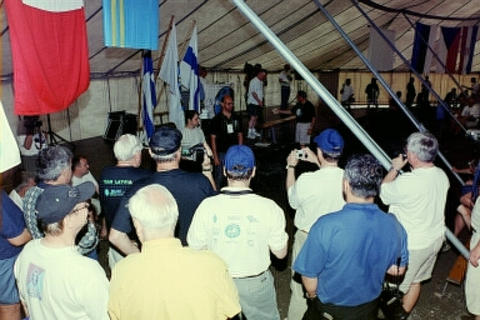 I am not always able to identify all the photographers. The faces and nametags are hidden behind the equipment of all sizes and kinds.
The official videotape cameraman was Dave W6AQ. He did not seem to have much competition. Or is it so that I don't know how small video cameras are today and simply did not notice them.
Dave W6AQ was seen everywhere and all the time. When you watch the final video tape of WRTC 2002 you'll know the man behind it now.
Back to the photographers.
They say that a picture is worth more than a thousand words. But it does not mean that all photographs tell the truth. A classical example is the final shot. John ON4UN relaxes at the end of the competition with a glass of beer. When I took this picture, he admitted: "I almost never drink beer, I drink wine". Whenever you see a picture, don't believe in everything in it...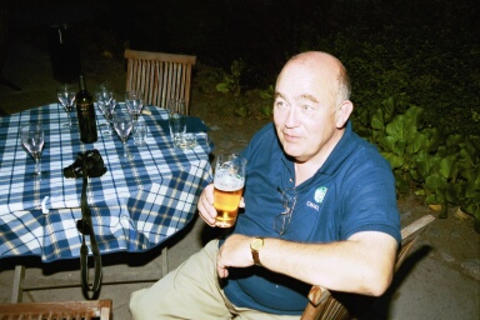 copyright
Henryk Kotowski SM0JHF
August 10, 2002
henryk@sm0jhf.info
The Photographers of WRTC2002
Reply
by K5ZD on September 22, 2002
Mail this to a friend!
It was nice there were so many people taking pictures at WRTC! I decided to leave my camera in the case and just enjoy the experience.

Thanks to all of them for recording the events.
The Photographers of WRTC2002
Reply
by W6AQ on November 4, 2002
Mail this to a friend!
Henryk did a nice job. Thanks Henryk. I wasn't the only video person there, just the busiest one. 9V1YC has all of the video from all of the shooters and is putting together the WRTC 2002 video, which we all hope will be available soon. And as a reminder, the WRTC 2000 video which I did and called "The Ham Radio Olympics" is available from the ARRL on VHS or video CD. 73, Dave, W6AQ
Email Subscription
You are not subscribed to discussions on this article.

Subscribe!
My Subscriptions
Subscriptions Help

Other Misc Articles

IARU HF 2011

---