SP3GEM
from SM0JHF on November 1, 2002
View comments about this article!

Let's meet SP3GEM

I heard of and met Jurek SP3GEM for the first time exactly 10 years ago. I visited my homecountry Poland then and I heard the rumours: "there is a guy who manufactures yagi antennas and puts them to test in contests in western Poland". At that time I avoided Polish ferry boats. I prefered boats between Germany and southern Sweden so visiting someone in western Poland was actually en route ; I was anyway driving through this area.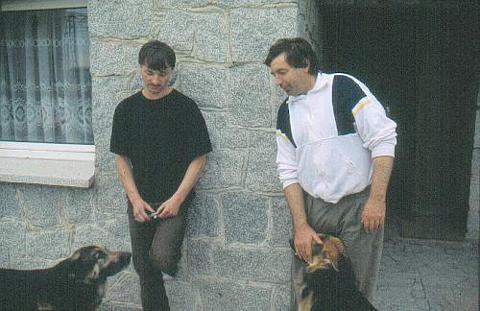 Jurek SP3GEM in front of his house in 1992 together with blackdressed Bogdan SP3RBI (not to be confused with Bogdan SP3RBR)
Jurek managed to get the contest callsign SN3A and gathered a group of eager operators. Suddenly a station from Eastern Europe made top scores in world wide contests. Some of "his" operators are now top bananas in Poland, for example Bogdan SP3RBR and Andrzej SP8NR. At that time, a manufacturing business in this part of the world was a very risky enterprise in general. Manufacturing antennas was simply suicide. The supply of aluminium tubing was erratic, some customers did not know what they wanted and most of them could not pay. Amateur Radio contesting is not a profitable pastime, on the contrary, it is a very expensive and demanding sphere. Most of his friends and neighbours could not understand his passion for contesting.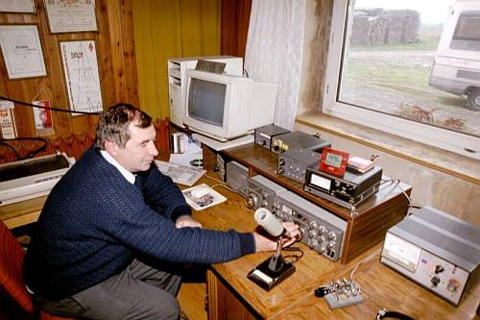 SP3GEM at his vintage Kenwood TS830 in September 2002
But Jurek was not a newcomer to contesting. At the end of the 70's he had gone to Venezuela and was lucky to get an assignment of building and maintaing a competetive station for YV3BFR, besides a full time job of teaching at the local college. He often manned the host's station and was quite sucessful in contests (known as Jorge). When he returned to Poland and re-gained the licence after the martial law years, he started building a station of his own. One of his goals was winning the Venezuelan Contest. Which he did.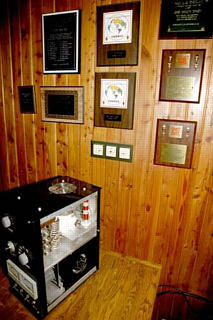 A few plaques, among them one for Concurso Venezolano, and a home made amplifier
The second time I met Jurek it was last year, September 2001.
The antenna manufacturing business is going slow; not many customers want  single band competitive long yagis. Imported multiband short arrays are in greater demand. SP3GEM sells more of his own 5-band spider Quad antenna than yagis. His own activity is limited to 15 meters and LF bands. For 15 meter band he has two arrays of 6-over-6 yagis of own design. His very efficient vertical for160 and 80 meter bands works very well  thanks to an elaborate counterpoise system. 
On the right, the Low Band Vertical. One set of 6-over-6 15meter yagis silhouetted by the setting sun.
Jurek belives that the antenna is what counts and does not update the rig as often as most of us do. He still has an ancient TS 830 and a home made amplifier. Participating in contests in single band category, and this is what SP3GEM or his guest operators using the SN3A callsign, have been doing in the couple of past years, does not call for many instant band change functions offered by modern rigs. A second VFO is necessary, though.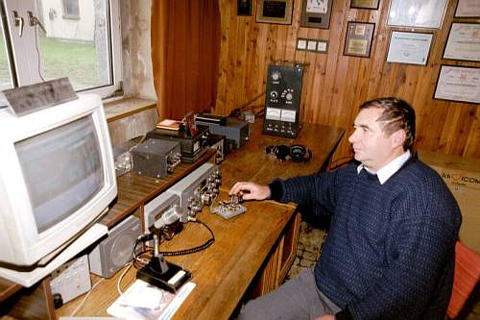 SP3GEM on the air, but also sometimes connected to the web. His e-mail address is  sp3gem@wp.pl
Antennas and the spirit of contesting that Jurek spread in Poland of early 90's stirred a lot of activity. One of the better known "customers" of SP3GEM was and still is Kazik SP2FAX. Jurek designed and manufactured antennas that are in use at SP2FAX. But there are hundreds of amateur and commercial antenna arrays in use throughout this part of Europe that are "made by SP3GEM".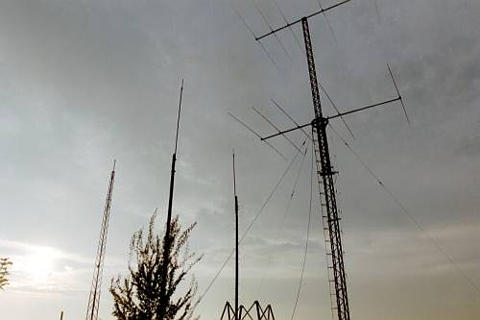 Another view of SP3GEM's antennas.
The purpose of this presentation is not to nominate Jurek to the Contest Hall of Fame. Not yet, anyway. The purpose is to give an example of people who actually influence groups but never get the credit they actually deserve. People who are both courageous and broad minded, unselfish and generous. I despise big mouths who never actually do anything but steal from others. Jurek SP3GEM did very much to stimulate serious contesting in Poland. Let's hope that he will keep on setting good example himself and will not decrease his own on-air activities. Supporting family and taking care of his business is of course time consuming.
What actually prompted me to write this story was meeting Ken K1EA in Finland during the WRTC2002. I was taking a picture of the winners, before the official results were announced, and Ken was talking with them. I got him on film and he said "Well, now you also got the man without whom so much could have been done". Which was of course modesty and self irony. Ken K1EA, the CT creator, has influenced contesting worldwide in the past decade. 
The Spanish CQ Magazine (http://www.cq-radio.com/) showed some of Jurek's antennas on its cover in May 2002. On the left, a 5-band Quad and on the right another set of 6-over-6 15m yagis.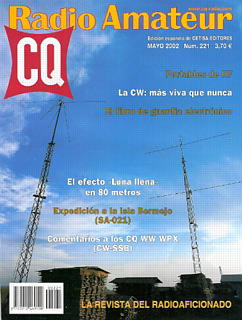 cover photography: Henryk Kotowski SM0JHF
Text and all photographs by Henryk Kotowski, SM0JHF
henryk@sm0jhf.info
August 7, 2002
SP3GEM
Reply
by SM0JHF on August 8, 2002
Mail this to a friend!
I have just looked closer at the pictures and discovered my mistake: one array is 6-over-6 but the other one is 5-over-5... I have to get me better glasses and a calculator.
SM0JHF
Email Subscription
You are not subscribed to discussions on this article.

Subscribe!
My Subscriptions
Subscriptions Help

Other Stories Articles

SN0HQ

A Visit With S57DX

Montenegro landmark

Slovak Contest Group

The Paper log, SO2R and SDR generations

---