WRTC 2002 Team Poland 2
from Henryk Kotowski SM0JHF on May 21, 2002
View comments about this article!




WRTC 2002 Team Poland (Wild Card)

As of today, it is less than 9 weeks left to this year's World Radio Team Championship in Finland. Frankly, I'd like to see more information and even presentation of the participants and referees on this site. I will try to set a good example and present here the two members of Team Poland (Wild Card) that I know quite well.

The team consists of Kazik SP2FAX, 48 and Chris SP7GIQ, 46. A few months ago I posted an illustrated story about Kazik on www.contesting.com/articles/246 so he can take a rest now.
Kazik SP2FAX relaxes in front of his house before going to Finland for the WRTC 2002
Chris SP7GIQ does not even have a hammock at his contest station so every time I go there I have to bring my own. Each time I visited his otherwise well-equipped ham-radio residence he was busy doing some antenna improvements or maintainace. The most recent time I was there I almost caught him replacing spreaders of his full-size 40 meter quad; I arrived minutes after the monster had been heaved up again.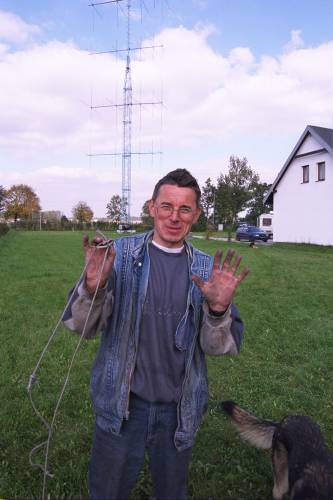 If you think that winning a contest is a clean job of sitting by the radio and computer, you're wrong.
The first time I met Chris in Warszawa, Poland it was at a radio club in 1971. He was about 15 years old and came to see if amateur radio was something for him. Unfortunately for this very club, SP5PWK, Chris became a member of another one, purely of practical reasons. He lived outside of the city and was attending a local high school so joining a nearby radio club was both practical and wise. One year later he passed the licence test and became SP5GIQ.
While attending the Polytechnic College in Warszawa, another club appealed to him, viz. SP5PBE. There he practiced international contesting and gained experience.
At the end of 80's he moved to a small town almost 200 miles west of Warszawa, called Lask. Initially he tried to stir some activity in a local radio club but pretty soon he gave it up. As usual, and in so many clubs that I have seen, there were too many talkers and directors and too few who could and would actually accomplish something. So he bought 2 acres of land in the countryside and fenced the lot. One after one, towers were erected and antennas built. All is home-made from salvaged scrap and military surplus. Very few items are purchased at full price. Chris told me for example how he did a job for a construction company but they could not pay on time so they offered him a load of concrete for the base of his tower, in lieu of payment.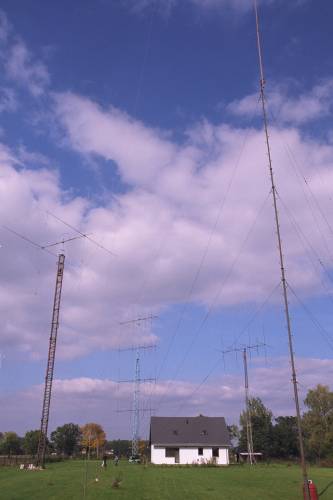 From left: 7 MHz quad, rotary tower with stacked quads for 14-21-24 MHz, single 14-21-28 MHz quad, vertical for 1.8 - 3.5 MHz
Everything looks very neat here, the house, the antennas and the lawn. It gives an impression of a hard-working and systematic owner. The shack is unassuming. Large portion of equipment is home made as well. The rotor control boxes, antenna switching units, the power amplifier are of own design and fabrication.
Chris's favorite mode is CW so I presume that Kazik SP2FAX will be taking care of phone contacts during WRTC 2002. But Kazik is very proficient CW operator, too. Just like Chris is a qualified phone operator. You have to do both modes if you aim at WRTC.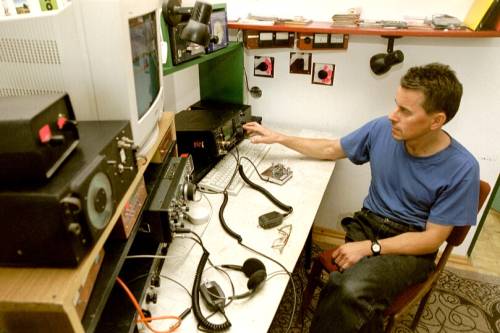 The operating position of SP7GIQ
During my latest visit, Chris evaluated my IC 746 and was contemplating replacing his antique IC 751A with this model. I gave him my advice: If you're upgrading, go for 1000MP at least. And I've heard that he did accordingly.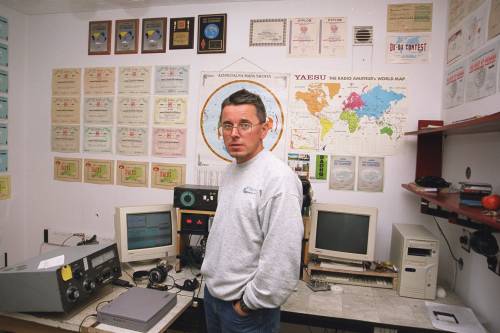 An awesome collection of contest awards and plaques. And a modest man in a modest shack.
(The Alpha amplifier and laptop computer on the left belong to Przemek, SP7VC)
Even though Chris does a lot of antenna work himself, handling these giants needs some assistance. His neighbor, Przemek, SP7VC, who is much younger than Chris but almost as enthusiastic about radio as his Elmer, helps with hardware and does some phone contesting from time to time.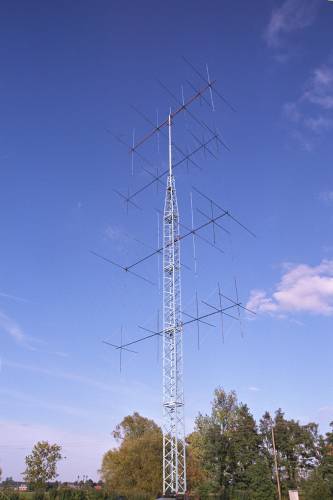 One final, close look at this unique, 120 ft tall, rotary tower with stacked quads.
Chris SP7GIQ has been featured on the covers of at least two magazines. One Polish monthly Swiat Radio (www.swiatradio.com.pl) in January 1998 and on CQ Contest July/August 1998.
| | |
| --- | --- |
| | |
| Cover of Swiat Radio 1/98 - photo SM0JHF | Cover of CQ Contest magazine - photo SM0JHF |
Both team members are in their late 40's, received their licences at the age of 16 and have experience of both modes, homebrewing and ingenuity. Working a contest in tandem requires also an aptitude in co-operation. Chris has been a solo fighter for the past decade. Kazik has often hosted guest-operators but never his WRTC team mate. To get better acquainted, to master the low-power search-and-pounce style, they get together for a few contests this spring. If you worked SN7Q in SP-DX-Contest and CQ-Mir (or if you hear it in the coming CQ WW WPX CW) then you might like to know that it was the WRTC 2002 Team Poland (2) rehearsing.
I wish them good luck in Finland this July.
text and photographs copyright 2002
WRTC 2002 Team Poland 2
Reply
by CT3EE on May 28, 2002
Mail this to a friend!
Good iniciaive Henryk
Allways glad to read (and watch your pictures), something from you.
Speccialy for this ocasion my best wishes of good luck to the SP Team, and I will be QRV to work them in the Contest.
73 and go on with your effort, its wonderfull to have people like you, letting us know all the details.
73 from Luis - CT3EE
Email Subscription
You are not subscribed to discussions on this article.

Subscribe!
My Subscriptions
Subscriptions Help

Other Misc Articles

IARU HF 2011

---