Contesting Spirit in Lithuania
from Henryk Kotowski SM0JHF on May 5, 2002
View comments about this article!




Contest clubs of Lithuania

While looking at the program of WRTC in Finland this year, it struck me that a trip to Estonia was offered there. Nothing wrong with Estonia, never been there, but I think that another country is actually more interesting for a contest-minded visitor to this part of Europe.

However, there is no convenient ferry connection between OH and LY. So I thought that chances of any guest to the WRTC-2002 going to Lithuania are small and a presentation on this site will be appreciated.

Lithuania became an independent republic more than 10 years ago after decades of being a Soviet republic. The population is mixed, with Russian, Jewish, Polish and Belarus minorities.

There are tens of active contest clubs in Lithuania. Many more than in any other country of this area. I have visited two clubs, one in the capital city called Vilnius and the other one in Kaunas, second largest city.

Why the spirit of amateur radio contesting is so high here, I still don't know. The country is relatively poor, agriculture-dominated, with little industry. The land area and population figures are about the same as of Ireland. Check your contest logs and see how many QSO's you have in it from each of these countries. Convinced ?

The Kaunas Technical Univeristy radio club has around 100 members, students and graduates, teachers and other employees of this college. In the past different callsigns were used here, starting with UP2KNP in the 50's till the present LY2ZO. All right, few contesters recognize the latter. The reason is that the club's contest site, out of town, has a shorter callsign, viz LY7A.
| | |
| --- | --- |
| | |
| LY7A contest site out of town, near Kaunas, Lithuania | LY7A, all antennas are home made but hardware is ex-military surplus |
Inside, there are separate operating positions for each HF band. The equipment is bulky, pretty old-fashioned. Most of it was built during 70's and 80's, using military surplus. Modern, factory-made amateur radio equipment is still out of reach for an average amateur radio operator of Lithuania. One of my guides to this pretty impressive complex was Algis LY2NK.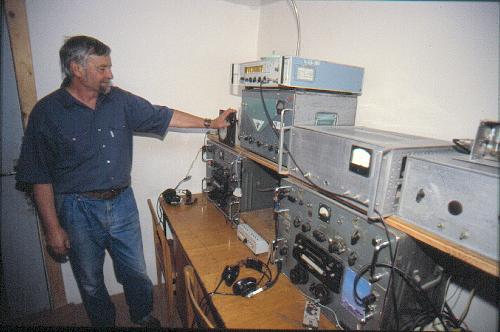 Aldis LY2NK shows 20-meter position of LY7A contest station
Probably some of the members of contesting.com community recognize the name, the callsign and maybe even the face of Algis. LY2NK was recently elected to the Contest Hall of Fame and is number 37. Since late 50's he has developed his operating skills, organized contest expeditions and team activities, stimulated others to join the club, but also won many contests on his own.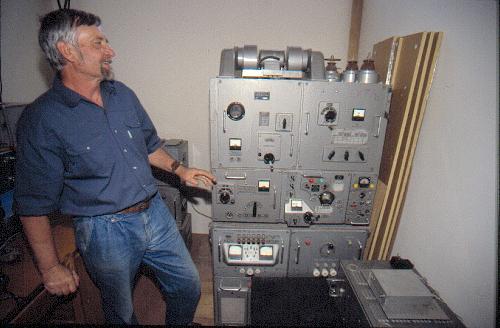 This submarine HF transmitter is NOT used at LY7A, says Algis, LY2NK. Maybe a project for the future...
Another guide that I had in Kaunas was Ricardas, LY2FN. He does quite some homebrewing and operating as well, but due to antenna restrictions at home, Ricardas spends much time at his club. At the University they have facilities to construct the equipment, hold classes for new hams, stage social meetings, etc.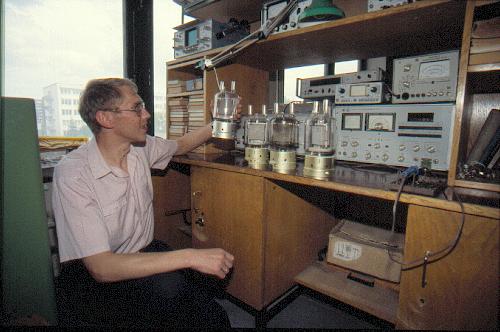 Ricardas LY2FN explains what tubes are used in their transmitters. As drivers ? - I asked.
The club has a web site at http://www.ktu.lt/radio/ Between 1965 and 2000 this club accumulated more than 500 milion points in CQ WW Contests alone.
***************************************************************************
In Vilnius, I easily found the radio club of the Youth Creativity Center. The building is one of the tallest in town and the roof is armed with a number of antennas.
| | |
| --- | --- |
| | |
| LY1BZB radio club is hosted in the building of Youth Creativity Center in Vilnius, Lithuania | Inside the LY1BZB radio club, from left Roy LY2BKF, Viaceslaw LY1FF and Ernest LY3PH. |
The average age of members of this club is lower than that of LY7A. The Center provides means for young people, mainly teenagers, to develop technical hobbies. Amateur radio has been a privileged pastime in the Soviet since early 60's when it was officially declared as sport.
| | |
| --- | --- |
| | |
| Roy and Ernest in the VHF/UHF antenna tower of LY1BZB. | Checking the home made cubical quad at LY1BZB |
Clubs of Lithuania quite frequently have a couple of callsigns. One is a regular, quite long callsign, another, usually much shorter is used for contests. Sometimes even a third callsign is assigned for training and on the air practice. The Vilnius club of LY1BZB can deploy LY3MR and LY8X callsigns depending on circumstances.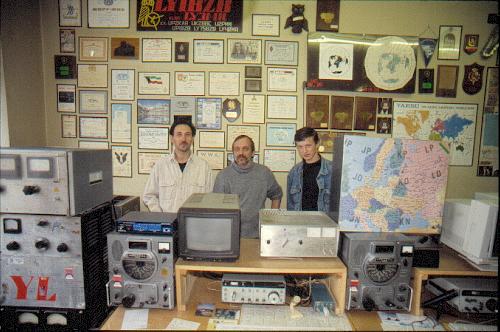 LY1FF, LY2BKF and LY3PH with diplomas and trophies in the background at LY1BZB
The number of licences in Lithuania is over 1000. The licencing authority, RRT (http://www.radio.lt/), had entered the CEPT international agreement much earlier that other countries of this area. The national amateur radio organization is called LRMD and is a member of IARU and well represented in the annual IARU HF Championship. The interest for contesting, fox-hunting and high-speed telegraphy is widespread and there is another organization, called LRSF, taking care of the competition inclined persons. One does not have to hold a licence to do Amateur Radio Direction Finding known as fox-hunt or be a proficient high speed telegraphy operator. The LRSF (Lithuanian Radio Sport Federation) has over 300 members.
The spirit of competing and the level of operating skills is generally high in the former Soviet bloc. I can define two basic reasons for this. One is that requirements for an amateur radio licence in the past were demanding, one had to give proof of his or hers abilities and many clubs provided good training. The second one was motivation; being isolated from the outside world, amateur radio was a chance to broaden one's horizons.
I wouldn't be surprised if Lithuania would host WRTC one day. The cost of such an event is the major bottleneck here right now but there is both capacity and competence among LY contesters.
Should anyone be tempted to visit this country this summer, I recall that the combined annual meeting and field day in Lithuania is in July.
Contesting Spirit in Lithuania
Reply
by DJ9AO on May 6, 2002
Mail this to a friend!
Wow, nice to see that they are still using the reliable russian R-250 receiver. And if they are using them in contests with proper results, maybe i should think about putting the one i have into use.
Thanks for the good article Henryk. 73 DJ9AO
RE: Contesting Spirit in Lithuania
Reply
by DJ9AO on May 8, 2002
Mail this to a friend!
Haha, quite a good guess. You can see them on the picture where OM Algis shows the 20m position. The bulky heavy looking things next to the headphones are the R-250 and their weight actually is about 100 kg (so says the manual). So you nearly figured it out but one can do it fully only after trying to move this receiver.

73 DJ9AO
Contesting Spirit in Lithuania
Reply
by LY3DA on May 20, 2002
Mail this to a friend!
R-250 receivers are used in 40m position of LY7A. Weigth of receivers is not important because it is STATIONARY position :)
Any way, radiosport is "not easy thing".

Regards,
Darius LY3DA
(one of LY7A 40m operators)
Contesting Spirit in Lithuania
Reply
by sp1ek on May 24, 2002
Mail this to a friend!
R-250M2 I hade own 4 years ago, used especially in my SWL cariere.Verry good RX for not big money in SP.
Vy 73 Bart
Contesting Spirit in Lithuania
Reply
by LY2BIG on August 9, 2002
Mail this to a friend!
Well, if you like to see the 250 lbs RECEIVERS (not transceivers) too - go to LY7A as Henryk did. Right place.

But....

If you like to see some quite & remote site, populated with monster ANTENNAS (mounted on a six 35-57 meter tall towers) then LY2ZZ QTH is the place.

Just to see those 57m high, FREE STANDING "sky needles" is verse the trip :))

73, Vic LY2BIG
Email Subscription
You are not subscribed to discussions on this article.

Subscribe!
My Subscriptions
Subscriptions Help

Other Misc Articles

IARU HF 2011

---