AE9B's 2002 WPX SSB Multi Multi
Tom Baugh (AE9B) (ae9b) on April 14, 2002
View comments about this article!

CQ WW WPX 2002 at AE9B

From the middle of the United States (the Black Hole) propagation may not be great but, nobody has more fun anywhere in the world. I'm Tom Baugh (AE9B) and having had a few career changes I recognize one consistent element of enjoyment. I don't miss playing football in the NFL, I miss the friendships I had while playing. I don't miss teaching in the High School, I miss the friendships I had while teaching. I believe that is why I took on the challenge of putting together a Multi-Multi effort. Although I love contesting, more than anything else in Amateur radio, I enjoy the camaraderie and friendships I have made while becoming a ham only 5 years ago. 

So, in order to bring together a bunch of radio amateurs I spent a little more than three months accumulating the equipment ( purchased, loaned, salvaged etc.). Several of the guys listed came out and provided labor for the effort as well. 

I live on a 5 acre parcel in a nice rural community (Population 420). Lone Jack is a place where hometown pride and good ethics are still the norm. The lot footprint is 265' N/S and 900' E/W. I normally have just a tribander at 60' and some wires up during the year, but I wanted this event to be special. I have great neighbors who let me run beverage antennas during the "no mow" season. I have begun to get a little hooked on 160M and have tried learning all I can from whoever will teach me. Several of the local KCDXC members are on the 160M Honor roll so I grabbed all the info I could from them AB0X, K0CS, K0LW, N0XA, W0WG and others like K9DX, W8JI, and the top band 'reflector-ees'. The goal was to make a usable setup for 80M and 160M. If we could have working lowband antennas, maybe we could get some of those night owls to come out and operate. I spent a large majority of the planning and working on the low band antenna system. Mike KD0FW had used a shortened vertical design using a toploading coil and a 50' push up mast which was economical and better yet WORKS. The design works for both 80 and 160 with three top loading wires for each band. Each has a series of radials under them. I have been trying to learn about phasing so we decided to put a pair of these together for each band. 2 phased verticals on 80M and 2 on 160M. I had proven earlier in the year that they work when I worked several EU stations one rare evening in January. The beverage antennas we used were 580' long made of electric fence wire. They were elevated 3, 6 and 10 feet. They were fed with K9DX provided 75 Ohm RG11. I had one beverage using the Lance Johnson setup which operates fine. Two others used ON4UN's Transformers, I went looking for a preamp design for those real quiet nights that rarely happen in the central US during spring and W8JI offered help. He provided the schematic for a 14DB preamp and W0BR built two of them. One for 80M and one for 160M. They're awesome! The beverages were terminated at 45,90 and 250 deg. W0BR also built a phase box to end fire or broadside fire the 80M pair but something wasn't working properly and we had to scrap the idea. 

On 40M, I normally have a Force 12- 2 element beam. It works fine but it's attached to the same mast as the tribander. After a tremendous ice storm in the Midwest, Marshall (AA0FW) had lost his 40M 4 Square. I asked Marshall if I could borrow his Comtek box for the contest and he agreed to let us use it. Working backwards I felt like progress was being made. 160M, 80M, 40M done whew!! Word spread that I was trying to get this effort together and more help arrived. KD0FW asked a local friend if we could use his big 4 element M squared 20M beam. Lee Ward (K0LW) offered some tower sections for use and we were on our way with a big beautiful 4 element beam for 20 meters. Rick (W0ZAP) and Dave (KG0US) built the monster on the ground and we used a 60' boom lift to raise the tower (in 2 hours) and beam (2 hours) on a Sunday. Alex (KU1CW), Lee (K0LW) and I erected the whole thing in record time. It actually took more time to build the beam and guy the tower than it did to erect the whole mess. Mike (KD0FW) and Alan (KI7WO) put together the rotor and coax wire while we secured the guy wires.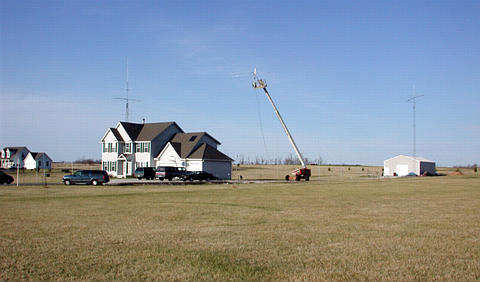 The 15M position would have only a small tribander and a butternut vertical. We used the 60' bucket lift as a tower for the tribander, clamped a mast to the bucket and a rotor turned the small beam with no problems. Steve K0OU came by and helped set up two Butternut verticals for backup alternate antennas for all the bands. 
In typical ham fashion, as much of the antenna work as possible was done during cold, snowy, raining, and windy days. But every time we needed a little break, the WX gods were shining on us. The mild winter was just what I needed to get it all done. During poor weather condition days I focused on the interior. I recognized early on that we were going to be doing something in this house which the house was not built for. My basement is not large but adequate for 6 operators without being too crowded. The electrical service is 200 amps and I put a separate sub panel in for just that room. All the computer power was to be pulled off house power and the radios and amps off of the new 100 Amp dedicated box. Bob (KC0DLM) spent several weekends helping me pull wire and sort out circuits. On the inside, I salvaged a bunch of counter tops from a construction site which our company was remodeling. Each position had between 4 and 5 feet of operating space in a horse shoe configuration, with upper shelves and keyboard pullouts for those that needed them.
The Equipment List: 5-FT1000 MP's and 1- ICOM 775 DSP owned by 5 different guys. 6- KW Amplifiers (Kenwoods, Drakes and an Alpha) owned by 5 different guys headsets, footswitches, computers etc. all owned by many different folks who helped make this effort possible. The computers were all networked by Rick (W0ZAP). We used Writelog logging software.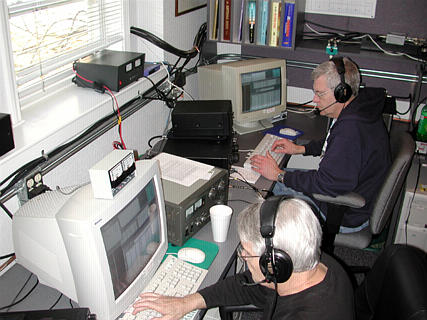 Coordination: Early on I asked several of my friends if they would be interested in doing a Multi-Multi operation. When I got 6 solid "YES's", I figured we'd go for it. We didn't expect to win anything... we expected to try hard and have fun. I got those 6 guys to "volunteer" to be band captains and we started recruiting for operators immediately. We spread the word in the area, several of us are on the SMC team which had been successful in recent contests and what we found was success in numbers. This time we needed numbers just to fill the seats. Something I had never tried before. The Johnson County (Kansas) club President Bob Raker (W0BR) recruited several new guys, SAM 5, Tim (N0SZE). The Kansas City DX Club President (K0LW) recruited some more and we were on our way.
All of the above was written prior to the contest now for post contest remarks. The group consisted of NW0L, KG0US, K0OU, W0ZAP, W0BR, K0LW, AE9B, KG0UT, KB0VVT, KU1CW, K0ZM, KB0U, KC0DLM, KG0UA, KI0KH, N0SZE, KD5GNO, N5DZX, KI7WO not a bad turnout for an Easter weekend. Highlights included listening to Alex KU1CW getting a run of Russians going on 20M and speaking to them in Russian, taking my break during the first night and hearing Bob, (KC0DLM) 2 stories away yelling "AE9B" through the ductwork. Listening to Steve K0OU with his consistently friendly "thank you's, 73's and Happy Easter's". Getting some of the old guard (Kansas City DX Club) to pitch in and teach us young guys a few things. Having community members stop by (invited) to see what ham radio was all about. Eating Jeannie's (my XYL) endless supply of food and goodies. We set goals for each of the 6 stations and all except the 10M and 15M stations exceeded the goals. The Solar event during the weekend really shut down the higher bands here near Kansas City.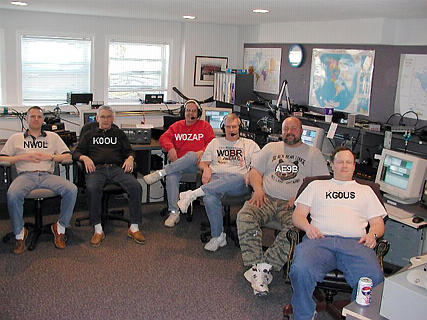 Post Contest comments from the amateur community were very nice and rewarding. General "Good Job's" were the norm with a couple people interested in who our YL OP's were. The mother, daughter team of KG0UT and KB0VVT are veteran contesters preferring CW over SSB. But there's something about a YL voice that gets through the clutter huh guys? Some comments about how friendly and polite our 40M and 20M Op's were. W0ZAP and K0OU primarily handled those stations. Although I'm a competitive person, it is not my style to barge in on people nearby on the bands. On the other hand, if someone intentionally tries to move me and steal my frequency, they're in for more than it's worth if they're a serious OP. We had at least two events of this nature while I was monitoring and my instructions to our OP's were the same both times. You are in the right, defend your ground, don't give up the frequency. It becomes a little battle that costs both parties contacts but our goal of a good performance does not demand victory. On the other hand if the other party is interested in winning.. They can go find their own frequency legitimately.
Just like my prior experiences have suggested and my new one continues to confirm. Working hard to do something that is sometimes difficult is not always fun. Working together with a bunch of guys that have a similar interest, no matter what the interest, IS fun. The contest itself is usually anticlimactic, we almost never win from here. But the efforts, the camaraderie, the sharing (even if you've heard the story ten times) is what life is all about. Field day activities usually bring out a lot of folks, re-energize some who haven't operated in years and show new faces what radio is all about. My experience coordinating this Multi-Multi team effort was very similar. I learned from this effort too. I learned that if you want something you need to ask. It won't just show up by hoping. I asked John ON4UN for some transformers, Tom W8JI for a preamp Schematic, Lee K0LW for towers, coax, etc. and I asked for a lot of help. In almost every case I got the answer I wanted. I paid for some, borrowed some, and traded for some but it was all for the benefit of many. My deep appreciation for all the guys listed here for their various amounts of effort and resources in contributing to the fun we had as AE9B, Multi-Multi from Lone Jack, Missouri where hometown values and knowing your neighbors are still important.

AE9B WPX Multi Multi (Long)
Reply
by k9gy on April 5, 2002
Mail this to a friend!
Great job Tom and crew! I think you won in more than one way. CQ CONTEST!
AE9B's 2002 WPX SSB Multi Multi
Reply
by XE2AC on April 19, 2002
Mail this to a friend!
Tom,
It is inspiring to read Stories like yours.

Kudos to you an the team for the excellent job

73

Luis
AE9B's 2002 WPX SSB Multi Multi
Reply
by W4ZV on April 25, 2002
Mail this to a friend!
Great effort and story Tom! An amazing amount of work for just one weekend...and you obviously have some great neighbors and friends. The only problem is...now you're hooked and you'll have to start looking for more land so you can leave those antennas up all year!

73, Bill W4ZV
Email Subscription
You are not subscribed to discussions on this article.

Subscribe!
My Subscriptions
Subscriptions Help

Other Stories Articles

SN0HQ

A Visit With S57DX

Montenegro landmark

Slovak Contest Group

The Paper log, SO2R and SDR generations

---