Let's meet SP7GIQ (CQ/RJ WPX RTTY)
Tom (SP5UAF) on April 22, 2002
View comments about this article!




CQ/RJ WPX RTTY Contest - in other words... lets's meet SP7GIQ

In our club station SP5ZCC we are interested in RTTY operating for some years. We stared with a very simple gear: hamcom interface. We had a lot of help from Polish HAM literature, especially a book "Not only phone and CW". At first we hardly tuned the radio to receive any RTTY signal. But step by step we learned RTTY and started to operate on bands and then in contests.

Thanks to RTTY contest we got to know Ed SP1MHV - very experienced HAM in RTTY (perhaps you remember his OD5/SP1MHV operating some years ago). He gave us many advices. We used to meet in all RTTY events and after that to do some rag chewing about what could be done during the contest. Then we met also Paul SP7PS (ex SP7NMW), another passionate of RTTY.

After some years of RTTY operating we managed to take some good places in many contest. But in CQ WW or CQ WPX RTTY it was almost impossible to be in the top ten. Yes, it is the problem of low bands. Our club is located in a place where it is impossible to build any effective receiving antennas. On the other hand we can use only a dipole or delta loop to transmit.

During numerous meetings with Ed SP1MHV and Paul SP7PS we started to talk about joining our teams. We had some plans but it is not so easy to make them real. Last year during annual meeting of the SP DX Club in 2001 I had a chance to meet Chris SP7GIQ - well-known contester. I mentioned about RTTY plans and Chris said: "Why not?"

So our plans could become real... At first we decided to try in ARRL RTTY Round-up 2002. But we had to forget it due to very bad winter weather conditions. So next choice was CQ/RJ WPX RTTY Contest. This time we had nice weather and we could plan everything at home and work to participate in the contest. Unfortunately Ed SP1MHV could not be with us.

We decided to get special prefix for the contest. We applied for 3Z0WPX and soon got the special event license. We also decided to use WriteLog. During numerous phone talks we decided what to take with us, what wires, computers etc.

So in the end the long waited moment came. We met on February 8 (Friday) in the QTH of Chris SP7GIQ. The team members were: Chris SP7GIQ, Paul SP7PS, Marek SQ5BPM, Donata (YL) SP5-25-0717 and Tom SP5UAF.

We started preperations. We took two FT-1000MPs, FT-990 as a back-up radio and three computers. Chris configured his station for us. Yes, so many cables in our wireless hobby. Earlier we decided to participate in Multi-Two so we configured everything for this category.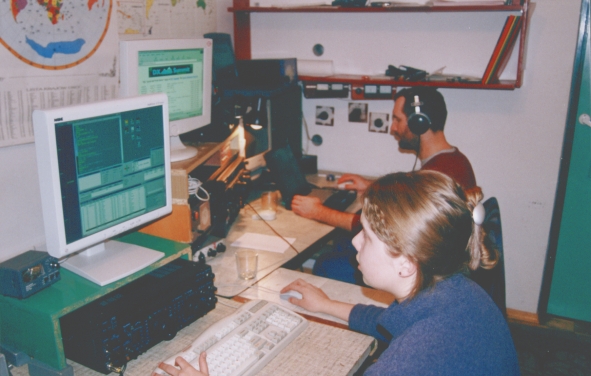 Donata SP5-25-0717 and Paul SP7PS during contest operation
In one of the computers we used HAL RTTY card. The other one had MMTTY as a RTTY decoder. It worked very fine together. We realized that we had no enough cables to configure the third computer. So in the end we had independent computer with DX Cluster just to observe it from time to time.
The European record in Multi-Two is 3.616.776 points. It was achieved by YL4U team. We wondered it it would be possible to break the record. YL4U is a well-known, well organized team of experienced operators. OK, we always could try... By the way, the world record of 8.411.106 points belongs to HC8N.
All of us had new experiences - none of us participated in Multi-Two category. We knew that low band contacts could be the key to good result (6 points for DX QSOs on 80 and 40 meters). Yes, Chris antennas were like a dream for us: vertical and some slopping dipoles for 80 meters, 2el Quad on 40 meters and many beverages pointed to various directions and K9AY loops.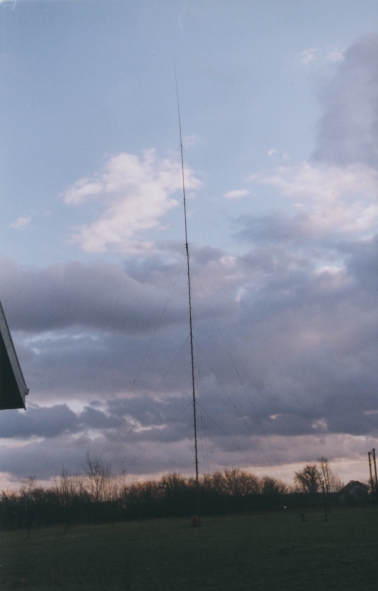 We also could expect nice results on higher bands:
28Mhz - stacked 5/5/5/5 el Quad, 5 el Quad or 2 el Quad.
21MHz - stacked 4/4 el Quad, 4el Quad or 2 el Quad
14MHz - stacked 4/4 el Quad, 4el Quad or 2 el Quad
All this antennas can be switched in one moment. If you beam JA with this monster 5/5/5/5 stacker on 10 meters but a station from other direction calls you, you just switch to the other antenna for better results. Of course it is impossible to use the same antenna by two radios. Yes, for a long time Chris operates in SO2R so his station is well prepared to it.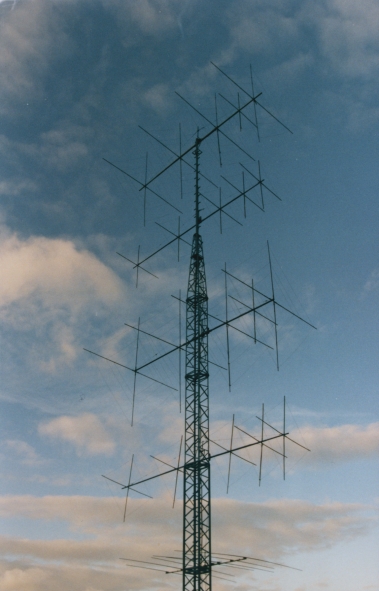 28MHz 5/5/5/5, 21MHz 4/4 and 14MHz 4/4 - this tower is all rotated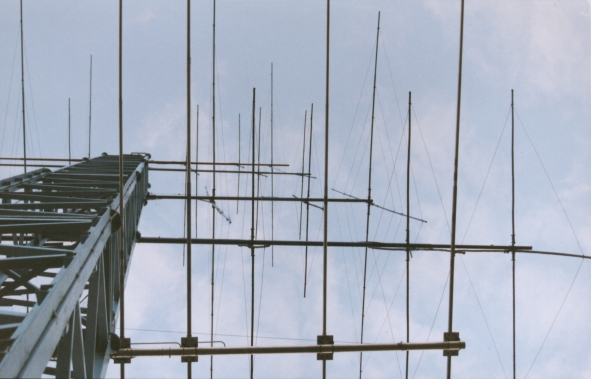 The same antenna - seen from the bottom
So at 00:00 UTC on Sunday we started contesting. At first we had some problems with one of the radios but in the end we found the reason and resolved the problem. Of course during first hours we operated on 80 and 40 meters only: about 100 - 110 QSOs/hour. Then higher bands started with a very good opening to JA on 10 meters. The last hour of the first day was a horror for us. There was a problem at the power station. Electric current was switched off in the area of the QTH. Fortunately it was "only" 35 minutes. In the end after the first day we had 1550 contacts logged. After the second day we had 2518 contacts.
Most of the time we were calling CQ TEST - we had a nice prefix and good antennas. About 90% contacts were made on CQ. DX Cluster helped us to catch some valuable multipliers. We were called three times by V73UG - it was very nice. Usually you look for such stations yourself. So after all our result was as follows:
Final result: 4 690 840 points
Of course the last hours were the worst. As you know single operator stations can operate only 30 hours. So at the end of the contest the activity is not too big. It is much easier to operate when you have pile-up. At the end of the contest when after the next CQ nobody calls you and you are tired it is much more difficult.
We are very happy we wee able to break the European all-time record in Multi-Two category. But very important thing is that we can conquer in contests but we are still HAM radio friends. At this point I must express my thanks to YL2KF (member of YL4U team) for some very nice e-mails and for help with the log preparation.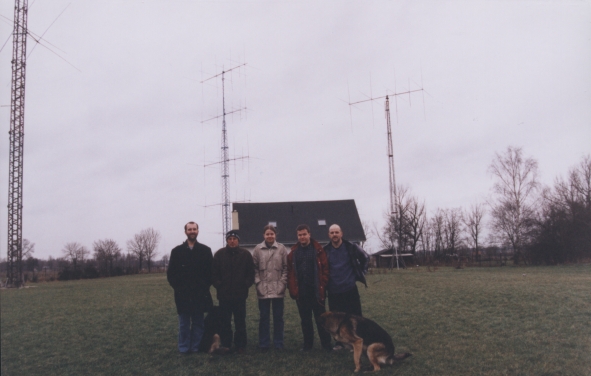 3Z0WPX team. From the left: Paul SP7PS, Chris SP7GIQ, Donata SP5-25-0717, Mark SQ5BPM and Tom SP5UAF
Achieving such a nice score would not be possible without the help of Chris SP7GIQ and his wonderful antennas. If you like contesting you probably worked SP7GIQ. Look into CQWW, WPX, WAE, All Asia or other contest results to see what he can do. What to say more: Chris made all the antennas himself. He also prepared all the ham-shack on his own. In the same time Chris SP7GIQ is a very friendly and nice man. Being at his QTH was a good school of contest operating and ham radio for us. Let us express our great thanks to Chris for his help and for being such a nice host for 3Z0WPX team.
Our thanks go towards JE3HHT - the author of the MMTTY, the free, wonderful software. Thanks for wonderful software available for free for HAMs all over the world.
Perhaps we will meet at SP7GIQ station again. Who knows, perhaps for CQ WW RTTY, perhaps during WAE RTTY. In the meantime look for his call in many contests during the year, mostly CW.
Let's meet SP7GIQ (CQ/RJ WPX RTTY)
Reply
by VA3PL on April 23, 2002
Mail this to a friend!
Tom
This is nice write up. That 5/5/5/5 on 28 on rotating tower is really impressive. Kris has a nice antenna farm there. Now I know why he is bending my s-meter needle here. Say hallo to him, Tom.
Thanks for the QSO in WPX RTTY Contest. Hope to meet you again in other contests. Keep the good work there.
73 from VA3PL
RE: Let's meet SP7GIQ (CQ/RJ WPX RTTY)
Reply
by kz4usa on December 14, 2007
Mail this to a friend!
Looks like the 5+5+5+5 tower is free standing?
What type of bearing ring does he use at the bottom of the tower.Must something large.hihi
Nice towers and antennas. How wide are the towers
at the base?

Jack