A Visit With Don W6EEN
from SM0JHF on April 1, 2002
View comments about this article!




The callsign W6EEN is very well known to every contester in the world. Probably, every serious contester on the West Coast knows Don, W6EEN personally by now. He's been a licenced amateur radio operator for 50 years. A nice opportunity to present this gentleman here for the contesting.com community. Another even anniversary worth celebration is 10 years since Don built his super station in Bermuda Dunes, Riverside County, California.
I had an opportunity to visit Don during one of the WW contests. It was not easy to find Bermuda Dunes. It is a small community, south east of Palm Desert, near Indio. Actually close to highway 10 from L.A. to Phoenix, Arizona but I drove from San Diego through Anza Borrego Desert.
It was one of the multi-op leisure-approach events. There were some regular operators and a few visitors. I was invited but Murphy came uninvited and spoiled some fun. Amplifiers, computers and radios were affected - Don had spare units...and spare operators.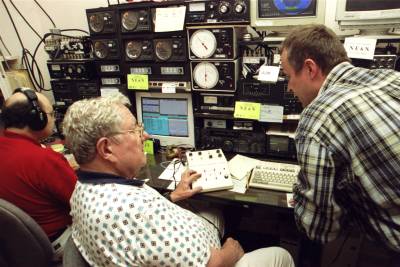 Don, W6EEN - in centre - explains how to use a voice keyer to Ulli PA5AT.
While Doug, N6RT and Norman, W6ORD were busy running the two radios, Don showed me around his grounds. It is more than 4 acres of land armed with several 110ft towers and a large number of HF radiators.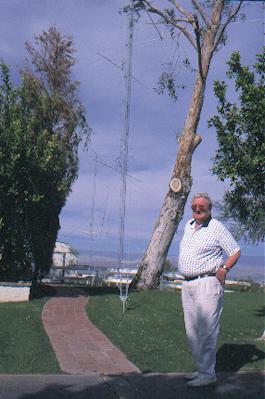 The house is on the left, hardly visible but spacious. Don, W6EEN says "Welcome in!"
The list of antennas is long, the total length of coax and control cables is even longer. At least 3500 ft (over 1 kilometer) of hardline is buried in the soil.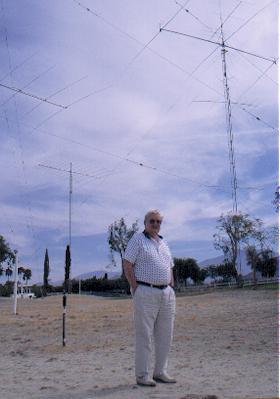 A 3-element rotary yagi for 80 meters is on the right. 10meter stack on the same tower.
Taking care of all the antennas and equipment is almost a fulltime job. Don is retired and has time to do it. However, he is not often operating contests himself.
This is desert! See the sand ? But both trees and antennas grow here if you do some effort.
Don has created an excellent and competitive station. But contesting is very demanding. So he invites younger operators to take advantage of his accumulated radio experience and his hardware. Doug, N6RT has been a permanent guest-operator here for the past couple of years. And he knows how to take advantage of this offer, breaking West Coast records. Doug lives in L.A. area but will travel for major events to Bermuda Dunes.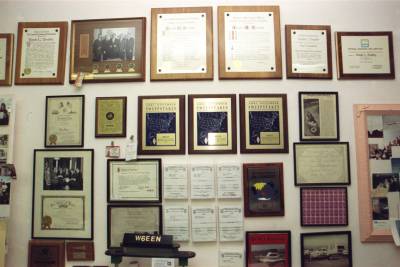 Don displays some of his earlier awards, some newer trophies.
And Don will travel to Visalia, Ca. I spotted him during the Visalia International DX Convention.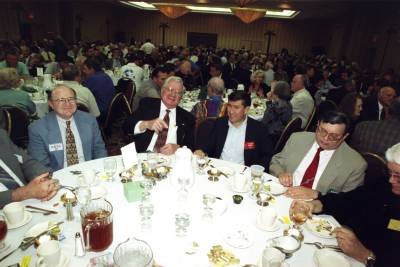 Don, W6EEN in centre, entertaining or questioning Doug, N6BV ?
The gentleman to the left is Ron, K6XC who is one of the regular operators at Don's place. Ron has a web site where detailed information about Don's antennas is included (http://home.earthlink.net/~rluttringer/).
Here is the final shot which reveals the secret of Doug's, N6RT successful contest operations from Don's station.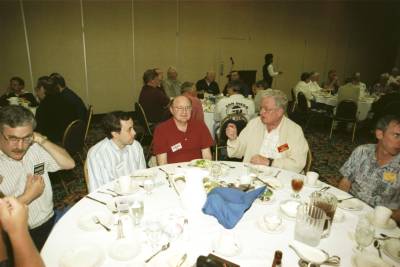 Don, W6EEN gives first hand instructions to Doug, N6RT. Ron, K6XC in the middle.
The approach exhibited by Don W6EEN is commendable and worth an applaud. I would like to see more people who have accrued both know-how, means, experience and own world-class stations to share them with others who have enthusiasm, energy and stamina to perform as operators. This combination will create better operators and better stations for the future.
If you would like to drop Don a line, congratulate him on his 50th anniversary of being a ham, ask a question, whatever, his e-mail address is : w6een@earthlink.net
A Visit With Don W6EEN
Reply
by vu3pai on April 2, 2002
Mail this to a friend!
W6EEN DE VU3PAI,

NICE TO MEET YOU ON CONTESTING ON LINE, HAPPY RETURNS OF THE DAY, CU TU, HAVE A NICE AND GOOD DAY BYE BYE 73,S

W6EEN DE VU3PAI

GOING QRT
RE: A Visit With Don W6EEN
Reply
by ad6tf on April 3, 2002
Mail this to a friend!
Congratulations on your 50th year and going strong in amateur radio activities. I met you in last year dx convention. Doug-RT has been very helpful for suggestions to improve my contesting skills.

Best wishes.

de AD6TF/VU3JDI
Email Subscription
You are not subscribed to discussions on this article.

Subscribe!
My Subscriptions
Subscriptions Help

Other Misc Articles

IARU HF 2011

---