A Visit With Radio Club Rosario
from Henryk Kotowski on March 13, 2002
View comments about this article!

A Visit With LU4FM, Radio Club Rosario

I visited this club a few years ago and I still remember how impressed I was by the spirit of contesting and team work.Today, in this time of social unrest and economic disturbances in Argentina, I thought it would be appropriate to cheer the club members up and let them know that we miss their Multi-Multi efforts from the 90's.
When I came to Rosario one October Sunday, the War was on. I mean CQ World Wide Contest. I phoned Francisco, LU9FDG but he was not at home. All I understood was that "Francisco was at the farm". Campo de antenas, antenna farm, to be exact. But he had given instructions in case I would phone his home and in less than a quarter of an hour I was located by Rolando, LU2FYU and was on my way in his car to the outskirts of Rosario town. The antenna farm was compact but impressive.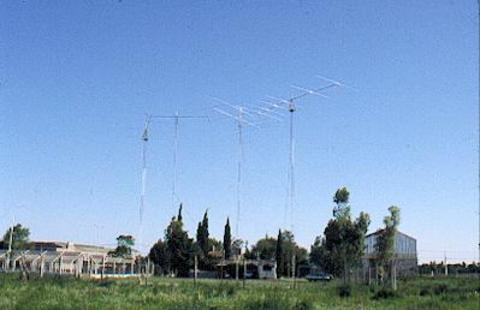 Campo de antenas, Rosario, Argentina LU4FM. Rotary yagis for 10,15,20,40
The small house had a few operating positions, each in a separate room to avoid vocal interference. Three stations were running HF bands and when the sun started descending, also 40 and 80 meter bands got some attention. Roberto, LU9FIO was not operating himself, he was the computer guru of the club. He checked the multipliers and shouted "We don't have YV on 40 yet". I went out to take a few shot in the sinking sun.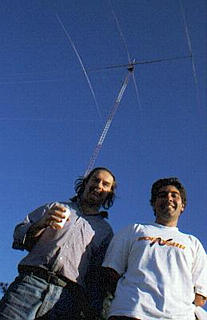 LU4FM: left Jorge LU7FW, right Marcello LU8FFU
I inspected all the operating positions and took some pictures, of course. Operators were relieved every two hours or so.
| | |
| --- | --- |
| | |
| Rolando LU2FYU at the radio, Roberto LU5FYV supporting | Francisco LU9FDG |
| | |
| Ed AZ8FAD travelled from Santa Fe for the contest | Gerard LU1FZR |
I was chatting with Rolando LU2FYA, enjoying a cool beer in this early-summer evening, when Hernan LU3FSP interrupted: "Now it's your turn. 20 meters is open to Europe. Go and get some of your friends!" And so I did.
| | |
| --- | --- |
| | |
| Hernan LU3FSP | Rolando LU2FYU gets the last multiplier on 80 meters |
At LU4FM I saw for the first time in my life two of now so popular categories: Single Operator Assisted and Single Operator 2 Radios.
| | |
| --- | --- |
| | |
| Gerard LU1FZR assisted by Florentino LU2FYA | Ed AZ8FAD in front of 2 radios, gets instructions from Francisco LU9FDG |
In Central Europe it's 1 A.M.when these 48-hour contests end. But in Argentina it's time for a beef dinner so we all went to a restaurant down town Rosario and enjoyed great red wines from Mendoza. Yes, you've guessed, after Rosario I went to Mendoza to visit some wine cellars, among other things.
But before that, I visited Radio Club Rosario's main venue of daily activities, the spacious premises in the centre of this second-largest city of Argentina. There are rooms for DXing, training, reading, computers and an office with a part-time employed secretary. At that time there over 400 paying members and the club was open every evening of the week.
| | |
| --- | --- |
| | |
| Members of the board discuss current affairs | Brass, brass and wallpaper. |
| | |
| They take care of visitors at LU4FM. Ricardo LU9FIO presented me with information leaflets about the town. | Newcomers are introduced to operating techniques on 80 meters |
On the roof of the club, there is an impressive multi-band array for daily routine DX work.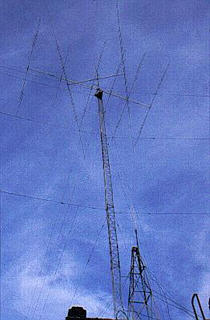 A tribander for 10-15-20 m and 2el 40m yagi@LU4FM
The club was founded 75 years ago, another good reason for presenting LU4FM here. Radio clubs in South America play also important social role. Members bring sometimes their wives and children when they drop in. Other subjects can be discussed but obviously radio is the main theme here.
Contesting from LU4FM in recent years has been reduced. Sometime Single Operator or even Single Operator Single Band entries can be seen in contest results. The club has potential for serious Multi Multi operations. I only hope that the reason of this diminished enthusiasm and contesting spirit is a temporary spell of weak economy in the country. I hope that it is not, as in case of a club I knew well near Stockholm, that impotent and ignorant people, like corporate bandits, took control over the club and strangled enthusiasm and activity.
Radio Club Rosario has an informative web site but only in Spanish, as far as I know, at http://www.lu4fm.org.ar/

Henryk Kotowski, SM0JHF
* It is not Single Operator 2 Radios in one of the pictures. One radio malfunctioned so instead of fault-finding, they quickly brought in another transceiver.
All photographs and text copyright Henryk Kotowski
A Visit With Radio Club Rosario
Reply
by LZ1ABC on March 14, 2002
Mail this to a friend!
Very nice story!
But i dont remember this LU stn.
Maybe because i am from 3 years on the band.
well anyway 73's de Chav/Lz1abc

A Visit With Radio Club Rosario
Reply
by VE2DC on March 17, 2002
Mail this to a friend!
Interesting article....
A quick check of the log and I see I have worked them on all bands (80-10) many times since '88 when my electronic log starts...
A Visit With Radio Club Rosario
Reply
by SM0JHF on March 19, 2002
Mail this to a friend!
It seems that nobody can explain it to me why my photographs uploaded as 300x500 pixels each are sometimes larger sometimes smaller on this web site. I have tried MS Word and HTML to write articles for contesting.com but the graphic results are unpredictable. Irritating.
Henryk SM0JHF
A Visit With Radio Club Rosario
Reply
by vu3pai on April 2, 2002
Mail this to a friend!
It is very greate Station , Congratuations, keep it up CU, TU, bye bye 73's, de VU3PAI going QRT.....
Email Subscription
You are not subscribed to discussions on this article.

Subscribe!
My Subscriptions
Subscriptions Help

Other Misc Articles

IARU HF 2011

---