Let's meet SP2FAX
from SM0JHF on January 18, 2002
View comments about this article!




His full name is Kazimerz, which of course is a difficult name to pronounce and spell. I think he calls himself Kazik on the air. On the other hand, he's not often on the air between contests and in contests, you usually don't give your name.

Kazik was born 1954 which makes him 47 years old today. The licence and the call sign SP2FAX were given to him when he was 16. He'd been to a scout camp, later attended the culture house (an institution typical for communist countries) in Bydgoszcz, and got infected with the radio bug. At this stage he would listen more than transmit. As as matter of fact he still listens a lot before giving a call. His fondness for CW was so deep that he would sit all nights and receive newspaper texts on CW transmitted by a friend, SP2GVN. And vice versa.

Soon, Kazik joined the radio club of SP2PDI and started building quad antennas and participating in contests. The antennas were hard to keep up but the contest results were better and better. But he prefers yagis nowadays.

Until 1981 when martial law was declared in Poland. All radio equipment was collected by the military forces and when Kazik saw his transceiver being thrown like a piece of junk on the heap of other rigs, his heart for radio was broken.

Until 1995. He asked for his licence to be re-issued, bought a few acres of land outside his hometown of Bydgoszcz and started erecting towers, antennas and later building a house. Today he is one of the few big guns in Poland. For multi-op events he even managed to get a shorter call sign of SN2B. If you have not worked SP2FAX nor SN2B then you're on the wrong web site...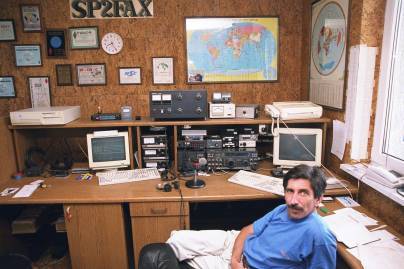 Kazik SP2FAX in his favourite easy chair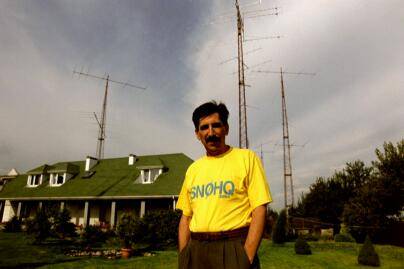 Kazik has been instrumental in organizing IARU HF Championship activites as SN0HQ in recent years. And for each year they're closer to DARC. There is a major difference: DARC has some 50 000 members while PZK, Polski Zwiazek Krotkofalowcow, represented by SN0HQ, has no more than 3000.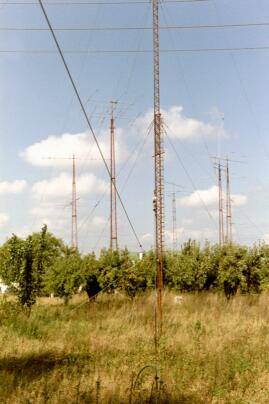 The antennas of SP2FAX are impressive. A vertical for 160 and 80 meter bands is in front.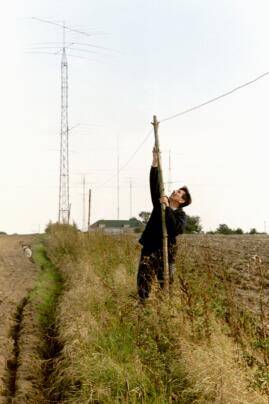 Checking the beverage wires before winter.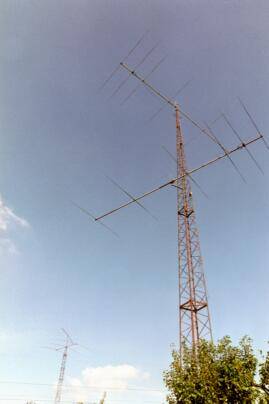 6-over-6 is a standard for 10-15-20 meter bands.
In the background, a 3-over-3 array for 40 meters.

He has VHF antennas, too. But the rate is too low for the adrenaline to flow, I guess.
Bydgoszcz is a medium size city almost in the middle of Poland. Kazik's QTH is a few miles south of this city. According to him (and his XYL) there are visitors who pass by almost everyday. Send an e-mail to him before dropping in, sp2fax@wp.pl
Henryk Kotowski SM0JHF / SO5JHF
Let's meet SP2FAX
Reply
by va3uz on January 20, 2002
Mail this to a friend!
Great stuff, Kazik!
I am really amazed. Good luck with all your projects.
CU.
de VA3UZ
Let's meet SP2FAX
Reply
by HA5PP on January 21, 2002
Mail this to a friend!
Hi Kazik,

Congratulations for your super contest station! Please change with me! ;-))

Good luck!

73
Zoli
HA5PP

PS. Thanks to Henryk Kotowski SM0JHF / SO5JHF for 'description(s)'!
Let's meet SP2FAX
Reply
by VA3PL on January 21, 2002
Mail this to a friend!
Kaz has a superbly engineered one of the largest privately own contest station in Europe.
I have a privilege to work him in many contests before and his signal here in NA is impressive. He is an excellent contest operator. I'll suggest that you participate in next SP DX Contest, which is in first full weekend of April, and I guarantee that you come across Kaz.
For additional pictures and description of his station look to:
http://www.cuic.ca/va3pl/sp2fax/sp2fax.htm
Also on this web pages you can find description of other SP BIG GUNS.
I am looking forward to work you in this year SP DX Contest in which I'll operate from Dave K1TTT MM station.
I am looking forward to meeting you in person Kazik perhaps this year .


Let's meet SP2FAX
Reply
by XE2AC on January 24, 2002
Mail this to a friend!
Hello Kazik,
After several contests, I finally connect the face to the callsign !
Very nice QTH !
73

Luis XE2AC - W2GO
Let's meet SP2FAX
Reply
by K2WI on January 30, 2002
Mail this to a friend!
Hi Kaz!!

Glad to know your spirit for radio contesting is in good shape. Nice pictures of your station.

See you again on TOPBAND !!

73, Rob K2WI op at K2TOP
Let's meet SP2FAX
Reply
by W4ZV on March 6, 2002
Mail this to a friend!
Hi Kaz!

Nice to see what makes that big signal on all bands and especially Topband! Some day I hope to visit Poland and meet you and Rys SP5EWY. Good luck and hope to see you in future contests!

73, Bill W4ZV


Email Subscription
You are not subscribed to discussions on this article.

Subscribe!
My Subscriptions
Subscriptions Help

Other Misc Articles

IARU HF 2011

---