Let's meet Jeff, 9H1EL
from Henryk SM0JHF on January 7, 2002
View comments about this article!




Jeff Morris, 9H1EL alias 9H0A

He's one of those Englishmen still occupying Malta. This strategically important island was a British base for 150 years but became an independent republic in the 60's. Jeff moved here from England some 25 years ago. The climate was surely the main attraction but being more flexible was another factor. Jeff has spent the last quarter of a century working on offshore oil rigs and vessels and living in North Africa was an advantage. Yes, Malta is actually in North Africa, south of Tunis in Tunesia. But it counts as Europe in the amateur radio realm. Hence, making a good contest score from here is almost impossible. Jeff persistently tries to do it, in spite of this handicap. And in spite of having very limited space for low band antennas. The roof of his house is filled with mostly home made stuff covering the HF bands. Due to limited land surface, the 10 meter band is his favourite. And propagation is usually much better here than in the rest of Europe so his single band 10m entries are quite successful. Several years ago he managed to get a shorter call sign of 9H0A for contest purposes.

Jeff is a social creature so now and then he joins a group. It can be, as in the most recent CQ WW SSB 2001, a 10m stint on the Multi Multi team from Lampedusa IG9. Or the DX holiday from Comoros signing D68C. He was also on Spratly, as a member of the 9M0C team and in Ghana with the Voodoo Group. I suspect that his being partly retired will let us hear Jeff from more spots in the future. Malta is a tiny place, occasional trips are a must for someone used to being confronted with new challenges, new environments, new tasks.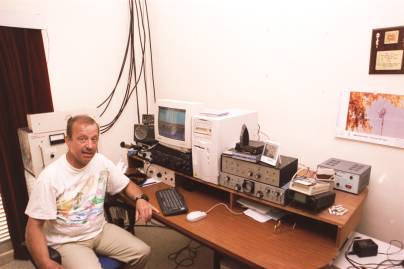 Jeff 9H1EL at his neat and versatile station
The station and the operator are well prepared for CW, SSB and digital modes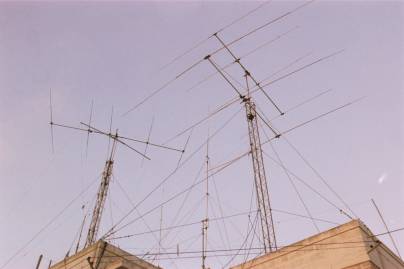 The roof of his house is filled with aerials. And that's all antenna space he has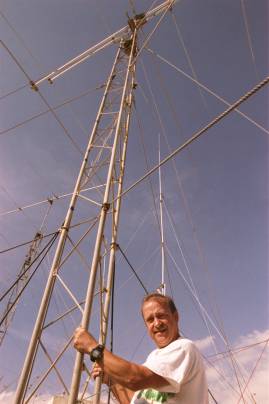 All antennas are home made and of own design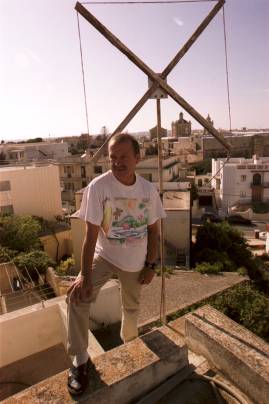 LF receiving antenna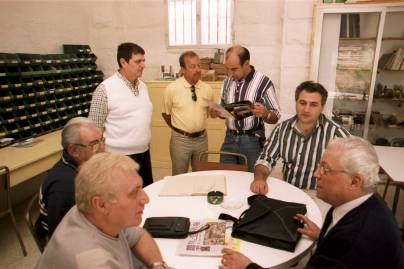 At the Malta Amateur Radio League, Jeff in the center wearing yellow shirt, surrounded by other 9H hams
In spite of having a QSL manager in Norway, namely LA2TO, many cards arrive through the bureau. Jeff has no interest in and no time for QSLing so every visit to the local club gives him some headache. Before sending your card, check www.qrz.com, please.
Henryk Kotowski SM0JHF / 9H3HF
Let's meet Jeff, 9H1EL
Reply
by W4ZV on March 6, 2002
Mail this to a friend!
Hi Jeff!

Nice to see where that big 9H0A signal on 10 meters comes from! Hope to make it to Malta one of these days and I'll buy you a cold one for all the multipliers over the years!

73, Bill W4ZV
Let's meet Jeff, 9H1EL
Reply
by LA2TO on August 25, 2007
Mail this to a friend!
Hello contesters.
If you worked 9H1EL or 9H0A, I still have a few hundred cards. When they are gone I will wait printing new ones until Jeff gets a DU callsign.
I won't throw any received cards, but save them until new cards are printed, so please be patient.
He moved to Angeles City, Philippines in 2002/03 and I had the pleasure of meeting him there.

If you need a card for DXCC you can just e-mail me the details and I'll post one through the buro.
I still have his logs in the Turbolog.

73 de LA2TO / Kai.
la2to2002@yahoo.com
Email Subscription
You are not subscribed to discussions on this article.

Subscribe!
My Subscriptions
Subscriptions Help

Other Stories Articles

SN0HQ

A Visit With S57DX

Montenegro landmark

Slovak Contest Group

The Paper log, SO2R and SDR generations

---