D44TC Multi Single CQWW 2001 SSB
from Henryk SM0JHF/D44CF on December 21, 2001
View comments about this article!




D44TC Multi Single Operation in CQ WW 2001 SSB

Sometimes I hear people say "I don't do contests because it's 48 hours, it's too long". If you think of a contest as a 48-hour effort, then you're barking up the wrong tree. A contest, if you really mean it, is years of experience, months of preparations, weeks of hard work and then 48 hours of being on your toes.

Wednesday morning, October 24, 2001, about 1 A.M. local time, I arrived at the island of Sal (Ilha do Sal) in the Cape Verde archipelago. At the airport I was taken care of by Alberto IV3TAN/D44TC, Fabio I4UFH/D44TB and Xara CT1EKF/D44TD. We all drove to Santa Maria, to Xara's house. I can't say I did sleep that night, the sun was high when I decided to stop trying. Xara's house was still a construction site, some Italians were arguing with Portugese minority, what the hell am I doing here ?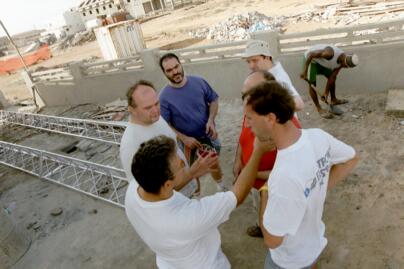 Xara explains in Portugese how he wants the tower #1 to be placed. Italians try to understand, helped by Santos CT1DVV, in red shirt, who translates into English.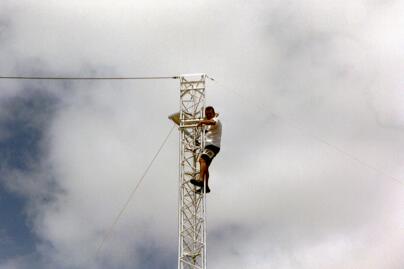 Anyway, tower#1 was swiftly erected and Xara climbed it to tie the guy ropes.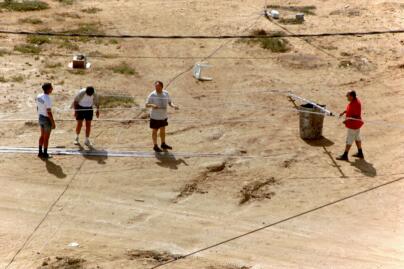 Antenna#1, a Force 12 C19XR, is being assembled on the ground.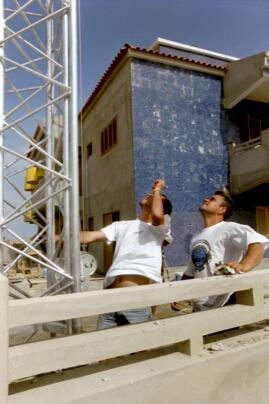 Tower#1 is being cranked-up by Alberto, IV3TAN while Xara, CT1EKF looks on.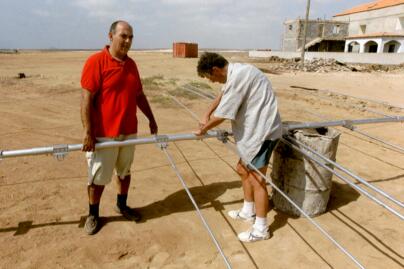 Santos CT1DVV and Franco I4LCK assemble antenna#1 (Force 12 C19XR)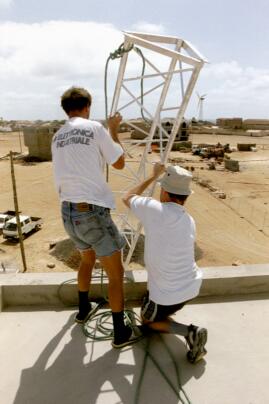 Tower#2 is lifted onto the roof. Alberto, IV3TAN and Gabriele, IK4UPB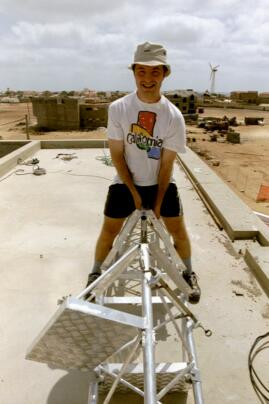 Sliding the sections into each other. Gabriele, IK4UPB, the youngest on the team works very hard.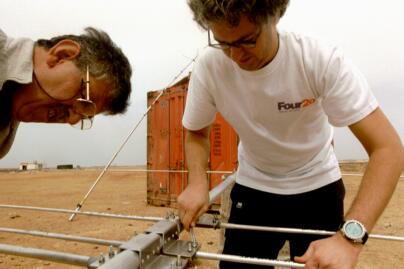 Antenna#3 being assembled by Franco, I4LCK and Matteo, IK2SGC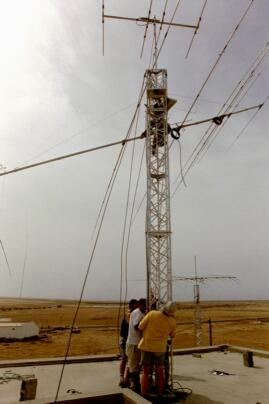 Let's pull together! Antenna#2 is being raised, Alberto,IV3TAN in the top of the tower.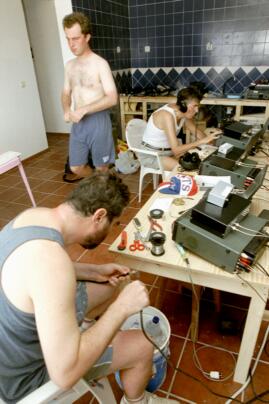 Vittorio, I4YSS soldering coax cable connectors, Franco, I4LCK testing one of the Multiplier positions, Gabriele, IK4UPB sleeps while walking.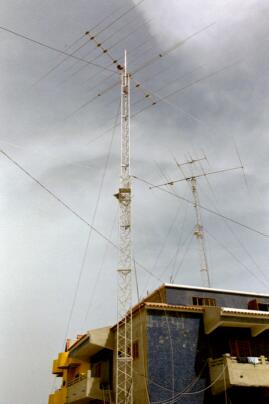 Yagis are ready. Here antennas #1 and #2. Antenna#3 is located some 100 meters away.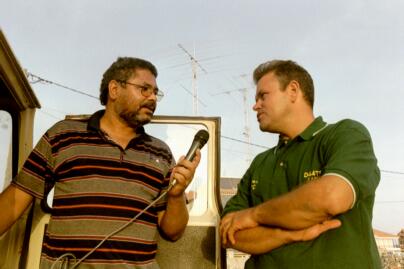 A local broadcasting radio team came to feature the event. Xara, CT1EKF being interviewed.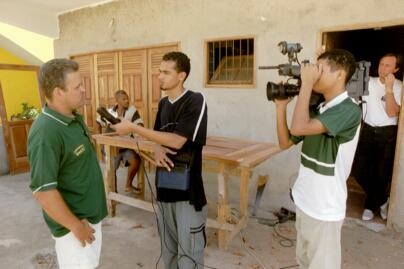 Local TV team arrives later and interviews Xara, CT1EKF.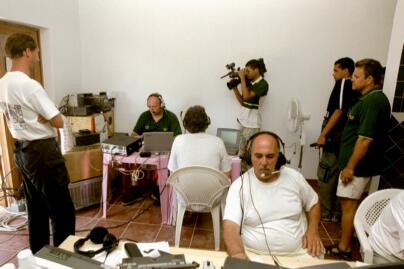 The TV team shoots Fabio, I4UFH at the Running Station. Santos, CT1DVV at the Multiplier Station.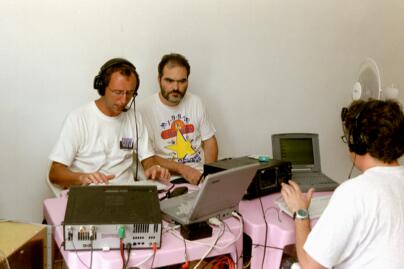 Operators at the Running Stations: Alberto, IV3TAN - left, Vittorio, I4YSS looks on, Matteo, IK2SGC listens on Radio#2.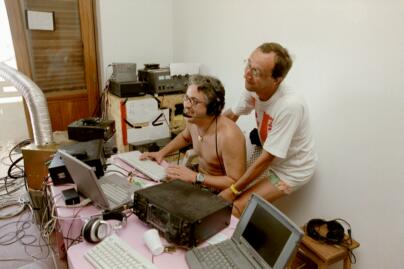 Sometimes changing the operator at the Running Station required some Force.
Alberto, IV3TAN persuades Matteo, IK2SGC to keep the schedule.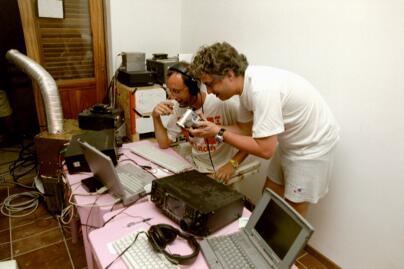 48 hours have passed. Matteo, IK2SGC shoots video of the final score off the screen.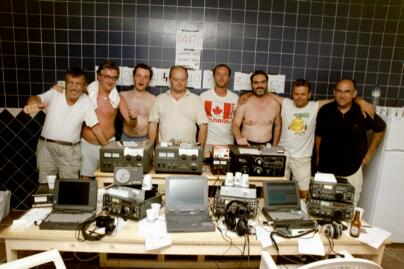 The D44TC team at 00:01UTC Monday after the contest.

Monday, antenna#2 is being taken down by Alberto, IV3TAN.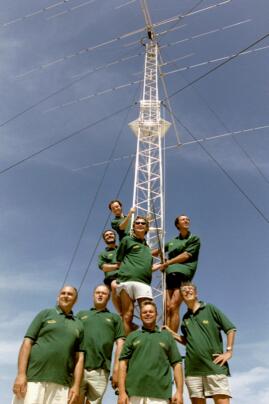 Tuesday, everybody shaved and clean, at the tower#1.
These guys broke the World Record in Multi Single CQ WW SSB. Well, you have probably seen a lot of stories like this. The unusual is that this story is relayed by someone who was not a part of the team, an impartial eye-witness - Henryk SM0JHF/D44CF.
D44TC Multi Single CQWW 2001 SSB
Reply
Anonymous post on December 26, 2001
Mail this to a friend!
Great effort,but...
Usual IQ4A operation style - with a lot of stations on different bands - trying to move every possible mult...
That's what they call "Multi-Single"...
:-))
RE: D44TC Multi Single CQWW 2001 SSB
Reply
by CT3EE on December 27, 2001
Mail this to a friend!
First of all I would like to congratulate all the crew members for their effort in the D44TC operation. It was a great job in a great contest.
About the comment on the Anonymous message, I just would like to make a small comment. The spirit in contesting , at least in my way of thinking, it is a relaction between several factors. In those factors we can find, tecnical factors, geografic factors, skills and over all etical factors. If the D44TC crew achieved this results, I am sure that they had all those factors, also the etical, in consideration. There's no point in contesting not fullfilling the regulations and knowing that in advance. Sooner or later the truth comes up. I know personnaly some members of this crew, and for them I am sure the operation was a suscess in all terms.
As for us in Madeira Team, lets try again next time.
For all, Best 73 and a Happy new year.

CT3EE - Luis
RE: D44TC Multi Single CQWW 2001 SSB
Reply
by I4VEQ on December 31, 2001
Mail this to a friend!
"Dear Anonymous",
I'm not used to get in touch with people who has not a face to withstand his own affirmations.

IQ4A was not active in the CQWW SSB but only on CW.
Our operations strictly followed the rules for the Multi Single category.

Anyway if you have a face our shack was, and still is, open to you and all ham friends would like to enjoy the team for a contest.

For the CQWW CW 2001 we had the help of two great operators like Ben DL6RAI and Peter DL2NBU. They enjoy the usual IQ4A team for the whole contest.

Ben is also an important member of the contest committee so do you think we were so stupid to break the basic rules of the Multi Single category????

I think you missed something about the CQWW MS rules or your CW is so bad to confuse IQ4A and IQ4T (another great Multi single effort).

So your anonymous post gave the real value to your affirmations, they are nothing as probably you are as amateur radio.

Sincerely,
Claudio I4VEQ/IQ4A and the IQ4A team.


D44TC Multi Single CQWW 2001 SSB
Reply
by K5ZD on January 1, 2002
Mail this to a friend!
Nice photos and a great job of telling the story!

But I wonder what person would travel to a "rare" country during a CQWW contest and only be able to watch???!!! This would be torture for me...


RE: D44TC Multi Single CQWW 2001 SSB
Reply
by SM0JHF on January 7, 2002
Mail this to a friend!
reply to K5ZD
1. some people are good at sitting by the radio
2. some people are better at taking pictures
3. I am not good enough operator to break world records
4. I was not just watching - I helped a lot, antenna work before the contest and 6 QSO's and 6 multipliers during the contest (D44CF on six bands!)
5. I actually stayed 5 weeks in the islands and made thousands of QSO's, participated in both CW and SSB parts of CQ WW as D44CF.
6. any more questions ?

Henryk SM0JHF / D44CF
D44TC Multi Single CQWW 2001 SSB
Reply
by hb9ocr on January 13, 2002
Mail this to a friend!
I'd like to congratulate all the team that I met at the station: you've made really a great work. I hope I can work with you sometimes.

CU Next time
Hb9ocr
Marco
RE: D44TC Multi Single CQWW 2001 SSB
Reply
by s5m on January 30, 2002
Mail this to a friend!
I didn't realize that Cape Verde was such a cold place! Electric furnaces with silver exaust tubes required. Probably 500 W :-)

Nice operation MC! Missed you on 50 MHz...

73 de Mario, S56A, N1YU

RE: D44TC Multi Single CQWW 2001 SSB
Reply
by SM0JHF on February 2, 2002
Mail this to a friend!
The climate changes are unpredictable these days. Just in case, it's good to have a furnace even in Cape Verde. A stiff frozen operator is slow...

D44TC Multi Single CQWW 2001 SSB
Reply
by AH8DX on February 9, 2002
Mail this to a friend!
WOW! Great pictures and a great effort. Big antennas, big signal. You guys were loud up on 160!
I am from the other end of the spectrum though. I try to put in a world class single op/all band effort with just a vertical on the beach. High power of course. Glad to work you guys on all bands. See you this CQWWSSB signing VP2M/AH8DX.

Gud Dx! Craig Maxey, FS/AH8DX

D44TC Multi Single CQWW 2001 SSB
Reply
by k1wcc on February 26, 2002
Mail this to a friend!
Thanks for giving me a new country!

I would like to learn a little more about Cape Verde-beaches looked beautiful.
D44TC Multi Single CQWW 2001 SSB
Reply
Anonymous post on May 11, 2002
Mail this to a friend!
Like usual Marconi Contest Club members show the only way they can do a contest: with big amplifiers !
What is that big metal box with a silvered metal exhaust pipe going out of the window?
Air conditioning? Heater?
No, it is a big amplifier...let's say...5 Kw (or 10?)
It is not mentioned in the equipment description.

Shame on I4UFH and the MCC way to contest (also in IG9A they used and use such amplifiers).
Email Subscription
You are not subscribed to discussions on this article.

Subscribe!
My Subscriptions
Subscriptions Help

Other Stories Articles

SN0HQ

A Visit With S57DX

Montenegro landmark

Slovak Contest Group

The Paper log, SO2R and SDR generations

---