PI4COM Fund - PLEASE HELP
from Matt Strelow on November 30, 2001
View comments about this article!

PI4COM is located 20 miles south of Rotterdam in the Netherlands. It is a real nice contest location along the river Rhein and just few miles from the ocean.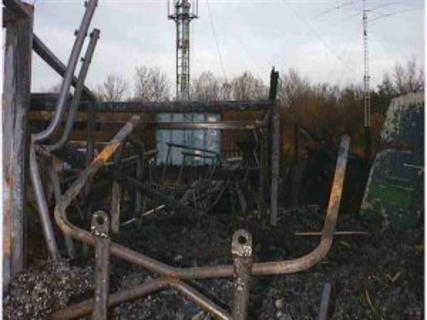 On Saturday of the CQWW-CW contest. PA3EWP wanted to participate on ten meters with his own call part time and he did some operating during theday. After he left between 16:00 and 21:30 utc. The shacks got broken into and all valuable stuff got stolen by unknown suspects. After that they set fire to the operating and sleep/storage shacks of PI4COM. It burned to the ground as you can see in the pictures. Since the set up was a remote site close to the water in the Netherlands insurance was as good as impossible for them or would have been very expensive. Some team members found out about the fire on the 22:30 local news when during the interview with the fire chief, they spotted the antennas in the background. What a way to see your QTH go down.
The members of PI4COM (PA3EWP,PA7FM,PA5ET,PA3DZN,PA3BWD,PB0AIU,PA1ZX,PA3FQA,PA5AT) Worked hard for the last 14 years to get the place to a world class contest station and lost everything but the antennas. I'm sure that all of you have them in the log.
The guys were smart enough to remove transceivers and amps from the remote location. But still they lost the housing (mobile trailers) and all the accessories like, rotor controllers, coax band pass filters, computers and monitors, cabling etc. We all know how much stuff you need in a big operation like this.
Plans to put it all back up are in the works. The PI4CC team offered their help with cash and man power as well.
Lets help them to rebuild it by donating some money. It doesn't have to be much. Please do what ever you can afford to show them that the contest community worldwide cares about their team.
I talked to a few guys on the phone and they wanted to help out. We opened an account on "paypal.com" and also a bank account. We'll collect for them until X-mas and we will then send it to the Netherlands. Unlike many other things like this, every dime will go back into your log too, when you work the new PI4COM.
Please give your donation on paypal.com and use kc1xx@rcn.com as the e-mail to receive money. If you prefer to send a check you can do so to PI4COM Fund and send it to my address:
PI4COM Fund
814 Hurricane Hill Road
Mason, NH 03048
Please be sure to include your call sign.
Thank you! 73- The KC1XX contest team
PI4COM Fund - PLEASE HELP
Reply
by pe9dx on December 2, 2001
Mail this to a friend!
It's a great loss to the contest community in the Netherlands.
PI4COM is one of the great teams, we have only some of these, so i hope the side will be rebuild!!

I also enjoy some times this location for PA6HQ, and i must tell you these boys are OK!!!!!!!
Also every activ contesters can be there gast op.

Think about some steel containers for rebuilding, maybe that those people who put fire on the old ones will give it up to destroy a "contesters dream"!!!!!!

73's Johan PE9DX.

RE: PI4COM Fund - PLEASE HELP
Reply
by KU6I on December 3, 2001
Mail this to a friend!
I had the great pleasure to operate from the station a couple of years ago and I enjoyed to hospitality of the team at PI4COM very much. I wish them all the best in rebuilding the place, Pit (DK3WE, KU6I)
PI4COM Fund - PLEASE HELP
Reply
by K9PG on December 5, 2001
Mail this to a friend!
The Society Of Midwest Contesters is donating $100 to help out, and I'll personally be donating $25.

Imagine if everyone who is on a contest club donated just $5 each... they'd be back on the air before you know it!


PI4COM Fund - PLEASE HELP
Reply
by K9VV on December 6, 2001
Mail this to a friend!
Tim, K3LR has made a contribution on behalf of the K3LR multi-multi team. I'll be sending my own contribution via Matt.

73 > Fred, K9VV (ex-PA9AWG)
PI4COM Fund - PLEASE HELP
Reply
by kx9x on December 6, 2001
Mail this to a friend!
The Twin City Contesters of Champaign-Urbana, Illinois (K9CU) will be making a $25 contribution towards getting PI4COM back on the air. We strongly urge others to help get PI4COM back on the air.

73,

Sean Kutzko, KX9X
Ogden, Illinois USA
PI4COM Fund - PLEASE HELP
Reply
by K0RC on December 10, 2001
Mail this to a friend!
The Minnesota Wireless Association [MWA] is making a voluntary donation to the PI4COM rebuild fund.

Our members look forward to putting the PI4COM callsign into their logs again! You can learn more about our contesting group at http://www.W0AA.org
PI4COM Fund - PLEASE HELP
Reply
by AE2T on January 6, 2002
Mail this to a friend!
"if each contest club member gave $5" (paraphrased)

Heck, just think if each contester gave $1 for each QSO they've ever had with PI4COM! They could rebuild in style!

This just goes to show how this sensless vandalism hurt not just a few Hams in the Netherlands, but all of us.

I just read about this (1/6/2002) Will the donations be accepted beyond the Christmas date?
RE: PI4COM Fund - PLEASE HELP
Reply
by KC1XX on January 7, 2002
Mail this to a friend!
Update:

The PI4COM fund account is doing great.
Thank you for all the donations. We are getting ready to send a first check to PA1AW (Alex).
I wanted to wait until things settle with the Euro so that they don't loose money in the transfer.

You guys are great and thanks again to everybody that helped out.
We'll leave the PI4COM fund account open through Dayton. You can still send your donation. K1AR will also put a few lines into CQ magazine for those who haven't seen it here.

I'm sure that PI4COM will be back on the air real soon.

73 and HNY Matt (KC1XX)

PI4COM Fund - THANK YOU
Reply
by PA1AW on January 18, 2002
Mail this to a friend!
We like to thank Matt and his team for the words and practical support. And as we understand from Matt many of you who donated to the fund. It sure motivates us to go out there and get the station up and going again. As the building contained the 160, 80, 40 and 10 meter shack we are a long way from Multi-Multi but we sure do our best to be back as soon as possible.

We also have to thanks al those from all over Europe who showed they share our losses and offered all kind of help. From hands to help us, to material and financial support. It sure helps us to work hard to have the station back in competition.

The rebbuilding has started directly after the fire. The club website at www.qsl.net/pi4com we try to keep all of you aware of what is happening. It will be next season, but we will be back.

Thanks again on behalf of PI4COM

73 Alex PA1AW

Email Subscription
You are not subscribed to discussions on this article.

Subscribe!
My Subscriptions
Subscriptions Help

Other Misc Articles

IARU HF 2011

---