Improve the look of your shack without spending a lot of money
Bob Naumann (N5NJ) on November 19, 2001
View comments about this article!

Tired of that shaky card table ?  What about that door that was supposed to be on the shack closet that is now your main radio/computer desk ?

Perhaps it's time to consider buying something that is designed to be a real desk?

This week, November 18, 2001, many office supply stores are running sales on some really nice furniture that is ideal for your ham shack.  One is an "L" shaped desk, from O'Sullivan that is on sale for $79.98 at OfficeMax.  This unit normally retails for about $150.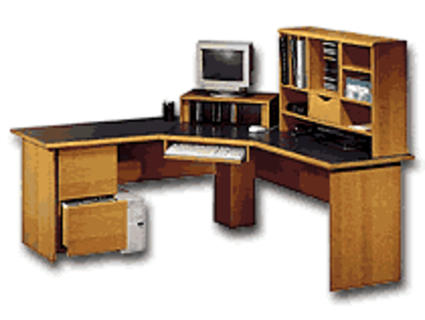 The photo above shows the "hutch" unit and the 2 drawer file cabinet which are optional and cost more money than just the 'L'-shape desk alone..
I have the above desk, and it works out very well for me.  Under the monitor, there is a "CD Storage Area" which I decided would be much better suited to house my FT-847 and an external speaker which services the FT-847 and my TS-850 as shown below.  I also removed the keyboard unit as it places the keyboard far too low for me.  (Maybe I sit far too high?)  If you make modifications like this, you have to consider them before you assemble the desk.  Things get "layered" together, and if you go too far, to remove something, you may have to tear it all apart.  Many of the screws that hold it all together end up hidden behind other pieces of wood, that actually make it quite attractive.  There are several other pieces of furniture that matches these desks, like bookcases and credenzas, which are also reasonably priced. This sort of improvement is most always XYL approved.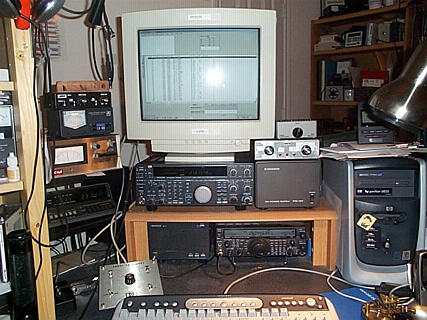 This is my station as I operated it in the CW and SSB SS.  I used my TS-850 and my FT-847 with my ArraySolutions SO2R master running WriteLog.  If my antennas were better, I could have done better in the contests, but that's another story.  I used to have two TS-850's and they will fit side-by side on the shelf where the 850 and the power supply are now.  The handle must be removed from one of the 850's, and the cabinets extend beyond the width of the shelf, but the feet fit perfectly.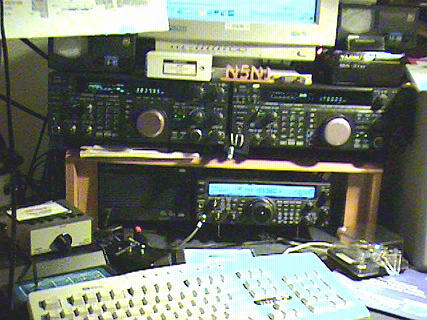 It makes a nice SO2R set up.  Sorry for the poor quality picture, but it's the only one I have of that setup.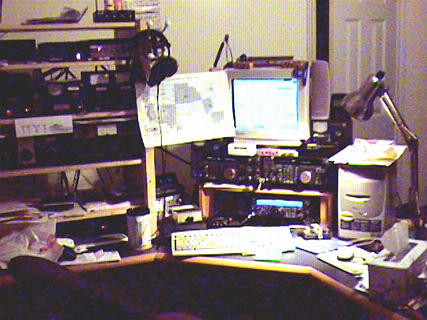 On the left, I use a shelf unit from "The Container Store" that allows adjustment of the shelves to all heights, and is very strong.  I put antenna tuners, watt meters, VHF amplifiers, and even HF amplifiers on it at some times.  While on a nostalgia kick, I had an entire Drake Line on it, including a C-Line, L-4B, etc.  I actually bought two of those units, but it was too much having all of that wood surrounding me on both sides so I have donated the second one to my wife's laundry room.  The container store stuff is somewhat expensive, but it will last forever.  Be prepared to spend a lot of time looking at all the cool stuff they sell if you go to one of their stores!
Container Store markets these shelf assemblies as packages, but you can select the components you want to fit your particular installation.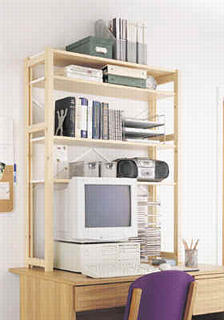 This is how they show the "hutch" configuration which is essentially what I have sitting on top of my "L" desk.  I do have the solid wood sides on mine instead of the "see-through" version they have here.  Click on the photo to go to their site to see more on these "Skandia" packages.
My purpose here is to show you that inexpensive furniture can be put to effective use in the ham shack, especially now that everyone seems to have a computer too.
Shop around, find what suits your needs and improve your shack's appearance without breaking the bank!
73,
Bob N5NJ
Improve the look of your shack without spending a
Reply
by N3GPU on November 19, 2001
Mail this to a friend!
My wife's comment: "If his shack looks better now, I'd hate to see what it looked like before." Spoken like a true non-ham-wife-of-a-ham!

Seriously, I did the same thing. Bought an O-Sullivan hutch unit to put on top of the existing shack desk. Easily and safely holds a couple of rigs, tuner, amp, PC & monitor, other accessories, and also helps contain the cable mess.

Here's another hint. Order something -- anything -- online from Staples, and they will start e-mailing you coupons every month. Typically it's $10 or $20 off on a $100 purchase. Just got one yesterday for $30 off on a $150 purchase. You can use them in-store or online. Staples ships free on orders over $100. Nice to have one of these units come to your door -- they're fairly heavy and unwieldy - rather than having to lug it from the store. I used one of my first $20 coupons on the hutch. Also, if you go into one of the office superstores and ask for a catalog, it will often have a $-off coupon you can use immediately.

73 - Paul N3GPU
RE: Improve the look of your shack without spendi
Reply
by N5NJ on November 20, 2001
Mail this to a friend!
I admit that photos of my shack during a contest does not portray much of an "improvement". I can tell you that my wife was most happy to see the old home-made stuff I had on it's way to the garage and the new computer furniture on it's way in.
Improve the look of your shack without spending a
Reply
by W1RJ on November 20, 2001
Mail this to a friend!
Um, what happened to the second 850?? ;-)

Actually I have been considering this exact unit for some time now. Thanks for the article and the positive comments on it's worthiness for ham shack use. Time to take the plunge, I think...

73 Bruce W1RJ
w1rj@arrl.net

RE: Improve the look of your shack without spendi
Reply
by AB5XZ on November 20, 2001
Mail this to a friend!
One thing you can do to get back some "real estate" on the desktop is to replace your full-sized PC keyboard with a "compact" keyboard. This type of keyboard has the page up/down keys and the numeric keypad folded into the rest of the layout (access them with a [fn] key).

Fry's and some others now have such keyboards at $20 or so.

73TomAB5XZ
Improve the look of your shack without spending a
Reply
by ke3q on November 21, 2001
Mail this to a friend!
Well, the price certainly seems right! At one point I thought I'd put my monitor(s) at eye level, thinking that would be the best ergonomically. After trying it I found that looking straight ahead put a strain on my neck, that it's a much more natural position to lean somewhat forward when reading something, like reading a book, so I now put my monitors (typically two), right in front of me at table top height. Cutting a hole in the desk, like news anchors have them, and recessing them would probably be even better. In any case, I don't think having your monitor up on the shelf is optimum. I realize you have to, though, because this sort of unit is really too small to be optimum for contesting. You have a shortage of tabletop space.

I think you need 18" or even a little more from the edge of the table to the front of your radio -- these commercial computer desks don't have enough depth for that. Big, flat, typical household interior doors really are pretty effective. To improve on that, I keep talking to countertop and kitchen design folks to see if I can get a "scrap" piece of Corian to make a nice desktop out of. Unfortunately, Corian is so expensive that a desktop would cost well over $1,000 I think, but it should be a really luxurious material for a ham desktop.

For casual operating and if you don't mind a lot of clutter, these computer desks may be okay. Otherwise, they just don't give you enough space.

Oh, once I put two monitors directly in front of me, I put radio A to the left of them and radio B to the right. Amps, accessories (switch boxes, wattmeters, etc.), and rotator control boxes can go on the accessory shelf above.

I've been looking for those small keyboards for years (casually), since seeing them in the presentation at Dayton about VS6WO's great station (he also had a pair of 9" computer monitors -- bigger isn't necessarily better). The tradeoff is that I use the oversize insert and plus keys on the numeric pad a lot (in CT insert sends the exchange and plus sends the end of QSO message). More cumbersome key stroking to get insert and plus would be bad. What we need is the small keyboard with a big insert and a big plus key somewhere, or to outboard them somehow, which might be best of all. Anyway, thanks for the suggestion about Fry's, which I've never heard of.

73 - Rich, KE3Q
RE: Improve the look of your shack without spendi
Reply
by N5NJ on November 21, 2001
Mail this to a friend!
Rich:

My monitor as shown, is at a height where the midpoint of the screen is just below my eye level.

The top of the 850 is just 12.25 inches from the table top.

There is 19" from the front edge of the table to the front of the shelf that the 850 is on. The shelf is 6.75" high, and 23.5" wide and 14.5" deep. So, from the front edge of the table, straight back through the shelf is 31.5".

I think the photo makes it look a lot smaller than it really is.

I also like everything in reach, so it makes it look extra cluttered I suppose. I don't want room to spread out, as I don't want to have to move to reach anything. For me, having everything close, lets me do just that.

I don't have my amplifier here right now, but I have an Acom 2000A, and it goes on a roll around printer stand that is from the same series of furniture, and the little controller unit fits in nicely on the desktop - along with all the other stuff you see there.

This is an interesting discussion and I think there's a point where personal preference takes over.

73,
Bob N5NJ
Improve the look of your shack without spending a
Reply
by w4atl on December 4, 2001
Mail this to a friend!
I have a similar hutch in my home office/shack that I share with my wife. Take a look at it in the User Profile on this website. Click on the W4ATL call sign or go to the Contester Lookup windo and enter W4ATL.

My wife likes the nice clean look and I have tried to hide the wires as much as possible. She has a similar station on her side of the room (no radios though.)
Improve the look of your shack without spending a
Reply
by k4ro on December 22, 2001
Mail this to a friend!
Nice setup there. You may have a look at my Office & Home Depot special
setup at the link below. It is a large O'Sullivan desk, with a shelf I built from
lumber. The shelf is quite strong, and can easly support two amplifiers.
I prefer the monitor on the desk right in the middle, with the radios to either side.

Single photo of desk:
http://www.k4ro.net/tcg/image/k4ro_tour/station10.jpg

Station description and link to complete photo tour:
http://www.k4ro.net/k4ro.html

73, -Kirk K4RO
RE: Improve the look of your shack without spendi
Reply
by N1MM on December 27, 2001
Mail this to a friend!
A more expensive (but better quality) option is to find an L-shaped desk at a **used** office furniture store. I was able to find two 6' x 30" desks that bolt together with single & double pedestals for about $550. These are Steelcase units, so they will last longer than I will.

I had previously built a 6', 3-shelf unit for holding the equipment.

Since I am long-waisted, I put the monitor in the corner and the keyboard on top of the desk. I am able to rest my arms on the desk while typing, which prevents strain (for me). YMMV.
Improve the look of your shack without spending a
Reply
by n1ye on January 17, 2011
Mail this to a friend!
Good Article. Especially with contest stations that tend to have more radios, boxes, and wires, it is always a challenge to find the balance between a station that "looks" good and one that is actually functional and "feels" good over a 48 hour contest.
GL, 73
Gene
Email Subscription
You are not subscribed to discussions on this article.

Subscribe!
My Subscriptions
Subscriptions Help

Other How to Articles

SO2R - advice needed!

---