YCCC Captain's Cabin - September 2001
from YCCC Scuttlebutt September 2001 on October 19, 2001
View comments about this article!




Scuttlebutt
September 2001 Issue 153
Just came in after spending a good hour backfilling the new cable trench - one heaping shovel at a time. Finally, out there in the sun, I was able to find some words that I can only hope are worthy of this column.
The time has come. It's time to rally our people, to think about winning, to muster our massive, annual effort to reaffirm our position as the leading contest club in America . . . You know, every person in our club needs to fine-tune his station, prepare for maximum time in the chair, aim to perform at their very best - to deliver points to the club like they've never delivered before.
You've heard this speech before, haven't you? You hear it every year. Every October. As we start to gear up for the competition ahead, it's the same message.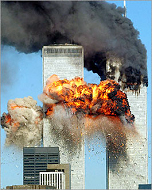 But, something's different this year - very different - something much bigger than the contest season, bigger than CQWW, bigger than our competitive ambitions.
An attack on our people. It happened. It took our friends; it took our loved ones.
The idea of "going forward" takes on very new meaning this week. In the wake of September 11, discussion of expeditions, eligibility, antennas and operating tactics, etc, all seem to have become incredibly trivial. Our hobby and the sporting parts of ham radio seem so unimportant.
But, after this entire trauma, all this sadness and anger, what are we left with? While our friends and loved ones have lost their lives, and we grieve, WE still have our lives. What are we going to do with our lives? We have an obligation to continue, and to do the best we can with what we have.
A number of our members have been personally very involved in delivering emergency support at the disaster site. I am aware of the following, who have given their time, equipment and efforts for this most important of causes. I am certain this is only a partial list:
N2NOV AA2MF W2XX KA2D N2GA N2TEE NY6DX KC2AIY WR2I K2DO KC2FEE
This is a great thing. Your efforts have obvious immediate and long-term value, and we are proud to know you are contributing in this way.
Continuing as a contest club presents a different kind of challenge for all of us. How do we bring value to something as seemingly unimportant as making hundreds of QSOs and counting up our points? In light of current events, is it important enough to do it at all? If we take the same view of the coming contest season that we had prior to September 11, then it will be hard to find meaning in what we do. But there is a better answer. We can take this opportunity to add new value to what we do.
First, we can understand our obligation to return our lives to "normalcy". Returning to work and to school are not the only things we must do. Doing the things we enjoy is also part of that obligation.
Second, we can recognize that it is critical to show our own community that the amateur service is united and strong, and that it brings value and will continue to do so. We should make our presence known and do everything in our power to demonstrate the continuing commitment of amateur radio to the community. This includes direct emergency support as well as all the other things we do so well - including contesting.
Third, we can demonstrate to the rest of the world that we are not going to be silenced by the work of evildoers. We should do more and better in the coming international contests to let the world know that we are here, that we are part of the international community, and that we continue to believe in international goodwill. We can show that we hold accountable only those individuals and groups who actually perpetrated, aided or abetted these acts, not any group associated only by nationality, race, religion, ethnicity, class or other irrelevant characteristic.
Fourth, we can create actual, tangible value from the operating events themselves. I am working on ways we can directly connect the coming contests to the relief effort currently underway. More on this later.
So, let's continue together, "going forward" to do the things that will make us feel again that amateur radio and contesting are important and valuable parts of our lives. I am confident that we will come together as a team to once again make YCCC a success - in ways we never before imagined.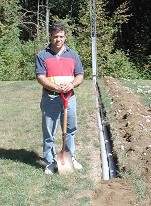 Time to finish backfilling that trench.
Photo credits to Spencer Platt/Getty Images/MSNBC
____________________________________________________________________ The YCCC Scuttlebutt
YCCC Captain's Cabin - September 2001
Reply
by KG5VK on December 15, 2001
Mail this to a friend!
Very well said.

Today is 15 December and none of us have forgotten September 11, we never will.

In our strive to press forward.....

We should also consider the many Men and Women
of are armed services that are abroad, away from home during this holiday season.

Just say thanks, any time you meet one of our service
members, in person or on the air !

Belive me hearing that word is very important to them,
during my service in Desert Shield/Storm
the many letters and words of thanks from those I did not even know, were very motovational.

Like getting a new multip or a another state in the quest for a clean sweep, each word of thanks is
burst of life.

We have many people to thank
from firemen and women to fellow amateur radio ops

73's & God Bless

Steven L Smith
KG5VK