Contesters Dinner Visalia
from Henryk Kotowski SMOJHF on April 9, 2001
View comments about this article!




Visalia Contesters Dinner

Soon it's time again for the Visalia DX Convention. I think that anyone with serious approach to amateur radio should go there at least once but I know there are quite a few who attend this gathering regularly. I went to Visalia last year and it was actually my first ever ham convention. I simply don't like crowds and I can't memorize too many faces and too many call signs without taking pictures and writing down the names and the calls. Pictures, I took a few but I couldn't possibly write down all the calls. I thought I could tantalizingly show some of my last year's pictures from the Contesters Dinner. Imagine, if you have any sense for contests, to sit at the same table with Trey N5KO, Fred K3ZO and Bob K3EST. It is possible, at Visalia.

The dinner started off with a mock-up pile-up.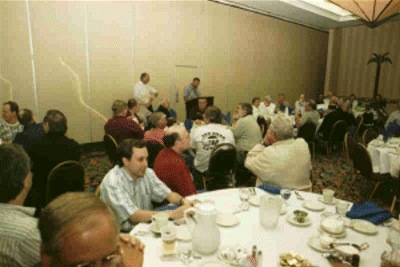 Front table: Don W6EEN is still shouting but Doug N6RT is already in the log. Ron K6XC waits to find the right time and right frequency to give a call.
The Contest Club Dinner took place in the Birch and Laurel Rooms of Visalia Holiday Inn Hotel. This year it will be on Friday April 20, but you can't buy the ticket at the door. Check the web page http://www.ncdxc.org/Ncdxc/convention/ContestDinner.htm for information.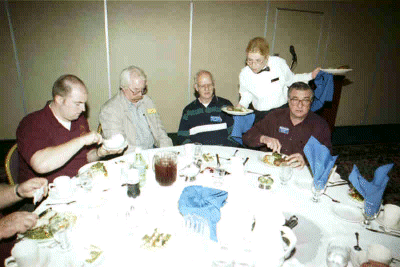 The food is, by my standards, average but it is well spiced with great call signs.

Here Kenny K2KW, who'll be hosting this year's Dinner, checks that everybody is satisfied.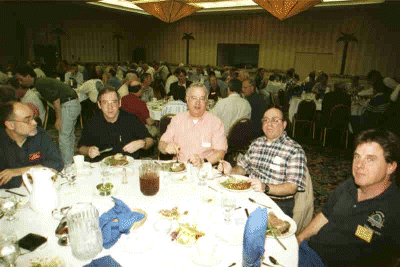 Sorry for interrupting you guys...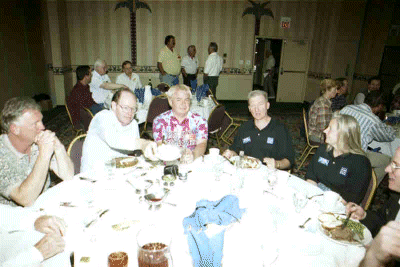 Here I recognize Lee KR6X and Jay WX0B in the center.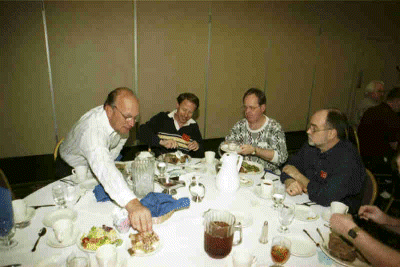 Is it Wayne N7NG reaching out for the sweets ?

Here I recognize Jim N6TJ and Jim W6YA in the center, and to right, Waldemar SM0TQX.
Trey N5KO, Fred K3ZO, Bob K3EST at one table...
Some people have fun others are serious. But if you still hesitate and don't know if this is really something for you, then you' re probably not serious about contesting. Contesting is also people, not only points, multipliers and scores. Visalia is where the cream of contesters (and DXers) come and exchange the views, opinions, advice and visions for the future.
Contesters Dinner Visalia
Reply
by N6TJ on August 16, 2003
Mail this to a friend!
Thank you, world traveler Henryk, for taking the time to remember a fine evening.

Jim N6TJ
Email Subscription
You are not subscribed to discussions on this article.

Subscribe!
My Subscriptions
Subscriptions Help

Other News Articles

The Spurious Emissions Band at Dayton (2017)

The Pin One Problem, Live at the Visalia Contest Dinner (2017)

QRP ARCI Spring QSO Party April 9,10 2016

RSGB ROtating LOcators Contests

Maine 2 Meter FM Simplex Challenge

---