K3SA / ZF2SA Silent Key
Bob Naumann (N5NJ) on November 29, 2000
View comments about this article!

K3SA Suffers Fatal Heart Attack the day after the CQWW CW

From email reports from N3OC, W3GG, W3UR

*******************************************

Burt Cohen, W3GG, regretfully reports that Steve Affens, K3SA (ex K3ZAW), died of a heart attack yesterday.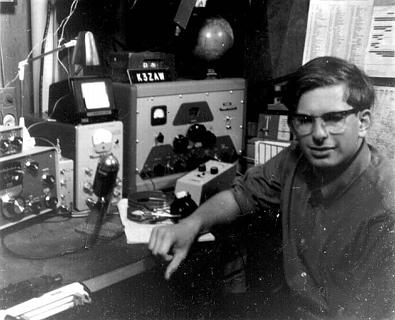 K3ZAW in 1966
Steve, 52 years old, and his XYL Patti, N3HOT, were celebrating their 30th anniversary in the Cayman Islands. 
During the CQ World Wide CW DX Contest Steve was QRV as ZF2SA. 
Professionally, Steve was a cameraman for the local TV (WJLA) station in Washington, DC.  He was awarded the Whitehouse Photographers Association Award Camera Man of the year five times.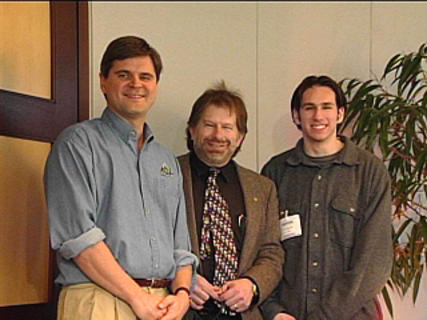 Steve Case (AOL CEO), K3SA and KA3TUE 
Steve was a member of the Potomac Valley Radio Club and the Webmaster for the clubs website from its inception. 
On a personal note I have known Steve for many years.  He was an active DXer and Contester.  Steve graciously helped me with the creation of The Daily DX website during its infancy. 
Steve leaves behind his wife Patti and their son Scott, KA3TUE.

Bernie, W3UR
*******************************************
 I regret to inform my good friends of the passing of Steve Affens, K3SA / ZF2SA. 
Steve suffered a heart attack yesterday morning while diving on Grand Cayman the day after the contest.

 He was vacationing with his family for his 30th wedding anniversary, and worked the contest this weekend as ZF2SA.

 Steve was PVRC's club webmaster and historian, and had just upgraded his home station with a new set of Force 12 antennas.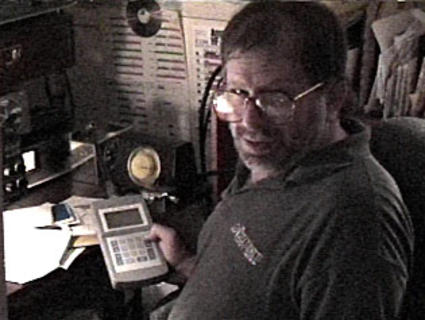 K3SA verifying the SWR of his new antenna system

 For those of you who worked ZF2SA this weekend, here is his final log.

 73, Brian N3OC

********************************************
  Subject: CQWW CW ZF2SA SOAB LP
 
                       CQ Worldwide DX Contest - CW
 
  Call: ZF2SA
  Operator(s): K3SA
  Station: ZF2SA
 
  Class: SOAB LP
  QTH: GRAND CAYMAN
  Operating Time (hrs): 34
 
 
  Summary:
   Band     QSOs  Zones  Countries
  -------------------------------
    160:     19      6      9
     80:     77      7     10
     40:    451     15     48
     20:    624     24     64
     15:    669     24     61
     10:    865     22     64
  -------------------------------
  Total:   2705     98    256  =  2,136,390
 
Club/Team: PVRC
 
Comments:
 
Station Description: Kenwood TS440, Micron Laptop, Writelog Software
Antenna(s): One 20/15/10 dipole, One 160/80/40 Dipole, All about 30 feet  up  One Spider 40/20/15/10 mobile on balcony
Operator: Steve Affens K3SA - ZF2SA
Remarks (Biggest thrill in Contest, funniest story, comments, etc.):
The last radio contest trip for me was 20 years ago as K3SA/PJ3.

K3SA/PJ3 
It was  paper logs with paper dupe sheets for each band strewn about on the floor.  Little did I know how popular Aruba would
become for contesters and how computer logging would change the experience forever.
 
My biggest mistake from 20 years ago was to age.  Take my advice, don't do it if you can avoid it.  I'm now too old to stay in the chair 48 hours. (not that I ever could)  I'll take a couple of good sleep nights thank you.  Also, I arrived the day before the contest.  I have concluded that it is cutting it too close considering airline, antenna, RFI, Rig, software, and computer issues that crop up. 
Just  hanging 2 dipole systems end to end out across a parking lot was far more arduous and time consuming than expected and required every tool I brought including the sling shot system.  For some reason, Palm trees will not let parachute rope slide through easily.  The rope binds in the top of the tree.  It is also harder to keep those multiband dipole wires from wrapping over themselves over the top of each other than one might think.  When the rope catches, the system jerks and the 15 and 10 dipole wires inevitably wrap over the top of the 20 meter wire.. and so the system has to be tweeked again.
I needed the wire system especially for the low bands.  Believe it or not, the Spider mobile antenna system was very competitive with the full size dipoles.  With a ZF call, the action off the 4 story high Spider was 250/hour at times.  It was fun to run into friends, especially because normally I enjoy the packet connection to the news of the bands.  I enjoyed working W3LPL on all bands.  Missing packet dropped the multiplier count significantly.. but the point was to play it like sweepstakes and just run run run and let the mults come as they choose.  When they did, it was, in a way, more of a thrill. 
When a run consists mostly of US  stations,  it knocks you out of the chair when a 9M8, A61, call through the pile.  VK's/ZL's/JA/s still are awesome when they roll in over the Caribbean.  With only 100 watts and wires, it was hard to run Europe through the W's during the morning hours. 
Starting around noon local time 1700Z the sequence starts: first the east coast US loses EU and the band clears out to the point were a Caribbean station stands out and the runs really pickup.  Then, the same thing happens to 15 and down to 20 and to 40 etc as the world rotates us all into darkness.  One benefit of aging is having the experience and knowledge to follow the band sequence for best run results.  A few more trips and I might even get good at it.
 
The bands were wonderful as a consequence of the peaking sunspot cycle, but we paid the price on Sunday around 1640Z.  A huge solar flare blew out the bands entirely.  I thought my antennas had been hit by a truck or bird or something.  But soon signals started to return, first on 10 and there were no contest QSO's only big contest station sharing their observations and lamenting the potential loss of QSO count goals.
In my case it was the wish that ... if only I had known it would happen.. I might have pulled an all nighter as 40 was awesome.  It took an hour for the bands to recover starting with 10 and the recovery sequenced down in frequency over that time.  It sure was scary and initially disappointing.  I got up and went poolside for lunch with Patty... a no no if the US runs are about to begin.  This is our 30th Anniversary trip so what's a few hundred QSO's anyway?
 
Thanks all for the QSO's and I will QSL Via W3HNK. 
73 de ZF2SA
(op K3SA)
Steve

K3SA / ZF2SA Silent Key
Reply
by N4ZR on November 30, 2000
Mail this to a friend!
Nice tribute -- I never thought, as I was working him last weekend, that it'd be the last time.

My sympathy to his family,

Pete Smith
PVRC


K3SA / ZF2SA Silent Key
Reply
by k4za on November 30, 2000
Mail this to a friend!
It was contest QSO...fast & efficient, but with "Hi Steve" & "Hi Don" thrown in. I'm sure we both thought, however briefly, about past times when we shared "cameramen's" stories back when I lived in MDC. I'll miss those.