| ARRL DX 2011 | PJ2T Team Photo | |
| --- | --- | --- |

Here's the nine-operator PJ2T team that broke 10M for the first time and may have posted a new all-time record. Fortunately, we operate better than we look.



&nbsp

SM2WMV fixing some food in -14C for the gang at SJ2W



&nbsp
A post-contest accuracy report for cluster spotting?
Operating with spotting assistance is not for everyone, but for those who use it, what do you think about there being a published "accuracy" report for spots made during contests?
&nbsp

WW4LL NG5X K1ZZi ND5C KI5XP Boneyard break



&nbsp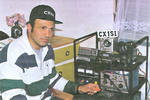 Jorge CX1SI from Lavalleja like to work in contests and work DX.



&nbsp
I had fun contesting last weekend and you can't make me.


N2MG

&nbsp
| Stations | Bad Power Antenna Field | |
| --- | --- | --- |

LT1F, Bad Power Private Antenna Field, located in Rosario, Argentina.



&nbsp

There are 628 total links!
&nbsp