&nbsp
&nbsp
&nbsp
Recently the RDXC committee reclassified P3F to high power from low power without publicly providing strong evidence that any infraction had occurred. They concluded was that the contestant was running HP on 80/40m but not full-time, just 10 minutes here and there without any convincing evidence. It appears they used the RBN as their source of information. Should the RXDC contest have to publicly provide convincing evidence before reclassifying a station from LP to HP?
[137 votes since 2016-10-08]
&nbsp
| | |
| --- | --- |
| SKCC Sprint | Oct 26 |
| Phone Fray | Oct 26 |
| CWops Mini-CWT Test | Oct 26-27 |
| UKEICC 80m Contest | Oct 26 |
| RSGB 80m Club Sprint, SSB | Oct 27 |
| NCCC RTTY Sprint | Oct 28 |
| NCCC Sprint | Oct 28 |
| CQ Worldwide DX Contest, SSB | Oct 29-30 |
&nbsp
Have a question about amateur radio contesting? Ask your question... get an answer!

&nbsp
&nbsp
| ARRL DX 2011 | TI5N 2011 Team - ARRL DX Phone | |
| --- | --- | --- |

The TI5N team, led by WA4PGM, operated from the QTH of TI5KD in Alajuela, Costa Rica. Pictured (L-R back) are WA4PGM, WV4Y, WK4Y, N4LSP, (front) N4KFT, WD4ZDQ, and W4DR.



&nbsp
| CQWW 2010 | PW7T - Fortaleza DX Group | |
| --- | --- | --- |

Team: PT7CG, PT7DX, PT7WA, PY2QI, PY4WAS, PY7RP, PY7XC, PY7ZY, PY8AZT



&nbsp
A post-contest accuracy report for cluster spotting?
Operating with spotting assistance is not for everyone, but for those who use it, what do you think about there being a published "accuracy" report for spots made during contests?
&nbsp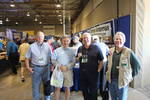 Bob N8NR, Geoff W0CG/PJ2DX, Rick N0YY, and Jim W8WTS all seen at Dayton.



&nbsp
| Spotlight | SN0HQ team of SP4Z | |
| --- | --- | --- |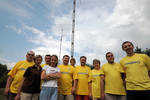 A few minutes after the IARU2008 contest - friends and family members (all licensed) at SP4Z station. The host, Wes SP4Z, first from right. Photo by SM0JHF.



&nbsp
In the book of Genesis, it says that it is not good for man to be alone, but many single-ops would disagree.


N2MG

&nbsp

PA with GU-43B, legal power -KENWOOD TS-50 - PC CELERON - rotator KENPRO 1000SDX - KENWOOD TM261 - 2m handheld for packet



&nbsp

There are 629 total links!
&nbsp